New York is still in the midst of a summer heatwave, but residents of 15 Central Park West are currently approaching the sales market with what can only be characterized as autumnal briskness.
The latest in a series of very expensive listings is a unit on the 35th floor that just hit the market for $33 million, bringing the current number of apartments listed at the Zeckendorf tower to a total of eight.
This corner three-bedroom comes in third in terms of asking prices at the building right now, lagging behind a $65 million duplex and Leroy Schecter's $55 million penthouse. Of course, if wishes were horses, then… well, you know what we're getting at.
This apartment is echt 15 CPW—great views, well-decorated, and it's on the top floor no less—though there's no too much that stands out from the rest of the sleek and expansive building stock. It has pretty much the same highlights as every other multimillion dollar apartment in the tower.
The owner is Victor Vargas, a Venezeulan banker who lives there with his girlfriend, Maria Beatriz Hernandez Rodriguez, as Michael Gross chose to point out after this story was posted. Mr. Vargas paid $21.5 million for the place in 2009, when he purchased from former Goldman Sachs partner Donald Opatrny, Jr. as 35D CPW, LLC. Yawn.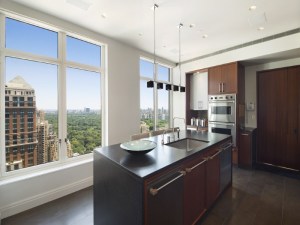 The listing for the nearly 3,200 square foot apartment is held by Sotheby's Serena Boardman, which she describes as a "marvelous example of a NYC trophy apartment."
The custom apartment has been "meticulously upgraded," and the gourmet kitchen features glass faced cabinets, Black Cambrian stone countertops, and Steelwork Bronzo radiant-heat porcelain floors—who wants their feet to get cold when munching a bagel as they gaze out onto the kitchen's "oblique" views of Central Park?
For a touch of personality there's even Makoree Bee's wing mahogany and bronze inlays, a coat closet and powder room with Etimoe Fiddleback millwork, and an "extravagant" master suite that includes an office/study, two marble baths, and a walk-in closet.