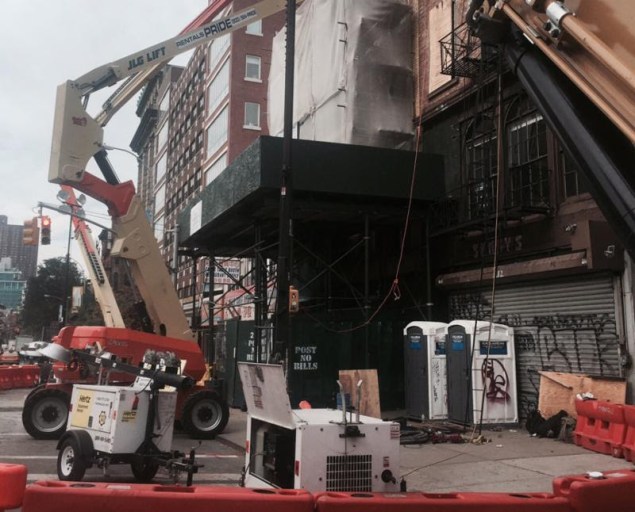 This morning, the staff of Andrew Edlin gallery arrived at the company's second location, at 212 Bowery, to the sight of fire trucks and emergency workers. Last night, construction on the rising condominium next door at 210 Bowery caused a wall to collapse, according to the gallery, meaning the new space's inaugural show, "Brent Green: If I Could Have Any Superpower…," which was set to open tonight, will be postponed.
Andrew Edlin, the gallery's owner, told the Observer that there was no damage to their space, and no injuries, but building officials will not let the gallery's staff inside as a safety precaution while they secure the adjacent site. Subsequently, the gallery won't be able to set up for what would have been its first official event, originally scheduled for tonight.
In June, the gallery announced that after 13 years in Chelsea, it would open a brand new 5,000-square-foot second location at 212 Bowery. The gallery is known for being a pioneer in the Outsider Art. Mr. Edlin is also the founder and CEO of Wide Open Arts, which oversees the popular Outsider Art Fair each year in Paris and New York.
The live performance by video artist Brent Green was going to combine music and several artworks; it will be postponed until further notice.
Mr. Edlin confirmed there are still plans to go ahead with the performance as soon as the Department of Buildings gives the OK.
"We're hoping if we can get the all clear by the weekend we can reschedule for next week," he told the Observer.
The building at 210 Bowery was bought by Acadia Realty Trust in 2013 for $7.5 million, and construction on the seven-unit condo building began earlier this year.
The gallery's 10th Avenue space in Chelsea is still open, and currently showing "Anthems for the Mother Earth Goddess," a group show featuring commissioned wall, ceiling, and floor murals by seven different artists about the environment. The show is open through August 14.