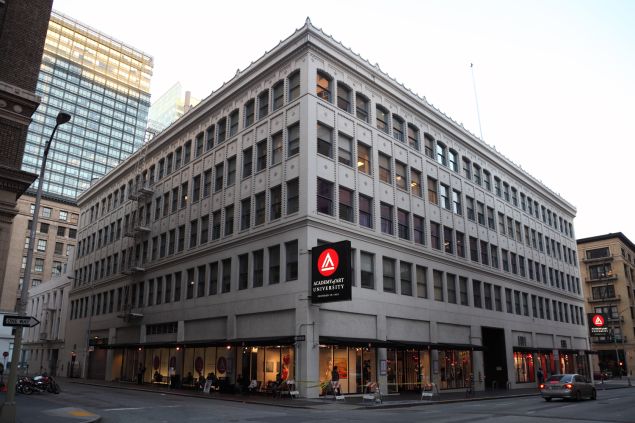 College applicants these days are right to be hesitant and anxious. Approximately 40 millions Americans currently have student loan debt, and the average balance stands at $29,000, according to a 2014 report from CNN Money.
And whether or not you graduate with debt, young people who are under 25 and just entering the job market are facing a daunting unemployment rate of 14.5 percent, based on figures from a 2014 report by the Economic Policy Institute.
Things are pretty grim, no matter where you end up going to school.
So what if you've chosen to attend an institution that bills itself as an arts trade school, promises to deliver the skills you'll need to land a job at one of the top employers in your chosen field and displays a proven track record of placing alumni at said employers? Sounds like a pretty good deal, right? In the increasingly digital world, animators, programmers and graphic designers are very much in demand, after all.
For many who attend the Academy of Art University in San Francisco (yes, it's a college with two words for "school" in its name) the above promises lured them.
Now, a scathing expose in Forbes by Katia Savchuk is highlighting the plight of AAU's grads. In her article, Ms. Savchuk describes the 86-year-old for-profit institution as little more than a masterful scam, which sinks prospective arts students into debt and leaves them with few job options and little career guidance. And with federal loans paying lots of the bills, the school's founders aren't too concerned about graduates' ability to pay back their hulking loans.
Some stats that will leave any college grad with sweaty palms: only 32 percent of full-time AAU students graduate within six years; federal student loan debt is carried by 55 percent of the school's students in the 2013-24 academic year was $45 million; 31 of the institution's buildings are facing planning-code violations; 13 academic programs at AAU face losing federal aid eligibility after new restrictions were placed on for-profit institutions in July; and the Western Association of Schools and Colleges, AAU's accreditor, has an eye on the Academy due to its low graduation rates.
At the helm of AAU today is a third generation Stephens family president, Elisa Stephens. The school was founded by Ms. Stephens' grandfather, Richard S. Stephens, as a school to train and prep artists for jobs in the advertising business in 1929. Ms. Stephens, who is married to California construction firm vice president Ed Conlon, joined the family business as in-house general counsel in 1988 and became president a few short years later in 1992, taking over the role from her father.
Ms. Stephens is responsible for growing the school's enrollment from 2,200 students to 10,000 in 12 years, launching online academic programs, and buying nearly 30 buildings in 20 years, all leased to the school. The estimated value of the school today is $300 million. All this at a time when even top arts schools are seeming like a dubious life decision.
On the school's lackluster graduation rates, Ms. Stephens told Forbes, "If a student can get that portfolio built before they finish all their requirements, and they get a job in their field of study, then we don't want to keep them here. The diploma won't make one bit of difference."
Published job placement rates for AAU haven't been updated since 2006 (its current accreditor doesn't require they be disclosed), and the latest figures claim 80 percent of graduates find jobs in their fields.
Perhaps most troubling is how AAU grads can often hold as much debt as a graduate of an elite liberal arts college—or more, even. Tuition runs students $22,000 per year, before the cost of living in San Francisco, where the median rent is a staggering $4,225.
A spokesperson sent the following comment to the Observer regarding Forbes' article via email: "We are disappointed that the reporter neglected to interview our successful students and alumni or spend time in our classrooms. We are very proud of our instructors, our students and the caliber of arts education we provide."