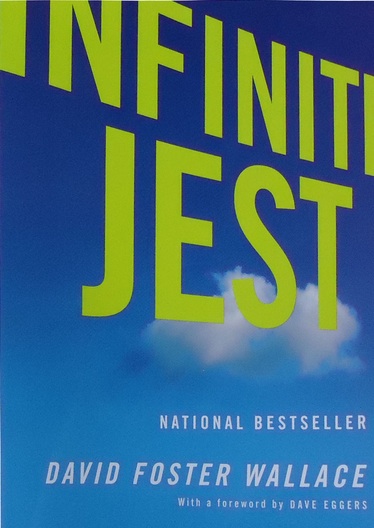 This is a post about a post about a post about a post.
This afternoon, Freddie deBoer, who recently got his doctorate in rhetoric and composition at Purdue University, lit a digital brush fire when he wrote a scathing critique of a post by the Awl's Alex Balk, who, in an opinionated bit of aggregation, had linked to an interesting piece of cultural commentary by The Cut's Molly Fischer entitled "David Foster Wallace, Beloved Author of Bros."
From Mr. Balk:
Why do self-styled intellectual-type dudes—the grossest, most ineffectual, least appealing specimens of masculinity, the kinds of guys who even in their twenties are walking advertisements for the "low-T" scam the pharmaceutical industry is trying to pull on the flagging libido of the American male—gravitate to David Foster Wallace?(I dunno, MAJOR MISDIRECTED OVERCOMPENSATION?) And how sad is it that they think he will help? God, I could not feel sorrier for you straight ladies, given what you have to put up with these days.
Mr. Balk's post was probably, depending on your view, an ironic reinforcement of Ms. Fischer's article—which argues that Wallace, and his doorstop of a book, Infinite Jest, "has become lit-bro shorthand"—or an ironic critique of it. And it was pretty standard Balkian bluster, which specializes, as Mr. deBoer rightly observes, in "turning sadness into a tool of aggression."
But something about the post made Mr. deBoer, who called it "ugly and gross," furious:
A majority of the world's people would, if forced to sort them into one category or another, probably see the Awl's male staff as what Balk is complaining about here. A majority of the Awl's male readership would, if we were to entertain this bullshit, warmed-over, pickup artist alpha/beta male nonsense, get sorted into that category. That's not an insult of any of them. It's an indication of what a terrible, gross, self-aggrandizing impulse it is for Balk to engage in it this way.
Mr. deBoer then put forth a bulleted list of problems he had with Mr. Balk's, and implicitly, Ms. Fischer's, post. He dissected the notion of the "bro" and argued that "complaints about 'weak' men" are "barely-coded anti-Semitism," just as "complaints about 'hipsters' are barely-coded homophobia":
The point of which is to say that these broad categories into which people constantly sort each other are bullshit, they're driven by the worst kind of pathetic passive aggressive insecurity, and not one person in the world can be spared from mockery if we insist on sorting everyone by these broad social signifiers that are based on cruelty and petty personal fear.
But Mr. deBoer's real target seemed to be "New York City #CONTENT providers," as he derisively put it. "This whole thing is so indicative of people for whom moving to New York is indistinguishable from crawling up your own ass," Mr. deBoer wrote.
And yet! In his own noble attempt to abolish clichés and slash dichotomies, Mr. DeBoer ended up committing a bit of stereotyping himself by identifying those in the New York media industry as a bunch of omphaloskeptic assholes.
Which, perhaps, the majority of them are, as this post as well as the Twitter war that ensued over Mr. deBoer's blog entry may prove all too well.
But some of them, it should be noted, are really great offline!