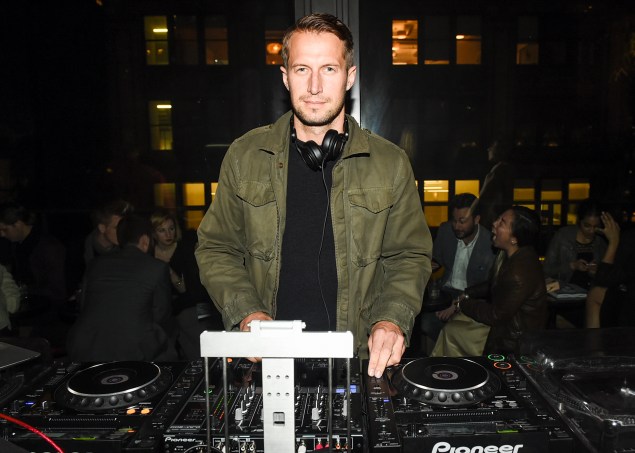 "Over the past few years I've been trying to wear things that I would look back on in photos, 10 years or 20 years from now, and not feel so badly about," DJ Brendan Fallis told the Observer. "You know, when I was in high school and university I was wearing crazy printed hoodies and now I look back and think, 'What was I doing?'"
As one of New York's best dressed DJs, we have a feeling that Mr. Fallis no longer feels remorse when looking back at his outfits. Most recently, he's been photographed wearing a simple white t-shirt to the closing party for New York Fashion Week: Men's, a leather detailed shirt to a soirée hosted by Vogue at the Whitney and an all-white ensemble to watch polo at the Veuve Clicquot Challenge. He admitted that he's currently focusing on a more classic style and is urging girlfriend, and fellow DJ, Hannah Bronfman to do the same. "When I met her she was dressing quite loud, for lack of a better term, so I'm trying to tone her down." So far, it looks like his efforts have paid off.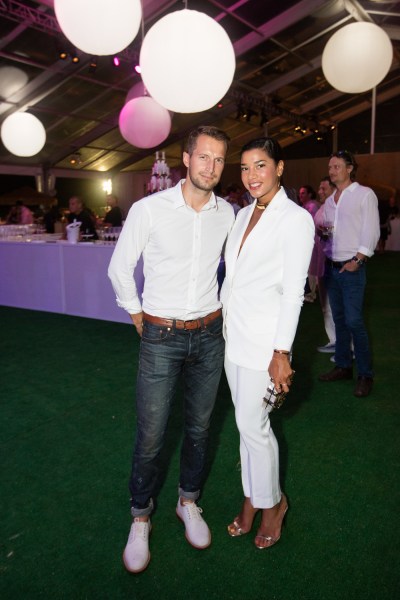 During our chat, Mr. Fallis named a laundry list of his favorite brands. Among them, he noted that Zegna fits him well, with minimal tailoring, and that Dior suits have a brilliant cut as well. For more casual getups, he prefers Tim Coppens, Public School and Rag & Bone, for items like jeans and technical sweats. For work, he can be found using Master & Dynamic headphones or toting around his DJ gear in a Mulberry briefcase or a Marc by Marc Jacobs mini duffle bag. He also prefers traveling with his own GoPro, so he can snap photos while spinning tunes.
However, this fixture on the New York party scene was not always renowned for his sartorial preferences. When his career as a DJ was just starting to take off, he was dependent on a single Uniqlo blazer to take him from one evening event to the next. "I tried to pull it off in every way, thinking I looked like I was at a black tie event, even though I was probably one of the most underdressed [people] there."
This summer, he's spending most of his time between New York City and the Hamptons, when he is not jetting off to the West Coast or to Europe. His most important accessory thus far has been a Mercedes Benz C400, which describes as "fantastic." A few weekends ago, he even took a drive to Maine, where he ate way too much lobster, but made good use of the car's gas saving ECO Start/Stop System. Aside from the ventilated front seats, which keep cool during scorching summer temps, the rev of 329 horsepower and the double sunroof, Mr. Fallis' favorite feature in the car is the sound system, of course.
What is he listening to this summer? "I'll do a lot of Songza playlists, including "Songs to Raise Your Kids To," which has a ton of great classics or "Future Bass." Otherwise, he will craft his own playlist, which feature at least a few good trap songs. And when he's not relaxing at a barbecue or hanging out at Surf Lodge, Mr. Fallis is usually working. This past weekend he DJed brunch for The Olevolos Project, followed by the sunset bash at the Hamptons Paddle & Party for Pink. Coming up is a SoulCycle ride with VH1 Save the Music Foundation and Jason Derulo.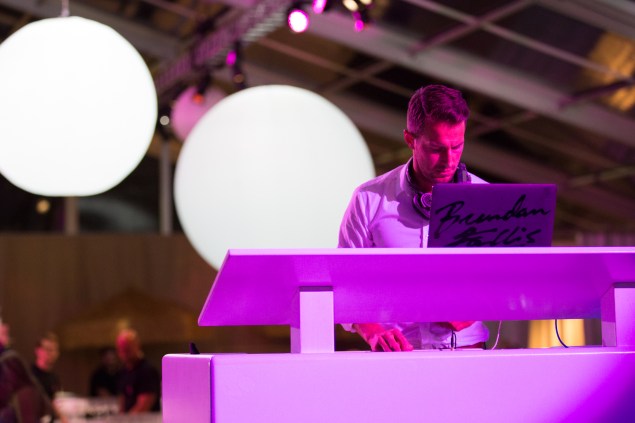 His wardrobe now reflects all the time he spends in the Hamptons, as he has been leaving behind his usual black on black uniform in the city. "I've been trying to get into the lifestyle a bit, with white pants and blue and white striped shirts." Mr. Fallis is also embracing fitted linen garb, a good pair of khakis, sweaters for the evening and a few pairs of light leather loafers.
PLUS! Listen to one of Brendan Fallis' custom summer playlists:
Control – Claptone
Flashed Junk Mind (filous remix) – Milky Chance
Long Way Down – Robert Delong
Down For So Long – ilovemakonnen ft. Ezra Koenig & Despot
Show Me Love – Sam Feldt (EDX's Indian Summer Remix)
Everything Nice – Popcaan
Dancing with Myself – The Knocks
Get Free – Major LaZer
One Touch – Baauer
Something About You – Hayden James
Roses ft. Rozes – The Chainsmokers
Sundara Karma – Flame (Roosevelt Remix)