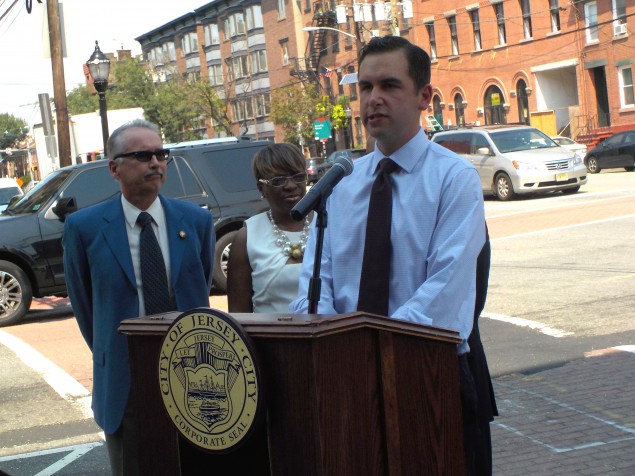 JERSEY CITY – Jersey City Mayor Steven Fulop wants to send a message to PSEG. Effective today, the mayor shut down all of the utility company's non-essential projects in Jersey City because, according to the mayor and other local and county officials, the company is doing an inadequate and unacceptable job in terms of repairing city streets that have been dug up in order to perform maintenance underground.
Seven PSEG projects have been halted until PSEG and the city agree upon a repaving schedule to fix streets deemed incompletely repaired. Today, the Mayor and Hudson County officials also called on legislators in Trenton to make re-paving requirements, like the ones issued in a January Jersey City ordinance, statewide.
"This is an issue that is a persistent problem not only for Jersey City but in urban areas all over the state," said Mayor Fulop today at a press conference at the corner of Columbus Drive and Jersey Street in Jersey City. "This shows PSE&G's utter disregard for urban areas."
The press conference and Jersey City ordinance focus on the patch jobs that PSEG often performs after maintenance. According to the city, rather than complying with mandated curb-to-curb resurfacing if maintenance damages streets within ten years after city resurfacing, the utility company often just covers parts of the street and crosswalk in new asphalt, leaving city streets uneven. At the corner of Columbus and Jersey, the patch job is evident, with a scar of black asphalt cutting across a red brick crosswalk.
"They wouldn't do this in Short Hills, Chatham, or other affluent areas," Fulop said. "We see this in Jersey City or Paterson or Newark. The streets should be repaired exactly as they were whether they be urban or suburban."
According to PSEG corporate communications representative Karen Johnson "PSEG is aware of the mayor's concerns."
"We are reviewing all work and will complete repairs according to our road restoration plan that has been approved by the city," she said. "In restoring roads, we follow the ordinance in effect in each municipality."
Hudson County Freeholder Junior Maldonado was also at the event. He called the failure to repair city streets adequately a "vicious cycle" and announced that the Board of Chosen Freeholders is planning to introduce legislation at the county level to "piggyback" off of the Jersey City legislation.
Freeholder Anthony Romano, Freeholder Bill O'Dea, Jersey City Councilwoman at Large Joyce Watterman, Councilman Chico Ramchal and Councilman Frank Gajewski were also there to show support for the shut down.
This is the second time in two weeks that the mayor has expressed discontent with the way PSEG treats urban customers. Last week, he held a press conference focusing on the company's coal power plant in the city.
Every year, Jersey City issues around 1,200 contracts for maintenance projects like PSEG. According to Fulop, last year the city spent over $1.7 million in paving projects. According to the American Society of Civil Engineers, poor road conditions lead to vehicle wear-and-tear and other issues that cost New Jersey's drivers an average of $605 each year.