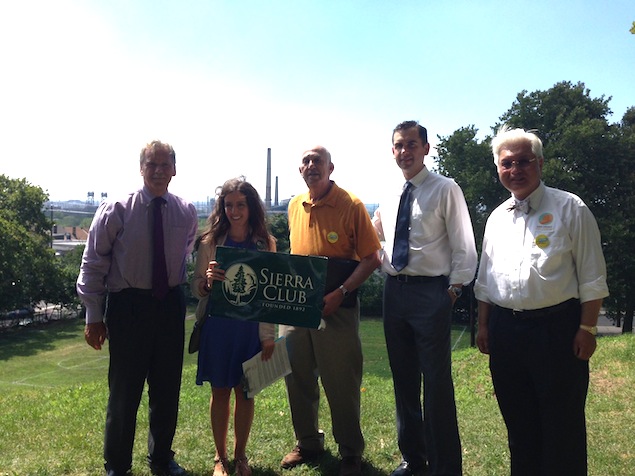 JERSEY CITY- Mayor Steven Fulop is confident that the Obama Administration's Clean Power Plan—which was finalized yesterday—is taking the right steps to reduce carbon emissions in the U.S. The Mayor, along with members of the New Jersey Sierra Club, held a press conference on a grassy hillside in Jersey City's Leonard Gordon Park today to announce their support. Looming behind them: PSEG's Hudson Generating Plant, one of the largest coal-burning plants in the country and something Fulop called "a relic of the past."
For Fulop, the President's power plan allows states like New Jersey to more effectively implement protocol that will reduce greenhouse gas emissions and help mitigate climate change. The plan calls for a 32 percent reduction of carbon emissions from the 2005 level nationwide by 2030. This includes forcing states to shutter fossil fuel plants like the Hudson Generating Station.
"In Jersey City, we haven't waited for action at the state or federal level," said Fulop. "President Obama's Clean Energy Plan will support our efforts and is an opportunity for New Jersey to create its own blueprint towards greenhouse gas reduction."
Under Fulop's tenure, Jersey City was named the tenth greenest city and America, expanded the use of solar energy and expanded public space. In June, the Mayor set a goal to increase Jersey City's use of renewable energy to 80 percent by 2050.
According to Director of the New Jersey Sierra Club Jeff Tittel, who also spoke at the event, New Jersey is lacking appropriate support from Governor Chris Christie on mitigating climate change.
"The government needs to reinvest in green energy," Tittel said. "The only thing standing in our way from a cleaner and greener future is Governor Christie. The President and his Administration heard us, however the Christie Administration hasn't."
Under Christie's leadership, New Jersey withdrew from the Regional Greenhouse Gas Initiative, reduced the previous administration's renewable energy goal and brokered a deal with ExxonMobil that many are saying downplayed environmental damage done due to oil contamination.
Fulop is a rumored gubernatorial candidate. When asked if he would keep up his green record if elected as New Jersey's governor, Fulop said, "I am not governor, but the short answer is yes. I don't want to get caught up in hypotheticals. Right now, I am focused on Jersey City. We have done a lot for the city and will continue to do more."
For Tittel, President Obama's Energy Plan and the potential for a new governor means the potential for a greener state.
"Whoever is the next governor will hopefully be much greener," Tittle said. "There are great people with great records who would do a great job in that position."
The EPA estimates that the Clean Power Plan will reduce pollutants that cause premature death, heart attack, asthma and other illnesses. According to the Obama Administration, the plan will stimulate the economy by providing new jobs in the green energy spectrum.