Today's Google Doodle depicts the face of a smiley man on a surfboard.
That man is Duke Kahanamoku—full name: Duke Paoa Kahinu Mokoe Hulikohola Kahanamoku—the Hawaiin man known as "the father of modern surfing," who was born on this day in 1890. Mr. Kahanamoku, a winner of five Olympic swimming medals, is widely credited with spreading the sport of surfing. He was the first man to be inducted into both the swimming and surfing halls of fame, and he continues to be honored with local and chain beach restaurants and bars using his name as well of statues of him, board in hand, that stand near the entrances of famed surf spots.
Mr. Kahanamoku grew up a bronzed beach boy in Waikiki, where he spent his days developing skills in swimming and surfing. At the age of 21, he was timed at 55.4 seconds in the 100-yard freestyle, which beat the existing world record by 4.6 seconds. He also broke the record in the 220-yard and equaled it in the 50-yard race. The Amateur Athletic Union, however, refused to recognize these feats, first claiming the judges used alarm clocks instead of stopwatches, and then citing the fact that Mr. Kahanamoku made these times in the salt water of Honolulu Harbor, claiming that the ocean currents aided him.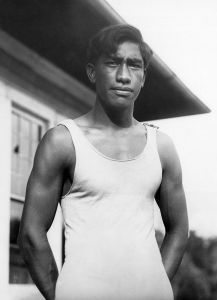 Mr. Kahanamoku had plenty of recognition ahead of him, though. The very next year, he competed on the U.S. Olympic swimming team at the Stockholm games, where he won a gold medal in the 100-meter freestyle and a silver medal in the men's 4×200-meter freestyle relay. During the 1920 games, Mr. Kahanamoku won gold medals both in the 100-meter and in the relay. His last medal, the silver in the 100-meter race, came in the 1924 Olympics in Paris, where his brother Samuel Kahanamoku took the bronze.
During these years, Mr. Kahanamoku also singlehandedly introduced the world to the sport of surfing, which was only practiced in Hawaii until this point. He traveled hosting swimming exhibitions, and he one day began to include surfing in his visits as well. His 1914 surfing exhibition at Sydney's Freshwater Beach is widely regarded as a seminal event in the development of surfing in Australia. The same goes for many of his lessons in other countries. He once drew attention to the surfboard itself when he used his to save eight men from a fishing vessel that capsized in Newport Beach, California. The surfboard allowed him to paddle out and save more people quickly, which lead the Newport police chief to deem Mr. Kahanamoku efforts "the most superhuman surfboard rescue act the world has ever seen."
To round out the triple threat, Mr. Kahanamoku was also an actor. He has 19 film credits, including four where he played himself, according to Wikipedia.