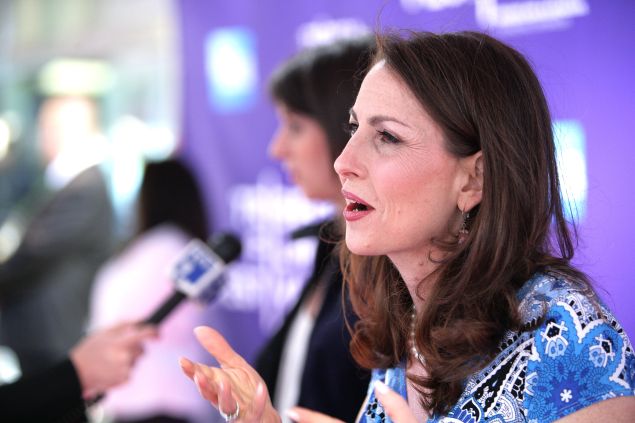 Rejecting a Manhattan GOP leader's interest in having Democrat Eva Moskowitz run for mayor as a Republican, Republican chairs said today that they would prefer a registered Republican challenging Mayor Bill de Blasio.
"I'm not a big fan of Wilson-Pakulas," said Craig Eaton, the chairman of the Brooklyn Republican Party. "I'm hopeful this time around we'll have registered Republicans running on our line."
Mr. Eaton was referring to a state law that requires the approval of three out of five New York City party chairs for a candidate to run on a party line different than their own. Ms. Moskowitz, the founder of Success Academy Charter Schools and a top de Blasio critic, has never expressed interest in party-switching or renting the GOP line. The practice drew scrutiny after Malcolm Smith, a former Democratic state senator, was convicted of trying to bribe his way into the 2013 GOP mayoral primary.
Adele Malpass, the chairwoman of the Manhattan Republican Party, wants Ms. Moskowitz to give the Wilson-Pakula more thought.
"I would be very excited about Eva running for mayor," she told the New York Post. "Education is a top priority for the next mayor and Eva is eminently qualified to do that. She's outstanding."
Ed Cox, the chairman of the State Republican Party, told the Post Ms. Moskowitz is a "visionary" on education issues, though he didn't say outright she should run as a Republican.
Staten Island's Republican chairman, John Antoniello, joined Mr. Eaton in calling for a real Republican to get the nod.
"Without a doubt I'd prefer a registered Republican to run," he told the Observer.
A spokesman for former Congressman Bob Turner, the chairman of the Queens GOP, had kind words for Ms. Moskowitz. But he also implied a Republican is preferred.
Sources say the Queens GOP would would like Councilman Eric Ulrich, a Queens Republican, or Michael Faulkner, a Republican pastor who once ran against Congressman Charles Rangel, to consider taking the mayoral plunge.
"It's way too early to talk about cross-endorsing," said James McClelland, a spokesman for Mr. Turner. "We don't want to rule anything out but we're confident someone will emerge from the Republican Party that will be able to mount a competitive challenge."
A host of Democrats, including Bronx Borough President Ruben Diaz Jr. and Comptroller Scott Stringer, are reportedly mulling a challenge of Mr. de Blasio in the 2017 Democratic primary. While Mr. de Blasio has struggled in the polls and endured a series of controversies, Democrats and Republicans face long odds of dislodging an incumbent mayor.
Republicans have a particularly tough road ahead of them. There are six times as many registered Democrats as Republicans in the five boroughs and Mr. de Blasio defeated his 2013 Republican rival by nearly 50 points.