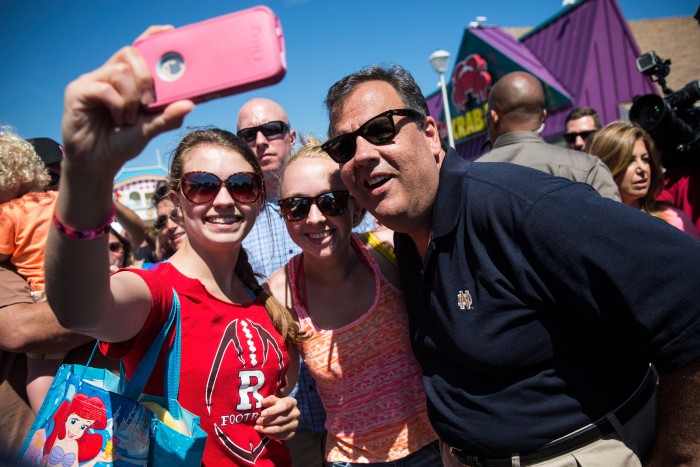 There's been a lot of buzz about the danger Christie faces of losing his slot in the "primetime" portion of the CNN/Reagan Library presidential debate on September 16. Only the top 10 candidates of the 16 total invitees will take the stage for the main event, and the cut will be determined by an averaging of polls taken from July 16 to Sept. 10.
While Christie was consistently in the top 10 during the earlier portion of that span, lately it's been a closer call. The latest Fox News poll came out Sunday and showed Christie in 10th place at 3 percent. Yesterday, the news was even worse for the governor as CNN's own poll showed him in 11th place among national GOP voters. Christie is at 3%, having fallen from 4% in the July 22-25 survey, while Carly Fiorina jumped from 1% to 5%.
As Fiorina continues to enjoy a bump from her strong performance in the "pre-debate debate" two weeks ago, some have wondered whose spot she'd take if she was promoted to the main stage. James Pindell pointed out in his daily "Ground Game" email, "getting on CNN's top debate stage next month is a zero-sum game. If Fiorina is added to the top 10 candidates on the main stage, then someone has to be bumped out. Right now, polls show that would probably be Christie."
In fact, Christie has also fallen to 11th place in the Real Clear Politics average of national polling at 3.3%, trailing former Arkansas Governor Mike Huckabee, who is now in 10th place.
That makes it all the more interesting that Gov. Christie spent all last week vacationing at the Jersey Shore. In fairness, it is August in a long campaign season. The governor, who's got four kids, deserves a vacation like anyone else. And he did do some fundraising and phone-call media interviews.
But with a field this large and unwieldy, making the cut for the main stage debate has taken on an importance that resembles the actual primary voting itself. Just as a poor showing in Iowa and New Hampshire will reliably thin the herd of candidates, the inability to get into the primetime debate has been rough on marginal candidates like Texas Gov. Rick Perry, whose staff has had to switch to volunteer status, and former VA Gov. Jim Gilmore, who wasn't even invited by Nancy Reagan to CNN's debate.
It is unthinkable that a candidate would take a week off from campaigning four weeks before ballots are cast. So it's arguably odd that Christie spent a week down the shore four weeks before possibly being bumped from prime time. If Christie loses a debate slot by a fraction of a percentage point, his campaign might look to last week as a lost opportunity. Or perhaps, the governor comes out of his week off reinvigorated and goes on the kind of rally that will see him climbing the polls.
We'll find out as the last few polls roll in.