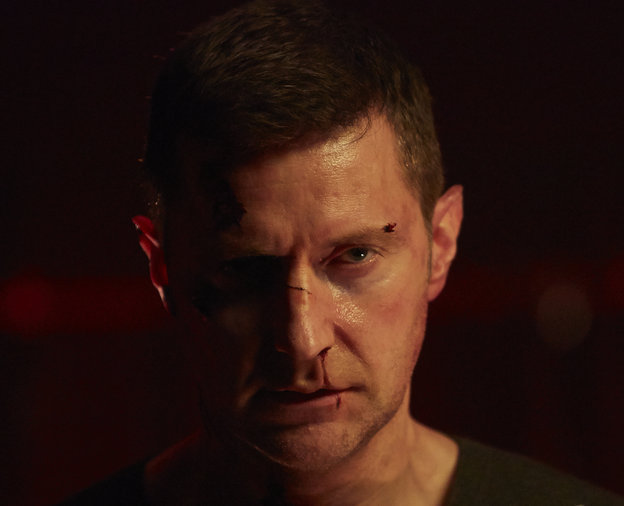 In "…And The Beast From The Sea" Bryan Fuller takes another opportunity to go meta.
"How do you imagine he's contacted me?" Hannibal muses when Will accuses him of being in touch with Francis Dolarhyde. "Personal ads? Writing notes of admiration on toilet paper?"
It's a winky nod to how Hannibal and The Tooth Fairy kept in contact in the source material and a great way for Fuller to let the audience know that he's not afraid to break away from a faithful retelling of The Red Dragon. After all, we've seen how a by-the-book depiction went down in Brett Ratner's version and it was underwhelming, to put it mildly.
For starters, Fuller is mixing it up by depicting Dolarhyde's assault on Will's family as the next in a series of disturbing attacks and not the climactic final showdown as seen in the films. So, this deviation certainly leaves it up in the air as to how the season (and let's be honest, series) will end who will get out alive.
Plus, dig how Dolarhyde dressed up like some Blade Runner-era leather daddy with a hat/mask combo lifted out of Daredevil  while he was on the hunt. Unfortunately for Dolarhyde, Molly and Walter escaped, but not without some collateral damage in the form of a death of driver Molly flagged down. Molly didn't emerge unscathed either, since she was hospitalized after catching a bullet, and despite how goodnatured she was in the hospital with Will, the bullet had to be at least a symbolic tear in the fabric of Will's hardwon and comfortable domestic life.
Will got to have the birds-and-the-bees-and-your-stepdad-has-an-inappropriate-relationship-with-a-serial-killer talk with Walter in the drab hospital waiting room, which is a far cry from the endless aisle of brightly colored cereal boxes where Bill Petersen held the same heart-to-heart. Still, this interpretation ends less tenderly, with Walter commanding Will to kill the man hunting them down before coldly detaching to watch a baseball game.
Speaking of cold detachment, the man caged up like an animal is the one pulling all the strings. Apparently, there are only so many strolls Hannibal can embark on in his interior memory palace before being consumed by the impulse to manipulate  the world beyond his glass partition. Sometimes he doles out relationship advice to Dolarhyde, that is when he's not having an interior argument with The Great Red Dragon and kicking his own ass Tyler Durden-style. Sometimes he's handing over Will's address with the instruction to "kill them all." In any case, a penned in Hannibal is every bit as dangerous as one let loose upon the world. Tell that Alana Bloom, who thinks she's somehow hindered his ability to wreak havoc by making good on her promise to remove his personal effects and toilet, leaving him with about as much dignity as a zoo animal. Of course, forcing an ex-lover to crap in a hole in the ground is a justifiable rebuttal for being told from a psycho ex that he has always told the truth, "in my own way."
That's the thing about Hannibal. he's not a liar. Sure, he withholds information and he manipulates, but he's matter of fact when Alana calls him out for taking calls from Dolarhyde under the guise of getting calls from his lawyer, He admits to giving out Will's address with the directive to slaughter his family with the same casual air one would use to order coffee. He doesn't need to lie when he can bend others' will to his own. Even when Jack has Hannibal make the call to Dolarhyde under FBI surveillance, he throws a monkey wrench into the operation by giving Francis the head's up that the call wasn't private.
For his disobedience, we see a Hannibal restrained by what writer Joe Gross referred to as a nü-metal version of the classic mask. Sure, the mask has Fuller's obvious Kubrick influence with its sleek design, but it ends up looking like something a middle school hockey goalie would wear. It's probably just as well, as the real menace isn't in the apparatus, but in Hannibal's calculating, reptilian eyes, especially when he's nonchalantly fielding an interrogation while lying in his cot or basking in the imaginary light of the moon while visualizing The Tooth Fairy's next kill, namely the Graham household, or mentoring the Dolarhyde from being a shy, lonely lunatic into a confident and powerful killing machine, In submitting to his transformation, Dolarhyde breaks up with Reba, the one true obstacle between Dolarhyde and The Great Red Dragon,  despite the intimacy of him watching home movies of his "nocturnal animals" while she was sensually intertwined with him on the couch. Aside from the fact that Dolarhyde was watching Will's family with an insatiable hunger, it would have passed for a romantic night in.
A few episodes ago, Hannibal hinted that there was always room on Will's face for a few more scars, which makes it seem like the show is going to opt for the book's outcome of Will Graham as the disfigured alcoholic who gets abandoned by his wife mid-investigation rather than Bill Petersen/Edward Norton depiction of the man who happily returns to his family unit after vanquishing the demon. Only two episodes to see which one Fuller chooses, or, most likely, if he weaves together another ending entirely and thus closes the book on ballsiest experiment NBC ever produced.