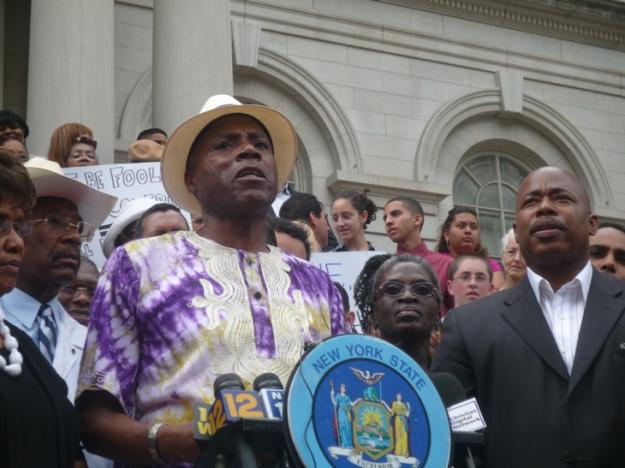 Harlem State Senator Bill Perkins revealed to the Observer today he intends to seek the seat of retiring Congressman Charles Rangel next year—making him the fifth contender to declare his intention to run.
Speaking after an unrelated event in his upper Manhattan district, Mr. Perkins said he believed his nine years in the State Senate and previous seven years in the City Council gave him the qualifications and name recognition to fill Mr. Rangel's seat. He has yet to file, but said he would begin organizing his campaign in the coming weeks and months.
"I've given a lot of thought to it, and I'm looking forward to replacing him," the Democratic legislator said. "We're putting the operation in place, and we think we're going to be successful. I've served this district for many years."
The shape and demographics of Mr. Rangel's Manhattan and Bronx-spanning district have changed during his 44 years in office, going from overwhelmingly black to majority Latino with a growing white population. Strong turnout among African Americans combined with divisions between different Hispanic blocs allowed the octogenarian congressman to twice beat back primary challenges from Dominican-American State Senator Adriano Espaillat.
But one other prominent black Democrat has already declared his candidacy—Assemblyman Keith Wright, a longtime Rangel ally who has already raised almost $150,000 toward his bid. Also already in the race is Adam Clayton Powell IV, a former East Harlem councilman and assemblyman and the son of Mr. Rangel's legendary predecessor, Congressman Adam Clayton Powell Jr. Harlem Rev. Suzanne Johnson Cook has also declared her candidacy, and current East Harlem Assemblyman Robert Rodriguez is reportedly also eyeing a run.
Stay-at-home father Michael Gallagher of Washington Heights, a political newcomer, has also announced his intention to run for the Democratic nomination.
Mr. Espaillat has yet to declare his intention to run again, but many insiders suspect that he will. In such a deep-blue district, winning the Democratic primary is tantamount to victory.
Mr. Perkins believed he could still win the primary handily, despite the competition.
"Get the votes from most of the people who live in the district, that's the plan," he told the Observer, when asked about his strategy.