The expansion of the Keystone pipeline, Keystone XL, has created intense debate and political controversy. Opponents and environmentalists fear that its extension will further rip up tar sands in Canada to extract oil, resulting in adverse environmental effects from possible leaks to environmentally sensitive areas and intensified carbon emissions. "If Canada proceeds and we do nothing," wrote NASA scientist James Hansen in a New York Times editorial,  "it will be game over for the climate."
The current frontrunner for the Democratic Party, Hillary Clinton, dodged the question of whether she would approve the Keystone XL bill at a town hall meeting in New Hampshire, citing that she didn't want to undermine President Obama's decision. President Obama vetoed the bill that would approve the final phase of the Keystone XL pipeline earlier this year and the senate failed to override it. Republicans still continue to work on bringing the bill back to the senate floor in hopes that a Republican takes office in 2017 who will approve the bill. Hillary's husband, Bill Clinton, advocated for the construction of the pipeline at a Maryland energy conference in 2012, stating, "I think we should embrace it and develop a stakeholder-driven system of high standards for doing the work."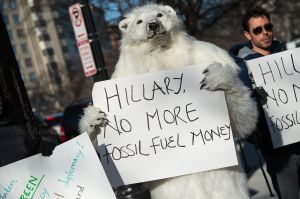 Perhaps unsurprisingly, the Clinton Foundation has also received millions in donations from big oil companies. According to available public records on the Clinton Foundation website, ExxonMobil, Anadarko Petroleum, and the Foreign Affairs, Trade, and Development Canada agency all opened up their checkbooks for the Clintons' charitable organization last year.
Despite Hillary Clinton's avoidance of the Keystone XL issue, she did surprisingly distance herself from Obama's controversial approval of Arctic oil drilling in a tweet on August 18th. "The Arctic is a unique treasure," she wrote on Twitter. "Given what we know, it's not worth the risk." The attempt to put her weary environmental supporters at ease may be partially in response to the largest environmental grassroots network in the World, Friends of the Earth, formally endorsing her rival, Vermont Senator Bernie Sanders, earlier this month. Nipping at Hillary Clinton's heels in the polls and beginning to take the lead in some, Vermont Senator Sanders has been an active opponent of the Keystone XL pipeline since 2012.
"If we are serious about protecting the planet and improving our economy, America's energy future must focus on energy efficiency and renewable energy," Mr. Sanders wrote in a January 2012 press release. "We know that by improving the fuel efficiency of our cars and trucks to 54.5 miles per gallon, an easily achievable accomplishment, we can save up to three times more oil per day than Keystone XL would carry." Mr. Sanders also sponsored a bill introduced in July to stop oil drilling in the Arctic in response to the Obama Administration's hypocritical decision to grant Shell permission to drill of off Alaska's coast.
When it comes to significant environmental issues such as Arctic drilling or the Keystone XL pipeline, betting on Hillary Clinton to do the right thing is not worth the risk. The Arctic faces enormous threats from climate change as it warms much faster than lower latitudes, it provides a glimpse of changes heading our way. As the world continues to warm at the current unprecedented pace, we are on the verge of entering unchartered waters as to what the future Arctic may look like. The Arctic exerts a major influence on moderating global climate and shorter-term weather patterns. Changes in the Arctic have feedback loops to areas with greater population densities. Protecting it needs to be a primary concern that should not be put in jeopardy by supporting a politician who has a record of siding with corporate interests in contradiction to the livelihood of our Earth.
"The United States must lead the world in tackling climate change, if we are to make certain that this planet is habitable for our children and grandchildren," stated Senator Sanders on his official website's stance on climate change. "We must transform our energy system away from polluting fossil fuels, and towards energy efficiency and sustainability." Those vital transformations will be lacking under Hillary Clinton, and our planet can no longer afford to delay taking swift and aggressive action to fight global warming.