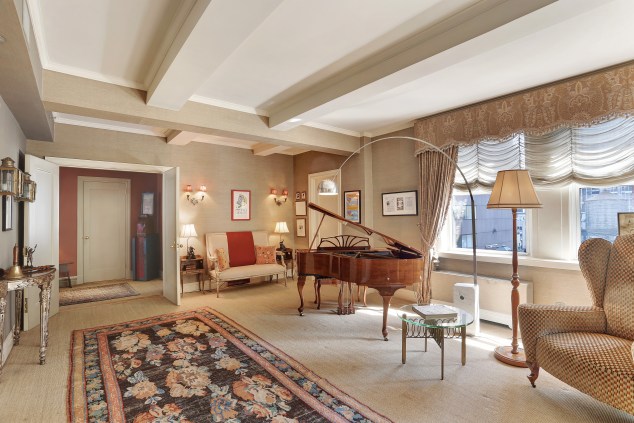 "I was in Paris, in this bed, reading about the life of Richard Rodgers and it says when he and his wife got married they moved into the 19th floor of the Lombardy Hotel!" said Albert Tapper, recalling how he found out that the legendary composer lived in his apartment at 111 East 56th Street.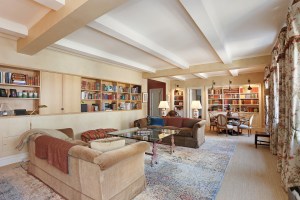 Mr. Tapper, himself a composer and playwright, took it as an auspicious sign. And unlike Mr. Rodgers, he doesn't have to worry about hitting the ivories too hard for his neighbors' liking: his 3,800-square-foot co-op encompasses the entire top floor of the 1920s building.
One of Rodgers' fellow residents, the novelist Edna Ferber, even took her complaints to the management. "Can you imagine?" Mr. Tapper asked. Fortunately, the story had a happy ending: "He brought her a dozen roses and they became the best of friends."
And so, Mr. Tapper hopes, might his decision to list his apartment for $4.295 million with Citi Habitats broker Jana Angelakis. An occupant of the Lombardy for the past 15 years, Mr. Tapper told us that he "was in a relationship when I got this place and never really needed all this space."
He has, nonetheless, put the three-bedroom (convertible four) apartment with a 1,400-square-foot wraparound terrace, to good use, filling it with a grand piano and an extensive collection of Americana.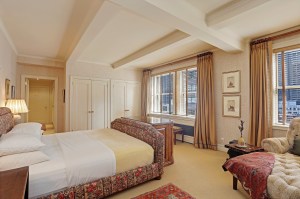 He showed us an original, autographed photo of Marilyn Monroe; a boxing glove from the Sugar Ray Leonard-Roberto Durán No Más fight, and an extensive collection of baseball memorabilia. There were Ted Williams' cleats, a home plate from Yankee Stadium, and, occupying a glass case that once held the Peabody Award Mr. Tapper won for the documentary Broadway Musicals: a Jewish Legacy (the Peabody now sits uncased on a credenza): Babe Ruth's hat.
The three of us stood before the case and stared contemplatively at the cloth object. "That hat is worth more than my apartment," Mr. Tapper declared proudly.