As an album, it was not a revelation. Unlike its predecessor, it did not herald an unprecedented songwriting style that music fans found to be unbelievably ambitious, audacious, mad, rad. Gone were the lyrics that sounded like Chuck Berry had been secretly collaborating with Jack Kerouac. And jeez, you could scour the whole record and hardly find a reference to a street, swamp or famous fortune teller from the artist's beloved New Jersey.
'The release date is ephemeral. The record is forever.'—Bruce Springsteen
Regardless, 40 years ago, Bruce Springsteen released Born To Run. Which, corporately-speaking, was this brilliant, but low-selling artist's last chance to break through to a national audience. Amazingly, he did. For the converted, however, things were a bit more complicated. It took us a while to get used to the cleaner sound, more conventional song structures, lines that made linear sense. But we came around. And over time, despite the occasional carping, we realized this was one epic piece of art. Even if it didn't seem like the work of that same crazed, wordy wild man we'd fallen for in 1973.
Our story begins, logically enough, with that title song. Which, when you first heard it, was simply stunning.
Somehow, Springsteen, whose first two albums were cinematic, experimental, often unwieldy delights, had managed to take his extravagant gift for language, his love of Roy Orbison, girl groups, Bob Dylan, Duane Eddy and boiled all these elements down into one powerfully rocking, hooky song. A hit single—sorta. He reduced his use of multiple bridges, reigned in his desperately romantic street poetry and elegantly eccentric baritone, then added an indelible guitar hook and a compact, catchy refrain.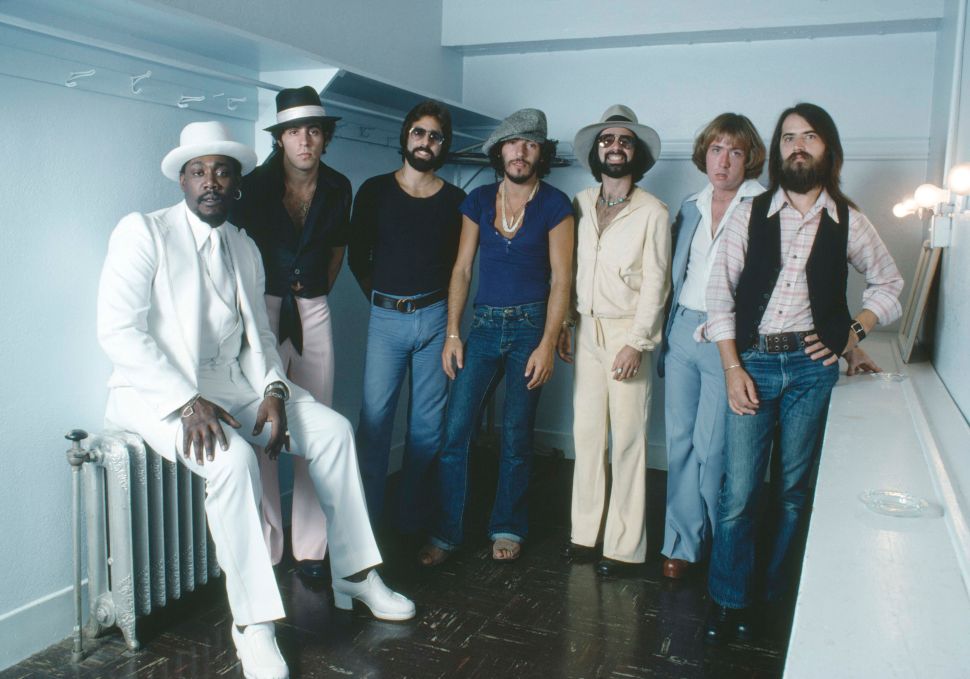 There was a new, if old, influence that shaped this song—and album—too. A Spector whose first name was Phil. Who, it bears remembering, before his legendarily bestial behavior crystallized into the criminal, made the most orchestral, explosive teen paeans in Rock and Roll. For Bruce to move ahead, for him to be able to make an album people would buy, it all started with music that was first created over 10 years before. Springsteen's manager and producer, Mike Appel, picks up the story at this point.
'We knew we'd done something amazing when we made this album. But it really began before we laid down one track.'—Mike Appel
"We knew we'd done something amazing when we made this album. But it really began before we laid down one track," says Appel, the smart, quick-talking man, who was the first "suit" to really see something in this wild, innocent, logorrheic kid. When so many others—let's face it—figured him for a word-drunk whack job. "Bruce had just finished a concert in Richmond, Va. He was in the back seat of the car. He leaned over the front seat and said, 'Mike, I'm trying to meld my lyrics with more Phil Spector-type songs and I'd like to use his production values.' And I said, 'O.K., I got it.' Then he said, 'Do you know anything about Phil Spector production values? And I said, 'Yes, I do.' "
Appel's partner, Jim Cretecos (who by this time had jumped the Springsteen ship, and, as a result, is probably still on antidepressants), had written a song for a kid named Robin McNamara, from the musical Hair. Getting involved in the production of this song was the legendary Jeff Barry, who, with wife Ellie Greenwich, had written countless Rock Anthems. Including a little number entitled, "Be My Baby."
"During the recording of that song, 'Lay A Little Loving On Me,' Jimmy Cretecos had questioned Jeff about Phil Spector's production technique. Jeff Barry told Jimmy everything!," says Appel. "And Jimmy told me! So that's how it came down to Bruce Springsteen."
It should be noted that the epochal song, "Born To Run," was recorded in the, well, limited 914 Studios, in Blauvelt, N.Y. It took six months of recording (starting in the spring of 1974) and countless overdubs for Bruce, Mike and The E Street Band to approximate Spector's famous "Wall Of Sound" (wherein scores of musicians all played live, simultaneously, allowing their instruments to bleed into one another, creating a gloriously dissonant din). The kid from Jersey and his confederates accomplished this all by themselves. Just by overdubbing.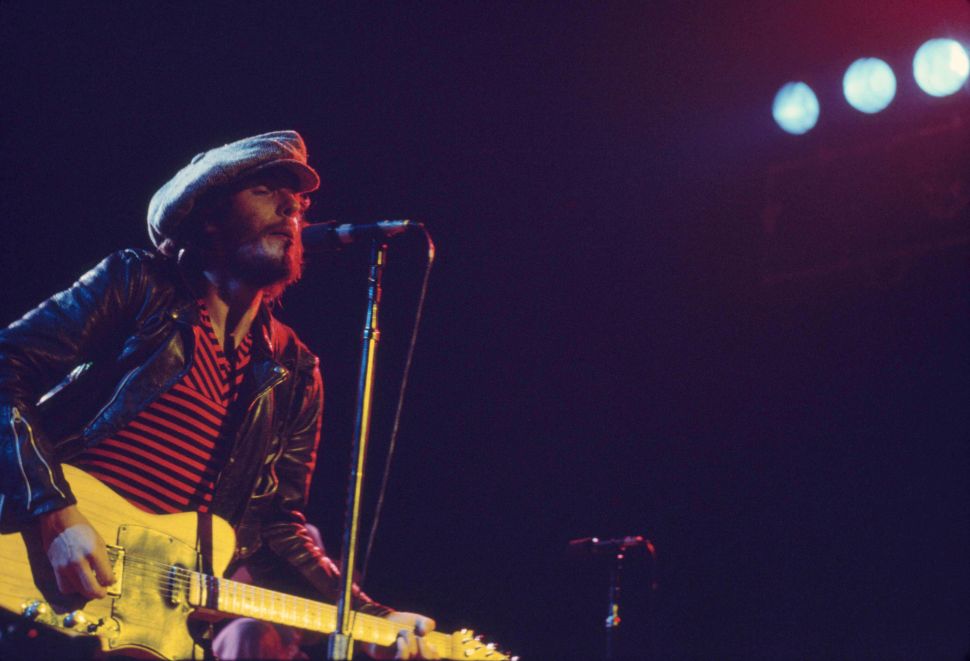 So now, with that singularly Spectorian song done, Bruce, Mike and new co-producer, Jon Landau, found themselves in a sort of spooky place. On the verge of having been dropped by Columbia, Springsteen's label, with the song "Born To Run" done and some kind words from the Rock press (including Landau himself), they went from nearly being dumped by their label, to being allowed to make one…more…album. But now they had to make one chockfull of songs that could both hit the same aesthetic highs as that epic and sit comfortably next to it.
'This is one of those rare records where you have an artist set out to make a Great American Album, and ultimately, he achieves it.'
"We then moved our operations to the Record Plant in Manhattan," says Appel, "we knew we had 'Born To Run' as our model, what we wanted to aim for. But, then we wondered, what is everything else going to sound like? It's going to have to sound similar to 'Born To Run.' We're going to need big songs like 'Jungleland,' 'Backstreets,' 'Thunder Road.' Bruce wrote those epic songs. But also little noir gems like 'Meeting Across The River.' "
The Record Plant, says Appel, aside from being sonically superior, also had another, quite unintended aspect that made Bruce motor toward finishing his breakthrough album.
"Because the place was so expensive," says Appel, "Bruce didn't have the luxury he'd had at 914; talking about things endlessly, coming and going when he felt like it. The Record Plant was so expensive, it gave him the boot in the ass he needed. Suddenly, Bruce had to make decisions faster than he normally would. But being Bruce, he wouldn't be rushed. No matter how anxious CBS was for him to get the album out, now that they decided he had a future, Bruce still wanted to make sure the record was as good as possible before he let go of it. He said at one point, something unforgettable: 'The release date is ephemeral. The record is forever.' "
Rock biographer and Springsteen fanzine editor (of Backstreets—the bible of all things Bruce), Charles R. Cross has some original takes, too, on why Born To Run is such a genuinely great album. Both in Springsteen's career and in the History of Rock. He actually accomplished, says Cross, what he set out to do. An extraordinarily difficult thing in any art form.
In 1975, Born To Run was Bruce Springsteen's last chance to break through to a national audience. Amazingly, he did.
"The reason Born To Run is an important Rock record, is because it's made in a different way than people make records now," says the erudite, engaging Cross. "This guy was trying to write a record he saw as part of the great American Creative Canon. He was trying to make an album that was to Rock what West Side Story was to plays. He was trying to create important, big art. Almost never does someone set out to be that ambitious. And virtually, when they do, they inevitably fail. Because there's something about that idea, 'I wanna make something important,' that often takes you away from that actual capacity to make art. This is one of those rare records where you have an artist set out to make a Great American Album, and ultimately, he achieves it."
That prescient shot-calling, that preternatural ability for snatching universal American truths from thin air, let alone actually translating them into musical form, and finally, putting them down on wax, all of it transformed Born To Run into more than just a timeless album—it has become the thing of legend.
"The kind of songs and themes he was writing about, specifically, encompass the suburban angst of growing up in suburban New Jersey and trying to break away from the American sociological world that had been with us ever since the Eisenhower era. There was very little different about that world, than the one that Bruce grew up in. The values and concepts that Bruce wanted in life were very much in conflict with the squares—with mainstream America. Which he wanted to escape from. The irony? The album itself became the ultimate mainstream American Rock album."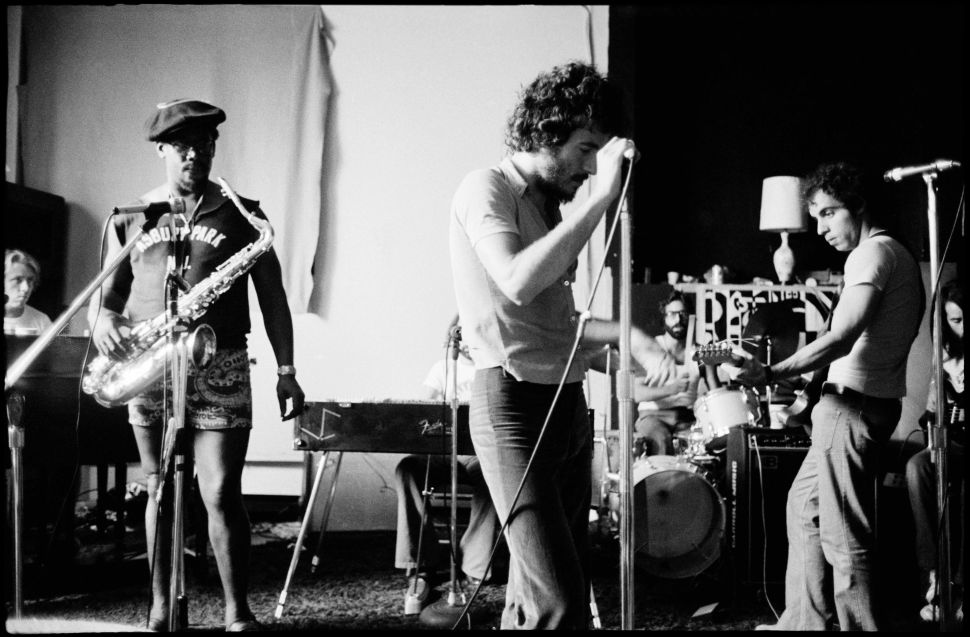 Finally, there's the man who has played these songs countless times beside the guy who wrote them. That gentleman would be the estimable Nils Lofgren, who, himself, is an artist with an almost obscene array of musical gifts: an ace songwriter, a brilliant bandleader and a guy whose guitar-playing is so overloaded with technique and soul, his only real rival is the late Jimi Hendrix. Lofgren, whose early years were spent fronting his criminally underheard band Grin and aiding and abetting a fella named Neil Young, has been a member of Bruce's E Street Band since 1984. He's had a lot of time to think about why Born To Run still resonates, with the audience, with him.
'Born to Run became the ultimate mainstream American Rock album.'
"Initially, I loved its lyrical content and the angst that goes with being young," says Lofgren. "But as I got deeper into the album, I marveled at the maturity of it, the orchestration, just extraordinary, advanced stuff. As a side thing, there's my wife, Amy, who was a stereotypical poor West Orange 'Jersey Girl.' She spoke often of Born To Run as the lightbulb that showed her a new way that she didn't think she had. It was the record that gave her the courage to leave New Jersey and find a better life for herself. The album said to her, and many others, no matter how unsure or insecure you are, you can leave and find something better."
Lofgren, who on certain nights, has performed the entire disc, front-to-back, has a new appreciation for the record that helped to change the American trend toward Soft Rock and, despite boasting a grander sound, also helped ready people for the imminent din of Punk.
"After really listening to it at the time, the beauty and the scope, to then get inside it and play it, it renewed my respect for the record itself. And for Bruce," says Lofgren. "He's often mentioned that it was six months of lyric writing with pencil and notebook, rehashing it over and over, looking for that perfect combination of words. All the time spent in the studio, rewriting and working on it, were well worth it obviously."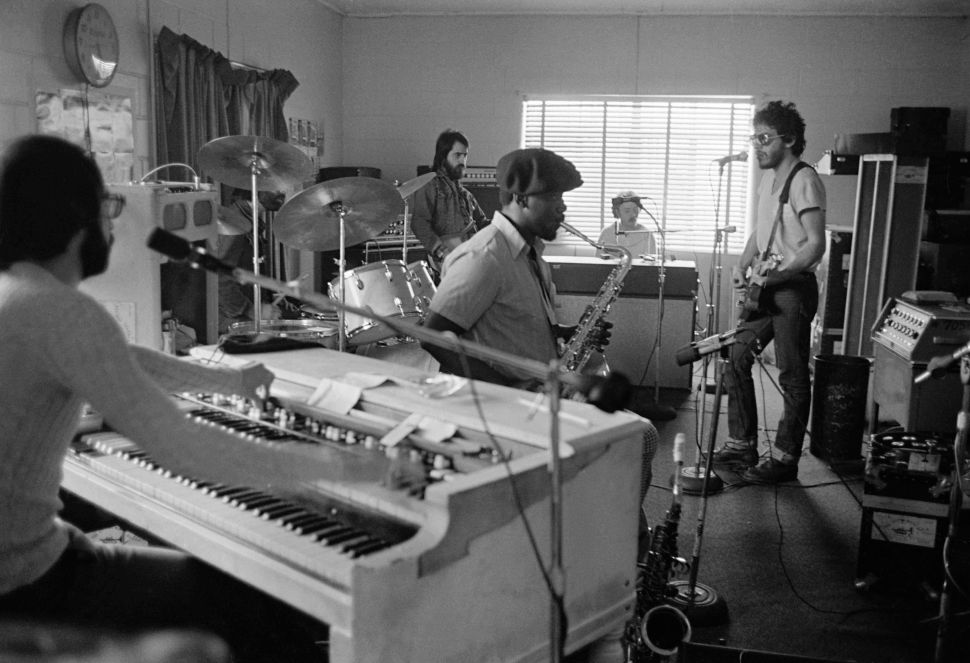 On a more visceral note, Lofgren ends his assessment by bringing it all back home to what he was born to do: and that's play. He has special feelings about performing two songs in particular from Born To Run. It's those two final tunes from Bruce Springsteen's "Opera out on the turnpike," that are still resonant for Lofgren and reverberate for him, even years later.
"What really comes to mind is 'Meeting Across The River' into 'Jungleland,' " he says, talking hypnotically, like a man who's been put under a spell and is vividly reliving some essential experience. "First of all, 'Jungleland' is this massive piece and my part in it is these power chords, which is a lot of fun. But a part of the experience is a lot of quiet, too, just listening to the majesty. Whether it's [late bandmate] Clarence [Clemons'] sax or those insane, classical, virtuosic parts that [pianist] Roy Bittan plays.
"In 'Meeting Across The River' I just go back behind my amp and sit there on the riser. I just groove on the sight and the sound, knowing I have four minutes to take all that in. Then, as 'Jungleland' begins, there's still quite a while before I put on my Strat and am able to hit those power chords, with Clarence, at the time, standing next to me. We both come out of the dark and bang those big chords and just carry on with that beautiful song. So, that transition, those two beautiful pieces there, come to mind. Simply put, they are just such a great way, the only way, you can really imagine Bruce, and the rest of us, ending a great album like Born To Run. And I think everyone who's ever heard it, feels exactly the same way."
This piece is dedicated to Ellen Ross.
[youtube https://www.youtube.com/watch?v=JR_0nbEzVdY&w=420&h=315]
***
All photographs used in this story appear courtesy of © Barbara Pyle/Reel Art Press, and are taken from the book Bruce Springsteen and the E Street Band 1975: Photographs by Barbara Pyle (£40/ $60), published October 30, 2015 by Reel Art Press. The U.K. release will coincide with an exhibition at Snap Galleries, London from October 13-November 28. Barbara Pyle will be signing copies on October 29 at Rizzoli Bookstore New York. 
***
Phil Ochs Wrote 5 of the Best Concept Albums Ever in 3 Years