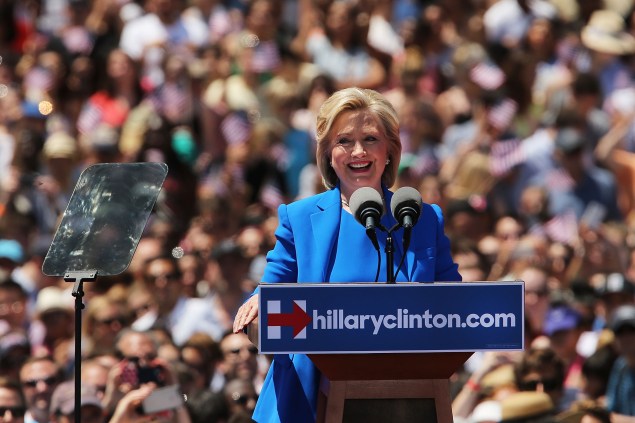 Saturday, June 13, Hillary Clinton held her first campaign rally in New York City. Speaking in front of thousands of people, the former first lady and secretary of state touched on topics ranging from climate change to crime, all while positioning herself as a champion of the middle class. She did this wearing a custom blue Ralph Lauren pantsuit, paired with a matching royal blue top. Yes, Ms. Clinton is sticking with her '08 uniform, but make no mistake—the blazer and trouser combo is different this time around. She's upgraded her designers, hired a team of image experts and left her so-called "dowdy," "matronly" personal style in the past. For the 2016 election, Ms. Clinton has finally figured out how to use the pantsuit to her political advantage.
During her last presidential campaign, Ms. Clinton was lampooned by comedians including Andy Cohen and David Letterman, and even made her way around the Internet as a rainbow-colored pantsuit meme. Rather than ignore the critics, Ms. Clinton has always taken the "if you can't beat 'em, join 'em" approach. She has never been afraid to poke fun at herself, and in 2008 she addressed her biggest fashion missteps with the odd joke. But while Ms. Clinton was willing to contribute to the tabloid fodder, she famously reneged on participating in a Vogue spread.
Fortunately, Anna Wintour hasn't held a grudge.
Last year, the editor-in-chief publicly stated her support of Ms. Clinton at the opening of the Oscar de la Renta exhibit (which took place at the Clinton Presidential Center). What's more, she declared in her speech, "All of us at Vogue look forward to putting on the cover the first female president of the United States."
It's no surprise women's magazines are fawning over Ms. Clinton, especially considering Michelle Obama's massive affect on retail sales. As a champion of American designers such as Jason Wu and Prabal Gurung, Ms. Obama has made the White House an unexpected place to look for serious fashion. It is doubtful that Ms. Clinton's pantsuits would sell as quickly as FLOTUS-endorsed frocks, but retailers certainly court the White House's potential marketing power
But the media's focus on Ms. Clinton's appearance has been largely one-sided. Male candidates are rarely called out for their fashion choices. Rick Perry's faux-hipster glasses, or Mike Huckabee's Elmer Fudd-esque suits have gone largely unnoticed. There was barely a media mention of the mind-boggling array of hair-fillers, comb-overs and quaffs (Chris Christie) concealing the bald patches of the GOP candidates at their recent debate. Hollywood stylist Jen Rade (who works with Angelina Jolie and Abbie Cornish) identified the double standard and told the Observer: "We wouldn't be having this conversation if she was a male candidate! I think the focus should be on her platform and what she is campaigning for and less on her look—because let's face it, she always looks great and will continue to inspire women around the world."
Ms. Clinton has no choice but to endure her heightened scrutiny and take it in her stride. She must strike a tricky balance between being dismissed as vain yet looking polished enough to be taken seriously. According to Ms. Rade, taking ownership of the pantsuit allows Ms. Clinton to move beyond the outfit chatter and address other issues.
"Pants are comfortable and can help give a sense of confidence and power since the look is inspired by, or derived from, menswear," she said. That confidence is resonating in Ms. Clinton's campaign. Commentators are noticing a strong, trailblazing cheerfulness coming hand-in-hand with her new, streamlined look, devoid of the style-savaging scarves, belts and hair accessories seen in pre-campaign days. 
House of Cards costume designer (and Robin Wright's stylist) Kemal Harris attributes Ms. Clinton's revamped style to the recent integration of fashion and politics. "From my perspective, the government in D.C. operates like a giant corporate entity, which is why you mostly see men in traditional suits and women in blazers with matching skirts," she explained. "Then, along come disrupters such as Ruth Bader Ginsburg with her lace gloves and artsy neckwear and first lady, Michelle Obama, in her fresh, young designer wear and you realize just how much the element of personal style is missing among government representatives." Ms. Clinton's sharpened-up but warmer image is a natural extension of this, and she has recruited a team of experts to help her.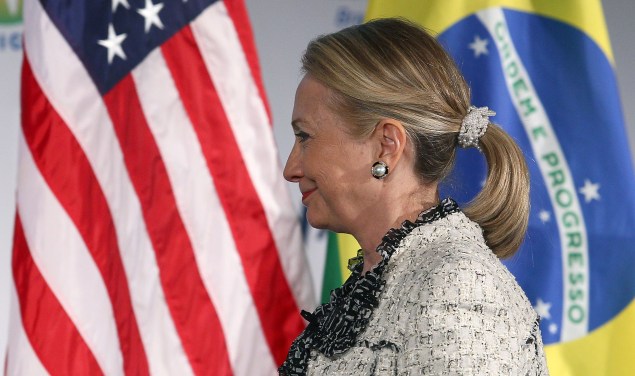 Ms. Clinton is rumored to have hired makeup artist Barbara Lacy from HBO's VEEP to head her beauty team. And reportedly, she is still a client of her longtime hair stylist Isabelle Goetz. (Neither returned requests for comment.) Ms. Goetz's work has been particularly apparent of late. Ms. Clinton's harsh, salt and pepper streaks of the winter have been replaced by warm, buttery caramels and golden highlights, a common hairdresser's tactic for "softening up" a woman's appearance. Ashy, white and mousey tones are considered to be harsh and aging. But arguably the most important addition to Ms. Clinton's team is Kristina Schake. A former aide to Michelle Obama, Ms. Schake uses style, body language and other PR tactics to shape Ms. Clinton's public persona and make her more relatable.
Ms. Clinton's recent appearances indicate that these tactics of business-like, streamlined outfits and softer beauty are working. According to professor Andy J. Yap, of INSEAD's Organisational Behavior Area, Ms. Clinton's body language at the June rally revealed a more relatable side.
"She smiled a lot more with her eyes. Psychologists call this a Duchenne smile (or a genuine smile), which involves smiling with both the zygomatic major muscle (mouth) and the orbicularis oculi muscle (crow's feet around the eyes)," he told the Observer. "This, coupled with her usual confident demeanor—both from her dressing and posture—makes her appear warm and competent."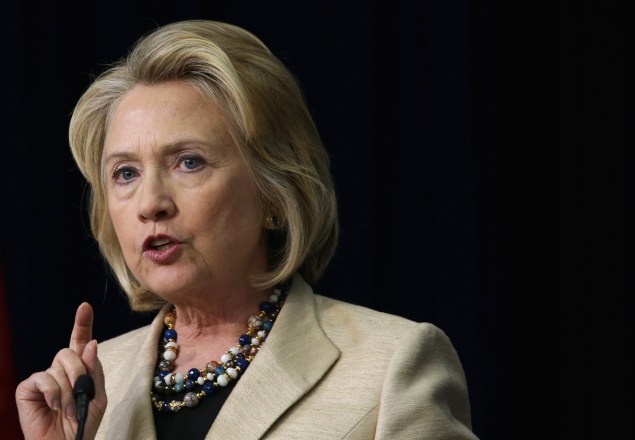 Clinton's effort to embody a new take on the "everywoman" doesn't come cheap. In addition to wearing iconic American designers such as Ralph Lauren, Ms. Clinton is a loyal client of inside-the-beltway designer Nina McLemore, well known among politicians and CEOs. Ms. Clinton's Ralph Lauren suit from June cost $1,400, and according to the Nina McLemore website, her sets range from $900-$1,500.
Rather than changing her personal style, Ms. Clinton is using it as a political weapon. Consider her e-shop, which currently stocks "The Everyday Pantsuit Tee," a crewneck shirt printed with a pantsuit top. Then there is her first ever Instagram post: a rack of pantsuits in red, white and blue. Captioned simply "Hard Choices," the single photograph sums up Ms. Clinton's approach to fashion.
Political candidates have adopted social media, embraced grassroots movements and utilized technological advances, and now it's important for both sexes to add appearance to that list. By co-opting the narrative surrounding her appearance, Hillary Clinton is letting everyone knows she is not just in on the joke, but aiming for the last laugh, too.