At age 80, I've become a community organizer.
It was chiefly by chance. After a dozen years as administrator of the Pulitzer Prizes and many years as a journalist and professor, I retired last August into a life of creative dabbling on the Upper West Side. When winter wind howled off the Hudson, I just poured another cup of morning coffee and pulled my bathrobe tighter.
Then, the renowned American Museum of Natural History began to misbehave. It wants to build a six-story, 218,000-square-foot science center in verdant Theodore Roosevelt Park, near its 79th Street entrance. It sounds grand. Who can be against scientific research and education? But there is a terrible tradeoff.
The new building would massively encroach on an urban oasis, destroying at least nine majestic trees that dazzle the eye, cool the day and nurture human health and vitality. At the same time, earth movers would demolish one of the city's sweetest gathering spots, where moms take a colicky newborn out for a soothing buggy ride, the elderly find a shady bench to rest aching bones, dog owners pause to swap canine anecdotes, tourists plunk down for a snack. For many neighbors, their "backyard" is imperiled. As one mother said: "That's where my child learned to walk!"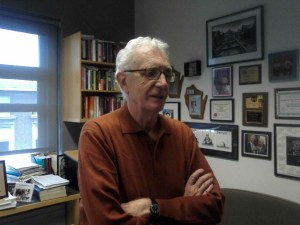 On July 1, about 40 neighbors attended an initial briefing by the museum, suspiciously called before the Fourth of July weekend when many residents were away. The reaction was vehement opposition to the incursion. Speakers told museum leadership to find a less destructive way to advance science. While the new building would use some existing museum space, it would mainly consume parkland. So speakers urged more re-purposing of room within the museum's gaggle of 25 interlocking buildings. Or, some said, move the center to a disadvantaged area of the city.
Moved by memories of joyful time spent in that tranquil patch of park, I volunteered to organize the opposition and, suddenly, I had a new career. Soon I was helping to launch a website and Facebook page for Defenders of Teddy Roosevelt Park.
Of course, going from journalist to activist requires a mental shift. When covering controversy, a reporter should be detached, evenhanded. Now, I advocate a point of view. But, as I settle into the new role, it feels both freeing and exhilarating.
For our campaign, the odds are long. Museum trustees exude wealth and influence. A benefactor, financier Richard Gilder, has pledged $50 million for the center that will bear his name. And the museum knows that a case can be made for improving science education. But achieving one public good should not mean wrecking another public good. 
The battle to save Teddy Roosevelt Park is part of a larger struggle to preserve nature in New York and beyond (consider the irony of destroying a green space honoring the far-sighted president who expanded our national park system). Some observers warn that the museum will have its way; that it has lined up political officials and will weave-and-bob through the governmental approval process. Meantime, foes will likely be cast as witless NIMBYs. However, I draw encouragement from recent victories for good sense, fights that saved the Frick museum's garden and foiled ill-advised expansion of the New York Historical Society's museum.
And then there was the day in 1956 when the powerful Robert Moses riled a bunch of well-to-do mothers. Moses wanted to build a parking lot for Tavern on the Green on a little park where the kids played. He huffed and puffed. Once, he even tried to destroy part of the park after dark. But the moms fought back—ultimately saving their park. Today, scores of parents who love Teddy's park are likewise stirring. I'm happy to have them part of my new calling.
Sig Gissler, formerly administrator of the Pulitzer Prizes, is president of Defenders of Teddy Roosevelt Park.