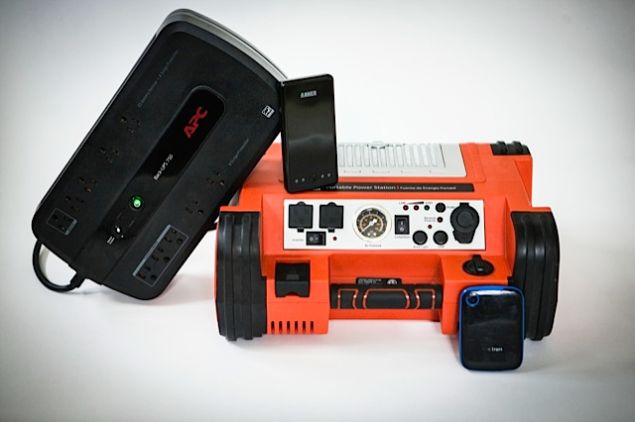 It's that time of year again. Hurricane season. Tropical Storm Erika has already turned deadly, claiming the lives of 12 on the small Caribbean island of Dominica, and is now inching toward Florida.
For city dwellers, it;s usually not a big deal. It's sorta like being in the big brick house while the wolf huffs and puffs. You'll see TV coverage of houses being damaged by falling trees, flooding rains… or hear about power outages everywhere else.  But it's not a problem for you, right?
Here in the Northeast, Hurricane Sandy changed many perspectives on what a large storm means to our area. But what can you do if the power goes out again? People in the suburbs all went out and bought generators 'just in case.' They can fire it up, plug it into their house and get along pretty well. Some homeowners even threw down big money for whole house generators that come on all by themselves as soon as the power goes out. They haven't a care in the world! But you're on the top floor of a brownstone in Brooklyn. Or maybe you're on the 25th floor in a high rise in Midtown. Or a basement apartment in the East Village. Maybe your building will get a generator online if there is a prolonged power outage, but probably not. So what can you do?
It turns out, quite a lot. And for a pretty reasonable amount of money.
Power for your phone:
It has been proven scientifically that humans cannot survive without oxygen, water or smartphones. The problem is, smartphone batteries don't last very long. There are endless options for this. I own and have used several of them.
Amazon sells the Anker 2nd Generation Astro E3 battery for under $29. I bought two of these for a recent vacation, and never had to worry about power. My iPhone 5C will charge from dead to full at least four times before the battery pack itself needs to be charged again. It's as large as an iPhone a weighs about twice as much- but I can't live without it, even on my daily commute. Keep one or two of these charged at all times, and you might just make it through the week with no power.
I had also purchased a previous version of a similar item from a company called New Trent. It's now called the New Trent Torch 5200mAh USB Port battery. It costs more than the Anker version, but is lighter and delivers more charges. It's very solid and reliable, and they've even thrown in a flashlight and laser pointer-  which is also great in a blackout if you need to light your way or want to entertain your cats.
A smaller option that can buy you some time in a power outage is the EC Technology Mini 2600mAh external battery pack with flashlight. It's a 'lipstick' style charger for $9.99 on Amazon. You'll get about one full charge out of it before it needs to be recharged. It's handy, and small enough to keep in your pocket or purse for general use. You might see similar, if not identical versions of this at the checkout at any Duane Reade.
Power around your pad:
You may have a version of this next item at your workplace. A UPS power backup. They're great because they can continue to run your computer for a while when the power is interrupted, which gives you time to save your work and shut down without damaging your hard drives or computer. But it's basically just a rechargeable battery, and they have gotten quite small over the years. This one looks like a power strip on steroids.
I bought several of these and have them placed around my house. One is hidden under the nightstand next to my bed. My iPhone charger, two table lamps and a CPAP machine are plugged into it. Should the power go out, we can still turn our bedside lamps on- plus our phones will stay charged and my CPAP machine won't stop running.
But there is a catch!
I bought the APC BE750G 10 Outlet UPS.  It's been fantastic. But they are designed to alert you that the power has gone out, and will make a really loud beep to let you know. Not ideal for next to your bed if your plan is to sleep through a storm. Fear not, that feature is easily disabled via a simple connection to a PC and a quick setting adjustment. You only have to do it once and you're all set.
It works so well that I've added a few more around the home. Our living room has a couch table against a wall with a little Bose Sound Dock and a lamp on it.  Underneath it and out of sight is an additional UPS battery, so in a storm we can at least walk into the room and turn on a lamp- and even enjoy some tunes. The battery will power a lamp for a pretty good amount of time (depending on the bulb of course). I've also added one to our entertainment center, which also houses the wifi router. This way, as long as our cable service isn't also interrupted, we can continue to enjoy wifi in a blackout. Lastly, we have one in the home office, which houses our phone system, laptops and some other electronic items.  While our home cordless phones all have self contained rechargeable batteries, the system is useless if the base station doesn't have power. So once again, the UPS will keep us connected.
The battery mentioned above is available on Amazon for under $90. Just don't forget to turn off that beeping or you'll have one noisy home in a power outage.
A more robust power option to keep you functioning in a storm is the Black and Decker PPRH5B Professional Power Station. It's a long name for a small and powerful item. It's a little larger than a square foot and about 6 inches thick. It's pretty heavy at 20 lbs., but very much worth keeping charged up and stored in your closet for emergencies.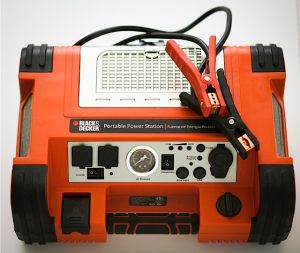 It has more features than you might use at home. For example it comes with jumper cables to start your car and also has a built in air pump and gauge. If you're a bicyclist, that might be worth having on hand in general. But what makes it great for a storm is the built in inverter. This gives you 2 standard AC outlets to plug in whatever you need to run (smaller appliances like TVs, laptops or a fan—you're not going to run your window AC unit with this thing). It also gives you a DC socket if you happen to have things you would normally plug in your car. And as an added bonus, you get a USB port. It also has a powerful LED light that can do a pretty good job lighting your room for a total of 15 hours (according to the specs). Once it's charged, you just store it where you want and just remember to top off the charge every month or so.  Power when you need it for under $130.
Think you need even MORE power? For just under $500, you can get the Xantrex 802 Power 1,500 Watt Portable Powerpack. While it can generate 1,500 watts,  it doesn't do that for an extended period of time. During a winter outage, a neighbor tried to use theirs to run a space heater. It worked for about a minute. This unit's inverter gives you two AC plugs total, and can even run power tools.  While it is considerably heavier than the Black and Decker unit mentioned above, weighing in at 60 lbs.- it comes built into its own durable hand truck frame for easy moving. And because it can generate so many more watts, this unit could run your fridge for a while instead of just powering up small electronics.
So there you have it. You don't have to be powerless just because there is no power. Any and all of the solutions above will help you weather any storm, while being neatly tucked away in your closet or under your bed until needed. Keep your phones charged, your laptop running, your home lit at night and most importantly-  keep your sanity intact.