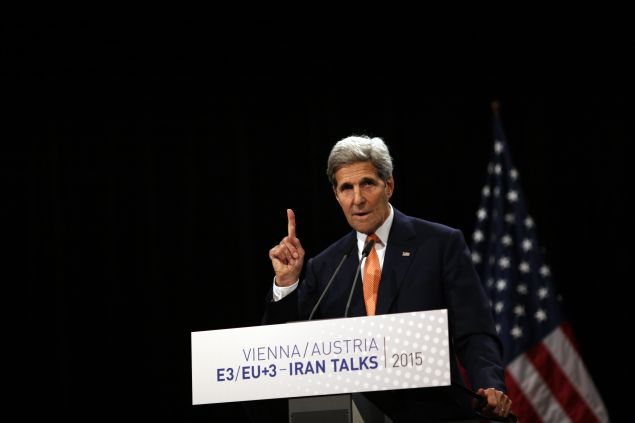 Few elected officials face more scrutiny over the Iran nuclear deal than New York City's congressional delegation. Overwhelmingly Democratic, they typically side with President Barack Obama and are now under enormous pressure to vote for a signature piece of Mr. Obama's foreign policy agenda. But in many instances, they also represent large Jewish constituencies that view the deal as an existential threat to America's top Middle Eastern ally, Israel.
Though both of New York's senators, Charles Schumer and Kirsten Gillibrand, have made up their minds on the agreement that was also brokered by five other world powers, a large chunk of the city's congressional delegation remains undecided. They still have time; a vote is not scheduled until mid-September. What they ultimately decide to do may also end up not impacting the accord in a significant way because Mr. Obama is closing in on the votes he needs in the House and Senate to override a potential congressional veto.
Republicans are opposing the deal en masse, agreeing with influential pro-Israel lobbying groups that the accord does not do enough to ensure Iran can never build a nuclear weapon. Many Democrats and liberals have accused opponents of the deals of seeking war with Iran, arguing that lifting economic sanctions in exchange for unprecedented restrictions on Iran's nuclear facilities is the only viable path forward. Some New York Democrats already disagree.
Here's the Observer's rundown of who in New York City supports the deal, who doesn't, and an analysis of what the undecideds might do.
Who supports the deal? 
Congressman Jerrold Nadler, representing portions of Manhattan and Brooklyn. Mr. Nadler is the first congressional Democrat from New York City to come out for the agreement. He did so this morning.
Who is against the deal?
Congressman Steve Israel, the former head of the Democratic Congressional Campaign Committee. He represents a large chunk of Long Island and a sliver of Queens.
Congressman Eliot Engel, the ranking Democrat on the foreign affairs committee. He represents parts of the Bronx and Westchester.
Congresswoman Grace Meng, a Queens Democrat.
Congressman Daniel Donovan, a Staten Island Republican. He was just elected in May.
Who is undecided?
Congressman Charles Rangel.
Why will he back the deal?
Mr. Rangel, the dean of the city's congressional delegation, is winding down his final term in office and has little reason to succumb to fierce lobbying efforts on either side of the aisle. He doesn't have a large Jewish constituency to inundate him with phone calls. He also ran for re-election on a platform of cooperating with Mr. Obama. His district, primarily black and Latino, is deep blue Obama territory. He was a critic of Israeli Prime Minister Benjamin Netanyahu addressing Congress without Mr. Obama's approval. (He ultimately attended anyway.)
Why won't he back the deal?
Mr. Rangel has a long record of aggressively supporting Israel. He's a familiar face at pro-Israel rallies and has repeatedly stressed maintaining a strong relationship with the country.
Congressman Gregory Meeks.
Why will he back the deal?
Mr. Meeks represents an overwhelmingly African-American district in southeast Queens, where Mr. Obama is still popular. Mr. Meeks sided with the president already on the controversial Trans-Pacific Partnership, a free-trade agreement, bucking labor unions and many in his own party. Jewish voters do live in the Rockaways portion of his district, as well as tony Jamaica Estates, but do not swing elections there.
Why won't he?
Mr. Meeks is traveling to Europe on a fact-finding trip to discuss the deal, according to Politico. Like the rest of the city's congressional delegation, he is a staunch supporter of Israel, and could be swayed by their allies' arguments.
Congresswoman Nydia Velázquez.
Why will she back the deal?
Like Mr. Meeks, more signs point to Ms. Velázquez siding with the president than not. Her district is diverse, spanning Manhattan, Brooklyn and Queens, and includes large Latino and Asian populations that will not pressure her to oppose the deal. She has been a reliable Democratic vote for Mr. Obama before. She represents a burgeoning bloc of Hasidic Jews in Williamsburg, Brooklyn, but they belong to the rare faction that is anti-Zionist. Unlike other members of the delegation, she is not known for being particularly hawkish on Israel.
Why won't she?
She has supported Israel and could join some of her colleagues in voting against the deal. And there are a handful of Orthodox Jews in her district—both in Brooklyn and Manhattan, around ex-Assembly Speaker Sheldon Silver's base—that could exert some pressure.
Congressman Hakeem Jeffries.
Why will he back the deal?
Mr. Jeffries has been holding town halls in his Brooklyn-based district to determine what he should do. He was an early Obama supporter in 2008. He represents black central Brooklyn neighborhoods where Mr. Obama is popular. He also signed a letter urging diplomacy with Iran.
Why won't he back the deal?
In addition to a core central Brooklyn constituency, Mr. Jeffries must also account for the white, conservative neighborhoods at the edges of his district. Areas like Brighton Beach and Manhattan Beach are filled with older Jewish and Russian voters hostile to Mr. Obama and the Iran deal. Mr. Jeffries has also emerged as one of the louder Iran critics in the city's congressional delegation and an unshakable ally of the pro-Israel lobby. His opposition to the Iran deal could be another point of contrast with Mayor Bill de Blasio; Mr. Jeffries is said to have mayoral ambitions.
Congresswoman Carolyn Maloney.
Why will she back the deal?
Mr. Nadler's decision to support the nuclear accord could push Ms. Maloney to do the same. He represents the Upper West Side of Manhattan and she represents the Upper East Side, along with portions of Brooklyn and Queens. Like Mr. Nadler, Ms. Maloney is a staunch supporter of Israel, a fierce critic of Iran and a veteran of the House. Mr. Nadler's constituency—he represents Borough Park, Brooklyn also—is even more Jewish than Ms. Maloney's. The pro-deal dominoes may begin to fall in Manhattan.
Why won't she back the deal?
The Upper East Side is home to some of the wealthiest residents in America and is a key donor base for many politicians, let alone Ms. Maloney. Many of these same people are more conservative and uncompromising backers of Israel, which is doing all it can to scuttle the deal. Ms. Maloney felt strongly enough about Israel's security to rip a long-shot challenger to Gov. Andrew Cuomo for not expressing her support for Israel clearly enough.
Congressman Joseph Crowley.
Why will he back the deal?
Mr. Crowley, a Queens Democrat who also represents portions of the Bronx, is a high-ranking member of the House Democratic leadership. House Minority Leader Nancy Pelosi has sided with Mr. Obama and could push Mr. Crowley to do the same. His heavily Latino district is also unlikely to bring any tremendous pressure on him to back the nuclear accord.
Why won't he?
Mr. Crowley joined many other House Democrats in bucking Mr. Obama on the Trans-Pacific Partnership, showing he is unafraid to challenge the White House. He is a staunch Israel ally and has not publicly pushed for any diplomacy with Iran.
Congresswoman Yvette Clarke.
Why will she back the deal?
Ms. Clarke, like Mr. Jeffries, has a core African-American voter base that sides with Mr. Obama. The whites in the northern and central half of her Brooklyn district tend to be more liberal and would be open to diplomacy with Iran. Ms. Clarke was willing to buck Orthodox Jews in her district when she criticized Israel's blockade of the Gaza Strip and supported other resolutions that raised eyebrows among Israel supporters.
Why won't she?
Ms. Clarke's district ropes in Crown Heights, Flatbush and Sheepshead Bay, three areas with Orthodox and observant Jews who are fervently pro-Israel and opposed to diplomacy with Iran. They appear to care much more about this deal than black voters. Crown Heights' influential bloc of Hasidim have already pressed Ms. Clarke to reject the accord.
Congressman José Serrano.
Why will he back the deal?
Mr. Serrano, a South Bronx lawmaker, is one of the most liberal members of the House. He has little incentive to buck Mr. Obama. He is a dove, not a hawk, on foreign policy matters and has expressed support for diplomacy in the past. His district is one of the most Hispanic in the nation and will not be pushing him to vote against the president.
Why won't he?
There isn't much in Mr. Serrano's history to suggest he would vote against the deal. The fact that he's taken this long to make a decision could be an indication that he is considering the merits of rejecting the accord. Evangelicals in his district could make a final push against the deal, too.