I furrowed my brow in concentration, mentally calculating the dwindling number of seconds I have to hit the grapefruit-sized ball nestled in the manicured green grass. We were getting closer and closer to my round white target, and there were a lot of things to coordinate: when I should start the swing, how far down I needed to lean, how I could best avoid inadvertently whacking a muzzle or hoof.
I raised the wooden mallet in my best imitation of Prince Harry cantering gallantly across a pitch, then swung it around and down toward the ball. My mallet made contact, but with the cushy lawn instead of the ball. Whoops. My 21-year-old instructor, Joaquin Panelo—a professional four-goal polo player—led my horse in a slow circle (moments ago, I'd thought we were going so much faster) so I could have another go.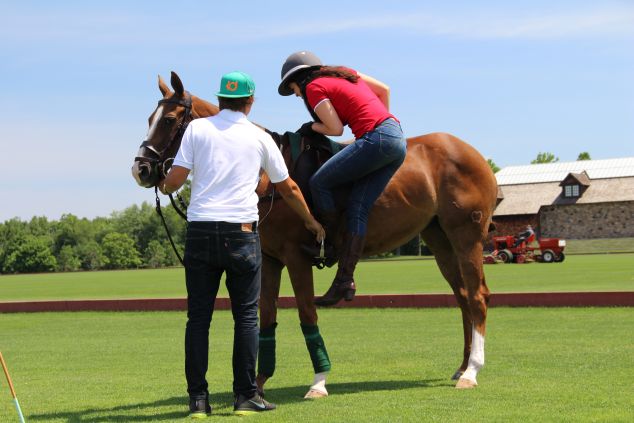 I had only departed downtown Manhattan an hour ago, but now I found myself with a helmet strapped to my head, an enormous mallet in my hand, and my body saddled up on my trusty steed, Rubia, a towering brown mare whose short-cropped hair gleamed in the hot summer sun. I doubted she was very enthusiastic about ferrying the likes of me—a first-time player wearing skinny jeans and who could barely lift the mallet—around Greenwich Polo Club's pristine pitch.
Shortly after hoisting myself onto Rubia's back, Joaquin rolled the ball onto the grass in front of me, and I tried my best to whack it, leaning perilously low off the side of the horse. It took a few attempts before I even made contact, and a seeming hundred more before I could hit the ball with anything remotely resembling power. It wasn't long before I was remarking to Joaquin that the muscles in my forearm were awfully sore.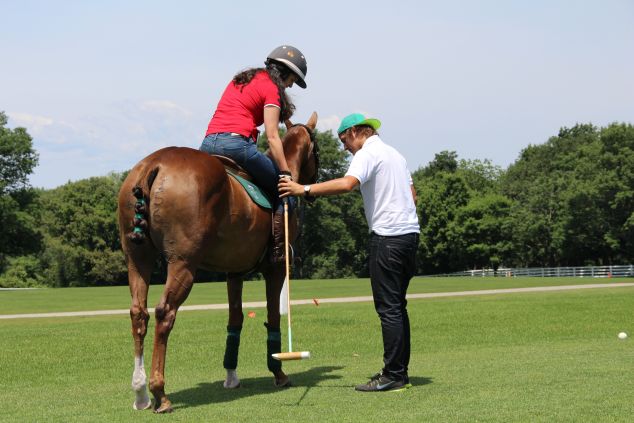 Was that an expression of pity or impatience that crossed his face? "This is the lightest mallet we have," he explained.
Ah. So perhaps it would take more time than I thought before I'd be tournament-ready.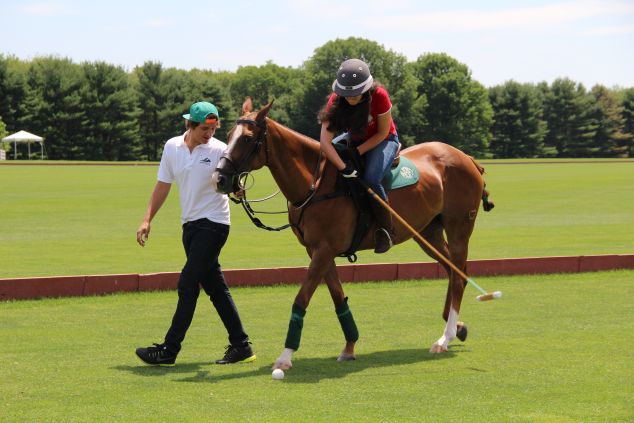 As I would later learn, polo is a growing hobby amongst Manhattan execs looking to stay in shape and blow off steam from a stressful workday. Three to four times a week—or more—city dwellers are popping up from Wall Street to saddle up on a polo pony, as casually as they might step onto the squash court or go for an afternoon jog along the Hudson. Getting started in the sport isn't even as financially burdensome as one might think, with new players having the option to lease, instead of own, horses, and equipment costing about as much as a set of golf clubs.
But that is not to say polo is easy, as I learned over the course of my approximately half-hour lesson. Nic Roldan might be able to fly across a polo pitch, but getting started produces far less graceful imagery. I did learn to hit the ball from either side of Rubia's body, as well as a trickier move where I whacked it out from under her neck. But there was hardly a semblance of power behind any of my shots, and I am quite certain, by the time I dismounted, we had never moved faster than a very, very slow walk.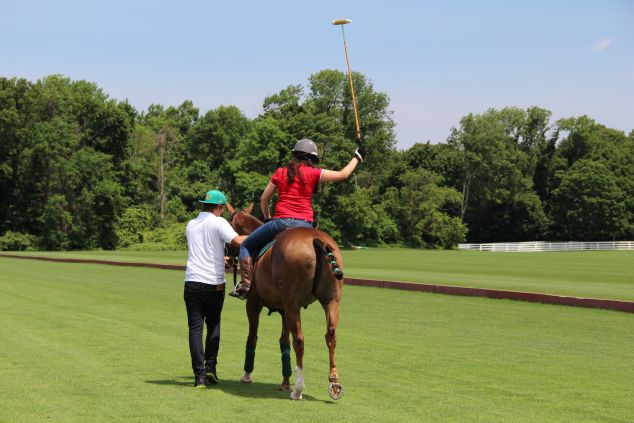 "So how many lessons do you think I'd need before I could try playing in a pick-up game?" I asked Joaquin at some point during the lesson, probably after I'd botched another swing. I wasn't talking competitions, or anything—just a casual game with other beginners.
Joaquin confessed the truth: "Probably 50."