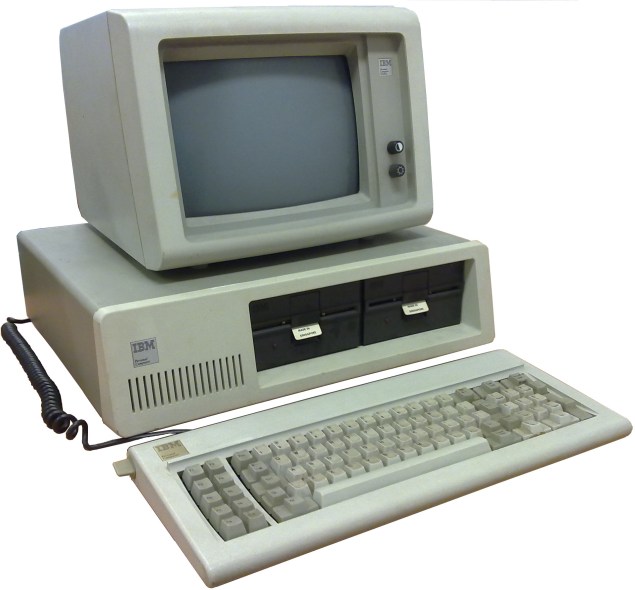 On this day in 1981, thousands of people put on their velour tracksuits and went to pick up their new IBM personal computers. Though the machine's hardware was ancient by modern standards, its importance to the history of PCs makes the anniversary worthy of notice.
Following the lead of companies like Atari and Apple, which had dipped their toe into the PC market in the late 1970s, IBM CEO Frank Cary decided in 1980 that his company would build a personal computer by the next year. After a crude prototype was demonstrated within a month, the PC (code named "Project Chess") was a go. Over 150 IBM employees were involved in the PC's development.
The initial PCs were made with commercial off-the-shelf parts, and included features such as floppy disk ports and cassette tape drives. The company also sought help from outside software engineers and service personnel, encouraging them to develop features to improve the product.
The IBM PC debuted on August 12, 1981, with prices starting at $1,565 ($4,100 adjusted for inflation). Commercials for the computer featured actor Billy Scudder playing Charlie Chaplin's Little Tramp, discovering the computer and adapting to modern times.
IBM received over 40,000 pre-orders for its PC, and by the end of 1982 the company was selling one every minute of the business day. But by 1986 IBM decided to explore other areas of tech, which eventually led to the release of the ThinkPad laptop in 1992.
IBM PCs had a far-reaching impact into the 2000s, however—the National Weather Service used them to process weather balloon data until 2006.
So happy birthday, IBM PC- though you may be old news now, you paved the way for computer innovation.