Let's face it: long commutes, office politics, and the nine-to-five grind are quickly becoming obsolete. According to a recent report, fifty-three million Americans (34 percent of the U.S. workforce) work from home as freelancers and home-based business owners. Many predict that number will increase to 50 percent of the workforce by 2020.
At long last, Americans are returning to the native way of living. Before the industrial revolution, everyone could consider themselves an entrepreneur—throughout the entire evolutionary process — all the way back. Working as an undervalued factory worker was simply a blip in an otherwise entrepreneurial human history.
Now, the small business owner can start-up and generate a million dollar gross income in six to twenty four months. The telecommuting and freelancing consultant can make six figures working wherever she wants and often less than 25 hours per week.
Despite the enormity of this shift, little research captures the lived experience of those experiencing it. Consequently, the purpose of this post is to quickly get you up to speed on the lifestyle, benefits, challenges, and decisions being made by Americans working from home. MoneyTips, an online community and information resource, recently surveyed 592 small business owners and telecommuters—and managed to reach some sound conclusions about their lives and experiences. The free ebook containing the complete findings can be found here.
People Who Work From Home Are More Productive and Happier
Eighty-six percent of Americans working from home LOVE or like working from home. So much so that 46 percent would turn down an offer of free office space just one mile from home!Not only are they happy, they're more productive. Despite doing household chores, watching TV, and caring for children, 67 percent report being far more productive working from home than being in an office.
Their Finances Are Looking Good
Although just over half (56 percent) of small business owners are satisfied with their current standard of living, the large majority (69 percent) are confident they will be able to grow their income enough to enjoy the lifestyle they want in the future. Their confidence is not in vain. Ninety-two percent live either within or below their means, and 89 percent report they are on track with at least some of their financial goals.
Additionally, 50 percent report having multiple streams of income. This is not surprising; the economy of the future seems headed toward a workforce of individuals working as specialists for multiple "employers" — rather than narrowly spending their hours on behalf of one person or company. .
That said, the picture isn't entirely rosy. Despite good financial habits and even a bright confidence in the future, nearly 80 percent of freelancers, business owners, and telecommuters lose sleep due to financial concerns.
Most Stay-at-Homers Are Younger Than 40
Almost 40 percent are millennials, and nearly 70 percent of Americans working from home are under 40 years old.I suspect these numbers will continue to increase as the rising generation is raised in a culture where working from home is the norm.
There Is No Clear Gender Gap in Those Who Choose to Work From Home
Fifty-one percent of Americans working from home are women. Many of these women are stay-at-home moms who have created successful businesses in the margins of their responsibilities.
Although there is no clear gender gap now, this may change over time. Despite being paid less than their male counterparts, recent trends highlight that women have more career ambition than men. Indeed, women earn more bachelor's and graduate degrees than men do. Women are also considered harder working, less prone to distraction, and better employees and managers.
Most Folks Who Work From Home Have a College Education
Although popularized by famous entrepreneurs that dropping out of high school and college is the key to success, statistics portray a different story. The unemployment rate for Americans with bachelor's degrees or higher is just 3.2 percent, compared to a national average of 6.1 percent. Among the small business owners who took the Moneytip's survey:
2 percent have a Ph.D.
10 percent have an MBA or Master's degree
43 percent have a bachelor's degree
21 percent have an associate's degree
21 percent have a high school degree or GED
These numbers are likely to shift over time however. With college rates continuing to rise, less people are going to college and opting for either trade schools or jumping right into work. Furthermore, increasingly more educational options exist via the internet that are either free or far cheaper than college.
Most Who Work From Home Work Less Than 40 Hours Per Week
Nearly 50 percent of Americans working from home work 25 hours per week or less. Only 16 percent work more than 40 hours per week.
According to Parkinson's Law, work expands so as to fill the time available for its completion. When you set short time-lines, you work more efficiently. Furthermore, entrepreneurs are far more likely than the average employee to use automation or outsourcing tools.
Indeed, one of the primary motivations for the mobile lifestyle is freedom. Rather than focusing on hard work and effort which is foundational to the industrial model, the goal is results — and getting those results as efficiently as possible.
Most Are Fairly New At Working From Home
According to the survey, 80 percent of Americans working from home have been doing so for over one year. However, nearly half of all respondents have been working from home for less than two years.
Having large numbers of people working from home is a new phenomenon. We are literally watching the transition occur over a short window of time. From 2010 to 2020, we will have watched over a third of the United States population transition to working at home.
The 10 Biggest Advantages to Working From Home Are…
Most people prefer working from home. There are so many benefits — from higher productivity — to being able to exercise and eat whenever you want ,  to being able to work in your underwear. However, some things are more important than others. The following are the most appreciated benefits, from greatest to least.
No commute to work
Flexible work schedule
Comfortable work environment
Ability to spend more time with family
More opportunities to save money (e.g., gas, eating out)
No dress code
Not having a boss breathing down your neck
A superior work/life balance
Fewer distractions or interruptions
Higher productivity
The future is looking more and more exciting for Americans who are making the transition to working from home. One of the primary benefits is the removal of non-essentials. So much of work-life in America has been non-productive, miss-micromanaged distraction.
Instead, most Americans will be able to do work they love, and on their own terms.
Top 5 Mistakes Made When Working From Home
Of course, with working from home being a new experience for many, there are growing pains and a learning curve involved.
The biggest challenge is working too much and neglecting personal life. People generally figure out how to balance work and life, but often after relationship issues have occurred. It's easy to take loved ones for granted when you're in close proximity. The problem is never being fully present, but instead a physical body and absent mind. People successfully combat this mistake by scheduling in social events, taking time for themselves, and getting exercise.
Another challenge is losing focus and getting easily distracted. When you're home, there's endless stuff you could do, like changing the batch of laundry or taking a nap. Being project focused rather than punching a time clock can easily lead to procrastinating work until the last minute. Morning habits, getting the least desirable thing done first, and having regular working hours help Americans working from home crush distraction.
Another challenge is disorganization. It can be easy to miss a deadline without good planning or calendar skills. When you work from home, you often need to improve your planning skills. Five ways to be more organized are:
Keep a regular daily schedule
Don't take on more jobs than you can realistically handle
Keep all your ideas in one place (e.g., journal, planner, or whiteboard)
Schedule in personal time to avoid burnout
Reply to important emails immediately
Similar to disorganization is mismanagement of time. You don't have a boss micromanaging you, so you need to be your own boss. Most people who transition to working from home think they can work the same schedule they did at their office. This is often false, and a new schedule must be constructed around their lifestyle and personality. When you work from home, you literally need to schedule in your family time and personal life. Again, the best approach is getting the important stuff done early in the day so you can be flexible to all that life naturally brings.
The final challenge people face is becoming a hermit. Indeed, there is a great deal of social isolation when working from home. This is the biggest challenge for extroverts. Conversely, it is a great advantage to introverts who make great and happy entrepreneurs and freelancers. Yet, even introverts benefit from social interaction. The remedy is scheduling in time often to be with collaborators and others who uplift you.
Top 5 Ways People Separate Work & Home Life
No other success can compensate for failure in the home. Yet, the ability to be present while at home is becoming increasingly difficult. Especially when you work from home! However, the most successful Americans working from home have key strategies that help them do this.
The following are the top 5 strategies employed:
Follow your schedule strictly
Schedule in work time, off time, family time, personal time, exercise time, everything. The cool part is, you get to design your life and each day. The challenge is self-control and discipline.
Work around the family's schedule.
If you don't do this, you won't have time for both, and your family will suffer. And so will you. As Stephen Covey put it, put first things first. All truly effective people live this way.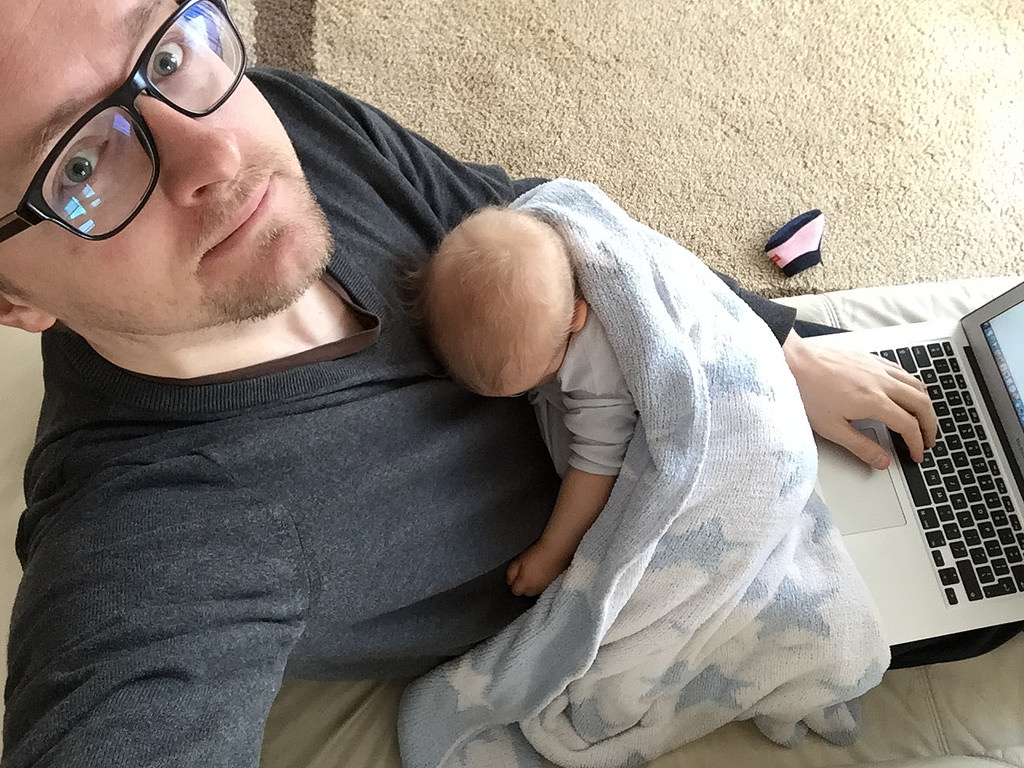 Have a home-office or dedicated workspace
Our minds function in different environments. We quickly adapt to environmental cues, which is why multiple activities (like working) in bed can ruin sleep cycles. Similarly, you can separate home and work by having a dedicated work space. This will also help you get into flow, as you create a space that puts you in the zone.
Set clear boundaries
Relationships need clear boundaries to function properly. Consequently, clear boundaries need to be established to ensure work gets done. These boundaries also include not overworking so you can focus on play time with the kids. Thus, these boundaries need to be holistic. Good boundaries include not talking about work during home time and closing your laptop when it's time to be done with work.
Turn off personal/work phone
When you're working, be unreachable except for real emergencies. When you're at home, be unreachable except for real emergencies. Have a system in place where you can be reached during such events. However, very few things are as urgent as they seem. Most things can be taken care of a day or even a week later.
Top Financial Mistakes Successful People Make Because They Work From Home
The biggest challenge is simply ignorance. Overspending on non-essentials and under-spending on things like slow internet connection.
Another challenge is frivolous spending due to a lack of maturity. The most wealthy people in the world spend their money not based on price, but value. It takes time to determine what things are essential and truly of value. Moreover, it takes discipline to delay gratification and not get those new Nikes. The ones you have will be fine for another six months.
Like mismanagement of time, poor bookkeeping and tax planning can crush small business owners and freelancers.
Last but certainly not least is not saving enough. Good practice is saving at least 10 percent of what you make. Don't forget to put money into giving and paying yourself first.
Top Financial Concerns
The following is the list of financial concerns American working from home face, from greatest to least.
Earning enough to afford the desired lifestyle in the future
Paying off credit card debt
Maintaining my/our current lifestyle in the event I lose my job and/or can't find work
Paying off student debt
Living within means
Paying day-to-day living expenses
The high cost of financing children's education
Caring for aging parents
When you don't have a steady paycheck, greater responsibility on your part is required. Some view this as a bad thing. Others realize this is the only path to true security and freedom. Human beings can learn anything extremely fast when they're highly motivated. These things may seem complicated in the beginning, but after a few months, you become proficient.
Top 5 Professions
Although opportunity exists to do whatever you want in today's global economy, some professions are more lucrative than others. The following are the 5 most lucrative professions for Americans working from home:
Business Owners
Web Designer/Design Services
Artist/Writer Performer
Blogger/Vlogger/Editor
Consulting Services
Online Re-seller
Telecommuters
Information technology
Sales
Customer Service
Accounting/Finance
Administration
Net Worth and Annual Profit
Business Owners
88 percent are on track to meet at least some of their financial goals and 38 percent are on track to meet all of them.
65 percent have a Net Worth of over $50,000.
12 percent have a Net Worth of over $200,000.
5 percent have a Net Worth of over $500,000
6 percent have a Net Worth of over $1,000,000
*Excludes primary residence
6 percent of Americans working from home don't make a profit yet.
21 percent have an annual profit of less than $10,000
16 percent have an annual profit between $10,000 and $20,000
36 percent have an annual profit between $20,000 and $50,000
16 percent have an annual profit between $50,000 and $100,000
4 percent have an annual profit between $100,000 and $200,000
1 percent have an annual profit above $200,000
Telecommuters
90 percent are on track to meet at least some of their financial goals and 22 percent are on track to meet all of them.
25 percent have a Net Worth less than $25,000
21 percent have a Net Worth between $25,000 and $50,000
25 percent have a Net Worth between $50,000 and $100,000
12 percent have a Net Worth between $100,000 and $250,000
10 percent have a Net Worth between $250,000 and $500,000
4 percent have a Net Worth between $500,000 and $1,000,000
3 percent have a Net Worth over $1,000,000
*Excludes primary residence
These numbers are excited given the fact that most people working from home have been doing so for a relatively short period of time.
Spending, Savings & Investment Strategies
The most promising statistic is that 96 percent of Americans working from home live within or below their means. 81 percent say working from home has not changed how much they save each month. 78 percent regularly invest in a savings or retirement plan. 58 percent buy their cars used.
Lifestyle:
17 percent are frugal — ("I don't spend money unless I absolutely have to")
59 percent are economical — ("I enjoy life but live beneath my means")
20 percent are break even — ("I spend what I make")
3 percent are over spenders — ("I spend a little more than I make each month")
1 percent are out of control — ("I have high credit card balances and barely live month-to-month")
Income Invested in Savings or Retirement Planning:
22 percent invest nothing
23 percent invest 1–5 percent
32 percent invest 6–10 percent
9 percent invest 11–15 percent
9 percent invest 16–20 percent
2 percent invest 21–30 percent
3 percent invest 31 percent
Car Purchases
29 percent buy used cars more than three years old
27 percent buy used cars one to three years old
5 percent buy new luxury cars/trucks ($50K-plus)
3 percent buy new hybrid or electric cars
13 percent buy new economy cars/trucks (less than $25K)
16 percent buy new mid-range cars/trucks ($25-$50K)
7 percent don't own a car
Investment Decisions
37 percent make their own investment decisions and use little outside help
36 percent make investment decisions w/ input from their significant other
14 percent gather advice from multiple sources
6 percent consult friends
6 percent rely primarily on investment professionals
5 percent (other)
Time Spent Managing Their Investment Portfolio Each Month
43 percent spend no time
47 percent spend one to five hours
6 percent spend six to 10 hours
4 percent spend 11-plus hours
Top 5 retirement investment plans, in order of popularity
401K
IRA
Life Insurance
Roth IRA
HSA
Conclusion
If you're not excited about the prospects of our mobile and global economy, you're missing out on a unique opportunity in our world's history.
Not only are we going back to our roots as freelancers and entrepreneurs, but we are now a global race rather than merely local. Further, we are in an age of exponential change where innovation is exploding.
Every American has the opportunity of a lifetime to jump into this amazing game of human progress and evolution. With proper planning and discipline, you can work less and live more.
Benjamin Hardy is the foster parent of three children and the author of Slipstream Time Hacking. He's pursuing his Ph.D. in organizational psychology. To learn more about Mr. Hardy, visit www.benjaminhardy.com or connect with him on Twitter.