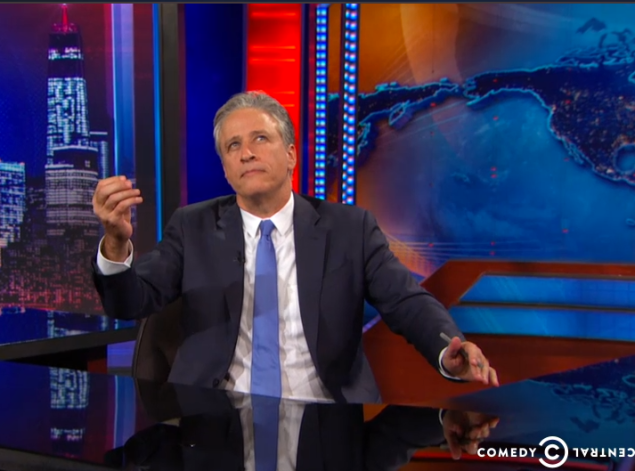 Jon Stewart said good-bye to The Daily Show last night after 16 years. As far as good-bye shows went, it was good, heavy on the sentimentality while reminding fans why they liked the show as much as they did for as long as they did. True to form, Mr. Stewart used his final monologue to caution against pervasive, pernicious bullshit that, he said, is "designed to obscure and distract."
It was an apt farewell speech. Calling out and seeing through bullshit was, in many ways, an underlying theme of Mr. Stewart's show.
But using the word "bullshit" seems to have presented something of a conundrum for The New York Times, which, not surprisingly considering the overlapping audience, devoted a fair amount of space to Mr. Stewart's last episode.
The Times, of course, is famously prudish when it comes to printing even relatively mild profanities. Despite tweeting a transcript of the speech (profanity included) as it aired, culture reporter Dave Itzkoff managed to avoid using the actual word in his story about the finale:
Mr. Stewart, 52, who has presided over this Comedy Central news-parody show since 1999, concluded his final episode with a spirited sermon against what he euphemistically described as "social-contract fertilizer." (He also used a familiar and much stronger epithet.)
In his review of the episode, critic Neil Genzlinger seemed like, too, was going to avoid the word: "The second [moment that will stand the test of time] was a sort of valedictory monologue built around a single, strong word — a word that Mr. Stewart implicitly used almost every night of his 16-year run on Comedy Central," Mr. Genzlinger wrote in the second graf.
But then, towards the bottom of the piece, Mr. Genzlinger dispensed with, well, the bullshit: "[Jon Stewart] delivered a monologue on the theme of bullshit, a word he used over and over in the span of a few minutes."