An interior designer who caters to what he has named the "silent celebrity" set has found a buyer for his Upper East Side town home.
Geoffrey Bradfield, who has worked with Oliver Stone and Gertrude Vanderbilt's estate, sold his townhouse 116 East 61st Street for $9.9 million to Somesh Khanna, a director at McKinsey, and his wife Seema.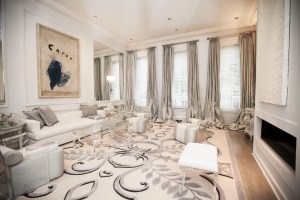 Mr. Bradfield purchased the five-story home in 2004 from financier Peter Ausnit for an undisclosed amount, so we're not sure what kind of money he made on this deal. He did, however, take a haircut on the sale price—he first listed the home for $18 million in 2012.
The stylish townhouse is a work of art in itself. Mr. Bradfield previously told the Observer that he is "drawn to simple design…I think these rooms speak for that," and added that he prefers to use color as an accent, choosing mostly white and other neutrals with a few pops of color for the decor. It also looks like there is a not-negligible amount of Lucite throughout many of the rooms, including a number of the armchairs. It's all very chic and fashionable, but we can't image that would be too comfortable.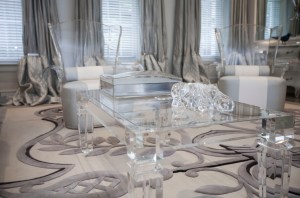 Mr. Bradfield described the library, which features a gas fireplace and a wet bar, as one of his favorite rooms in the house because it's "where I hang out, watch a movie, have drinks, so it's a very used room." Perhaps this is because it has seating options not limited to the aforementioned Lucite.
The listing, held by Eric Friedberg and Diane Johnson at Douglas Elliman, has a rooftop terrace and a private garden on the first floor. The designer also mentioned that he loves the "skeletal feel" of the reception room downstairs, and the "elegant" drawing room
The three-bedroom, 4.5-bath townhouse doubled as his company's headquarters, as well as showcased some of Mr. Bradfield's art collection, which includes piece by Julian Schnabel, Kenneth Noland, and Jeff Koons. Mr. Bradfield told the Observer that he was attracted to the home in large part because of the 12.5-foot ceilings in the drawing room, and because of the location at 61st between Park and Lexington—Mr. Bradfield has lived within just a few blocks on the Upper East Side for nearly forty years, and said that he adores Park Avenue because it is "totally unique—there's nothing like it in the world. It's a miracle of architecture, the diversity."
It doesn't look like he's going too far now, either—he already owns a one-bedroom at 575 Park Avenue (at 63rd, of course) that he can stay in until he finds a new place.