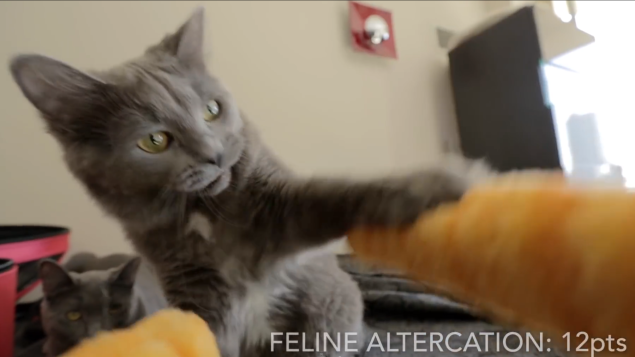 The fourth annual Internet Cat Video Festival, hosted by the Walker Art Center in Minneapolis concluded this week with the presentation of the Golden Kitty: The People's Choice Award. The golden statuette, designed to resemble the feline Monopoly game piece, honors a cat-themed internet video chosen by online voters.
This year's winners were Alana Grelyak and Michael Gabriele for their film Cat Behavior Finally Explained, which follows a pair of orange cat paws through daily activities, from pestering humans to chasing lasers, earning points along the way for each task.
The film doesn't do a great job of explaining cat behaviors, nor does it feature a real live cat as the protagonist—its real message is to spread awareness about cat adoption.
"We focus on … spreading the message that adopting saves lives. Our goal is to use humor to draw an audience that might have otherwise overlooked the topic," said Ms. Grelyak and Mr. Gabriele in a statement.
The filmmakers have donated money raised from the web series to feeding homeless cats.
Festival curator WiIl Braden presented the award. Mr. Braden previously won the Golden Kitty for his viral Henri, Le Chat Noir series. The second film in the series, Paw de Deux, according to the Walker, was dubbed by film critic Roger Ebert as the "the best Internet cat video ever made."
The Walker's Internet Cat Video Festival debuted in 2012, where an estimated 10,000 gathered to celebrate the thriving internet subculture, according to The New York Times. This year's event was the first held at the new CHS Field in St. Paul's Lowertown. CBS Minnesota, and St. Paul Mayor Chris Coleman report that nearly 13,000 visitors turned out for the festivities.