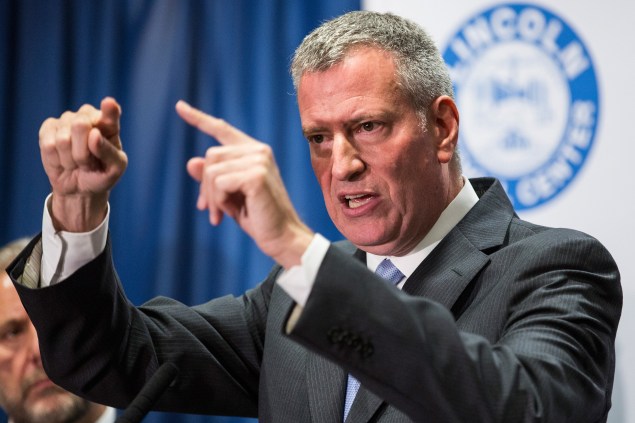 Last week, Quinnipiac University found that Mayor Bill de Blasio's net approval rating was the lowest it had ever been since he took office last January.
Just 44 percent of voters approved of the Democratic mayor's performance, while 44 percent disapproved. Pundits immediately wondered if Mr. de Blasio, who will seek re-election in 2017, was vulnerable to a challenger.
But the poll's sample offered a ray of hope for the liberal Democrat. If about 69 percent of New York City voters are registered Democrats, why did only 52 percent of Quinnipiac's respondents identify as Democrats?
"Here's the latest Quinnipiac poll's sample. But 68% of NYC registered voters are Democrats. Am I missing something?" tweeted Josh Greenman, an opinion editor at the Daily News. He also tweeted an image of the poll's sample: 52 percent identified as Democrats, 10 percent identified as Republicans and a whopping 28 percent said they were independents. 10 percent said they did not know what party they belonged to. (Registered Republicans make up 10 percent of the city's electorate and 17 percent of voters belong to no party.)
Since Mr. de Blasio rose to power in a Democratic primary and he is still viewed favorably by Democrats—the Quinnipiac poll found 53 percent of Democrats still think he should be re-elected, compared to 35 percent who don't—some have privately wondered if the polling doesn't adequately measure the mayor's base.
"I don't know how a pollster can look the press in the eye with a 52 percent self-identified Democratic sample in New York City and say it's a real poll," said a Democratic insider unaffiliated with Mr. de Blasio's office. (City Hall declined comment.)
Like any reputed polling institution, Quinnipiac uses random digit dialing to question voters on landlines and cellphones. There is no way to truly know whether a respondent is a Republican, Democrat or something else because voter rolls aren't usually used for polling, though there are exceptions.
Some statisticians and political observers say it's unfair to directly compare the percentage of voters registered in a certain party in New York City to the percentages found in a particular poll.
"It's not rare for people enrolled in a party to either not know that they are or to deny that they are," said Jerry Skurnik, a Democratic consultant and the co-founder of the voter file vendor Prime New York. "That doesn't mean the poll is wrong or right." (Mr. Skurnik added that some pollsters will buy voter data from firms like his. He singled out the Siena Research Institute as one.)
Past Quinnipiac polls also draw from a sample that does not appear to completely reflect the partisan breakdown of the city's electorate. In a May survey of Mr. de Blasio's approval rating, 51 percent of respondents identified as Democrats. A January survey had a Democratic sample of 50 percent.
"The key point is that there is a big difference between party ID and party registration. They are two different questions," said Douglas Schwartz, the director of the Quinnipiac poll. "People can register with one party and self-identify with another."
Mr. Schwartz said national political events can drive registered Democrats or Republicans to choose to identify as independents. "If a Republican or Democratic president or Republican or Democratic Congress does something very unpopular or very popular, it could sway how people identify themselves."
When polling, Quinnipiac asks respondents: "Generally speaking, do you consider yourself a Republican, a Democrat, an Independent, or what?"
Another top pollster tries a different approach to resolve some of the debate around sampling and party identification.
Siena Research Institute, the polling arm of Siena College, specifically asks voters what party they have registered with, as opposed to what party that identify with. Dr. Don Levy, Siena's poll director, said there are several advantages to phrasing the question this way.
One is that party registration can be used as part of a weighting algorithm, as opposed to party self-identification. There is no database or method to count exactly how many voters in New York identify as Republicans or Democrats, but there are voter rolls which account for the number of registered voters in each party. Self-identification is often in flux; party registration usually isn't.
When pollsters use their algorithms to adjust their results to fit a given city or county or state, they can weight for party registration. In a random sample of 1,000 people, every response won't be weighted equally; rather, it will be adjusted to conform to the universe it's trying to reflect. For example, in a city where female Democrats are far more common than female Republicans, a response from a female registered Republican will not be counted exactly the same as a female registered Democrat. The Democrat will have more weight.
Without any data for what parties voters say they identify with, a weighting process for party ID can't occur, Mr. Levy said.
"We ask people in what party they are registered. We prefer that question in the State of of New York," he said, noting that some other states don't have party registration. "You know what party you are registered in. It's an aspect of your reality that adheres to you."
Updated to include additional comment from Mr. Skurnik.