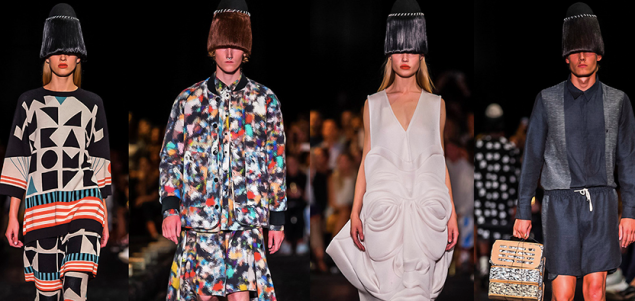 In a style typical of Scandinavia, Copenhagen Fashion Week is an egalitarian affair. The event features a citywide Fashion Festival alongside the show schedule, offering public film screenings, designer panels and block parties open to Danish civilians. With a nod towards socialism and sustainability, this past Saturday, the city held a free market of sorts: a citywide Fashion Exchange set up outside of City Hall where Danes dropped off unwanted articles of clothing and then, at no cost, took home whatever they liked.
Running from August 5 through August 9, the series is a testament to the effortless brand of Copenhagen cool that has recently been attracting quite a bit of attention. As one of the wealthiest and most sustainable cities in the world, and serving as the capital of the declared World's Happiest Nation, it's no surprise that the top dogs in the global Fashion world are turning their attention to this small European city.
Far from the pared-down designs hitting the runways in New York, as well as the heavily embellished collections viewed across Paris and Milan, Copenhagen errs towards the trendier side of style. Avant-garde is the name of the game here, where lampshade-inspired hats and wild prints are the norm. Perhaps that egalitarian vibe is what allows the designers to keep their approach playful and jubilant. Here are a few of the top Danish designers to watch and don't expect anything basic.
Baum und Pferdgarten
Founded in 1999 by designers Rikke Baumgarten and Helle Hestehave, this label reflects the casual high end brand of chic that Copenhagen is known for. One of the biggest and longest standing names in Danish design, they are are acknowledged for adding an element of irony and playful charm to their work.
Mark Kenly Domino Tan
At the age of 12, Mark Kenly designed his first dress for the former princess Alexandra of Denmark and has since worked in the fashion houses of Balenciaga, Alexander McQueen and Sonia Rykiel. Following his 2012 graduation, he teamed up with Trine Marie Holm to create this label. They won the Dansk Design Talent Award in 2014, which was also the year they debuted their collection at CPH Fashion Week.
Anne Sofie Madsen
Having opened Copenhagen Fashion Week in 2012, Anne Sofie Madsen has become something of a staple on the scene. Before graduating she served as junior designer at Alexander McQueen's atelier in London. Her clothes are often described as sartorial; they're avant-garde, airy and fantastical, in such a way that certainly distinguishes her as a designer.
Freya Dalsjø
Freya launched her eponymous brand in June 2012 and one year later presented her debut collection on the runway. She tends to mix a number of colors, textures and materials creating what she hopes reflects a blend of emotions. Additionally, she works a great deal with fur.
Henrik Vibskov
Henrik Vibskov is the only Scandinavian designer on the official show schedule of Paris Men's Fashion Week, where he has shown since 2003. He has produced over 20 collections since his 2001 graduation from Central Saint Martins and he is obviously well-seasoned in the business. He is known for creating different worlds within his collections, a few of which have been titled: The Transparent Tongue, The Stiff Neck Chamber and The Bathtub Observer.