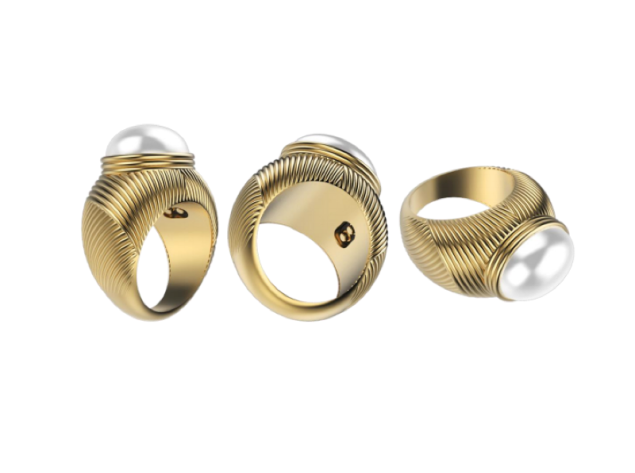 It is not often that a new tech product latches onto a "less is more" mentality, but in today's overly saturated market of wearables and smart watches, that might not be a totally outlandish concept. Being bombarded by notifications of all sorts is the norm these days, but it's also obviously distracting and kind of annoying.
The first collaboration from Emanuel Ungaro, the storied French brand, and Omate, another wearable tech brand, is aiming to change that. They have joined forces to produce a piece of fine jewelry that discreetly doubles as a smart ring. But there's more.
Rather than buzzing every time a contact from your address book reaches out, this ring only receives notifications from a single contact. Every time that particular VIP gets in touch, via text or phone call, the ring will inconspicuously vibrate once.
Tying itself back to the iconic Ungaro brand, the shape of the ring takes inspiration from the iconic Diva fragrance bottle, which was first introduced in 1983. The bauble comes in gold and silver, with the choice of five fine gemstones: blue topaz, opalite, onyx, sapphire and ruby. Retailing between $500 and $2,000, the smart ring, which is manufactured by Richeline Group, a subsidary of Berkshire Hathway, will be available by November 2015. It also happens to coincide with the 50th anniversary of the Ungaro label.
Perhaps this collaboration is the future of engagement rings? It is certainly a way to forge a closer tie between two people in today's tech infused world. Although, a subtle vibration from a loved one doesn't quite spell out 'I love you,' plus, the ring can't be set with a classic diamond. At least not yet.