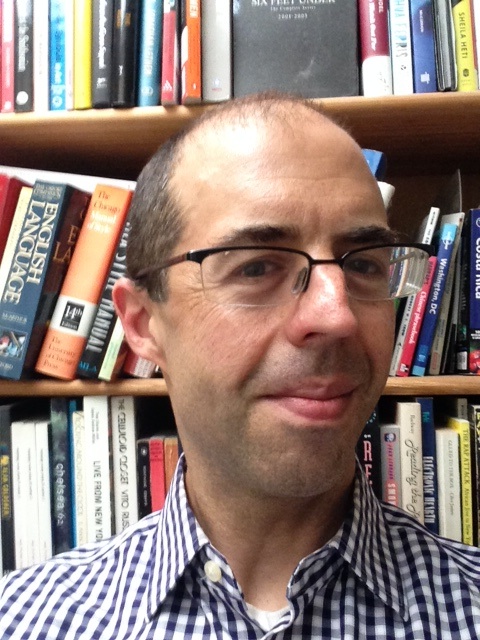 James Poniewozik has been named the new television critic at The New York Times, the paper announced today.
"He writes with authority, a deep love for the medium, and sentences that spark delight," Times culture editor Danielle Mattoon wrote in a memo.
He replaces Alessandra Stanley, who now reports on rich people for the paper. Mr. Poniewozik spent 16 years at Time, and before that he worked at Salon, where he wrote about the media. He begins at the Times on September 8.  Mr.Poniewozik spoke with the Observer via email this afternoon about, among other things, the most exciting shows on TV now, his critical influences and what he expects of his new job.
How do you pronounce your surname? (Seriously, can you spell it in the nifty phonetic way the Times does, so future readers will know?)
Pah-nuh-WAH-zick. Rhymes with … nothing, I think?
I'm curious how many hours of TV you watch in a week, and, when you review a show, how many times you watch it before you start writing about it.
I've never added it up. I could spend 10 hours some days watching TV, or if I'm writing something, I may have time to watch almost nothing during the work day. Of course some "watching" is dedicated, note-taking watching, some is in-the-background scanning, some is pleasure viewing. One of the most important parts of being a TV critic—since it is literally physically impossible to watch all of everything—is triage, knowing what NOT to watch. I try to sample broadly, but if you try to watch absolutely everything, you'll do nothing well and you'll fail anyway. Every TV critic is—not a dilettante, exactly, but selective. And you will never know as much about a particular show as its fans do.
For sheer logistical reasons, I try not to watch things repeatedly before I review, though if I later decide to write about something that I screened casually earlier, I may watch a second time to take notes.
Do you watch more TV on a computer or a television?
As for TV vs computer: more and more networks stream advance screeners online, which I'll try to watch on an iPad to keep my computer free. But increasingly, like a lot of people much of my watching is on a TV, augmented by an online device like Roku or Apple TV.
I'm pretty agnostic/unsentimental about it. That's the future—everything is a screen.
What do you think is the most exciting show on TV right now?
I can't pick one! Transparent was the most electric thing on any screen in the last year—for its nuanced treatment of sexuality/identity, but also for creating TV with the style and idiosyncrasies of an independent film. (Ditto Louie on that last point.) Empire could be exhilarating or a mess, but it made me want to catch every episode immediately. This summer, both UnREAL and Mr. Robot are creating types of antihero(ine)s we haven't really seen on TV. BoJack Horseman, on Netflix now, is an example of a show I wrote off early—it seemed like one more Hollywood-inside parody, but with an animal gimmick—and it became this utterly absorbing tragicomedy about depression and getting older. Sense8 was insane, but fascinatingly so. (Also exciting: streaming, as a medium, for the way it's changing how people can tell and receive stories.)
I'm glad you put the question this way, tho: because it's often the most exciting, and not necessarily the best, TV shows at a given time that are most productive to write about. (Though Transparent was my #1 show of 2014.)
How often will you be writing in your new role as TV critic, and will you be writing Alessandra Stanley's TV Watch column, or will it be rebranded?
The branding is probably a decision made above my pay grade—I'll have the same job as her, so similar responsibilities?
Do you plan to blog about TV as you did at Time?

Time, obvs, is different from the NYT—it was a weekly newsmagazine with limited space, so there was a lot of necessary separation between online (where I wrote far more) and print. I will say that I plan to write similarly to how I wrote at Time, which is to say doing not simply reviews but pieces about the medium as a whole and on the issues and ideas that make people care about TV in the first place. One of the things a critic can add to the conversation today, I think—when there's too much damn TV and people specialize in their own viewing—is to draw connections, both within the universe of TV and media and from that universe to the bigger society. That, more than giving thumbs up or down to anything, is what really gets me going as a critic.
Rosie O'Donnell once sang a song about you in response to a review you wrote. While you're at the Times, which celebrities do you hope will sing about you?
I'm hoping it will be a plot point in season 2 of Empire. Prefer Jamal, will accept a Lucious/Cookie duet.
BuzzFeed's Anne Helen Petersen delivered a pretty devastating takedown of the Times' TV criticism last year in the wake of that whole Alessandra Stanley-Shonda Rhimes controversy. If I understand it correctly, she argued that the Times hasn't really taken TV criticism seriously in the same way as books or film, and Stanley's role as a critic who never really seemed to care about TV in the first place was an embodiment of that. What was your take on that piece?
I'm probably the worst person in the world to comment on the culture and history of an organization that I've been employed by for negative three weeks, let alone to comment on the comments on said culture. Pass!
I feel like a lot of critics are influenced by critics of mediums they don't write about. Cathy Horyn, for instance, the former Times fashion critic, has pointed to Manny Farber and Pauline Kael as influences. Are there any critics outside the realm of TV you've gone to throughout the years for inspiration?
Absolutely—and in turn, a lot of the critics I've most been influenced by were interdisciplinary themselves. James Wolcott and Ken Tucker, for instance, were/are both role models for me, and they started out writing music criticism. (Music writing, I think, gives you a feel for intangibles, like voice, in other art forms.) Kael, definitely, for her voice, and Roger Ebert for approaching art on its terms. And really, a lot of writers who weren't reviewers per se but shaped my ideas of thinking critically—Susan Sontag on photography, for instance, and Roland Barthes on wrestling, not that I can write like either of them.
Who are your favorite critics writing about TV today?
Ha ha! I'd either give you a list too long to be useful or slight some of my favorites. I'll give you this: two people who used to write about TV regularly, who I'd love to read writing about it more often again, are Heather Havrilesky and Troy Patterson. I will read them on anything, but I miss them on TV.
Are there any unique tools you feel a writer should bring exclusively to TV writing, as opposed to book or film or theater or dance criticism?
TV doesn't end. Once you review Fantastic Four, there aren't twelve more hours yet to come out. You don't get a book one chapter at a time (not post-Dickens, anyway). So being a TV critic is part being a psychic—you're looking for vibes and things in the bones and voice of a show that suggest it could say something interesting going forward. And you're returning to things as they evolve. (The closest analogy may be music, where a song can evolve in live performance after it's recorded.) And it's maybe why social media has been more vital to TV criticism than any other form of criticism: the conversation is ongoing, like the medium, and it helps to be in the virtual watercooler, because there are many more hours of TV than there are hours of your tiny mortal life.
You've worked at Time for 16 years, if I'm not mistaken, and before that Salon. In your experience, have the places you've worked for changed the way you write at all? I'm thinking, specifically, that the institutional voice of the Times is sort of buttoned-up; critics, it seems to me, are normally allowed to preserve their writing voices more than reporters, but do you think your writing will change at all when you get to the paper?
Like you say, this is probably less of a concern for a critic—it's your job to have a voice. Michiko Kakutani does not sound like Dwight Garner does not sound like Manohla Dargis, &c. Writing for Time took some getting used to, not so much because of institutional voice—they'd moved on from that anonymous voice before I started—but because of space constraints, which can make you stilted. You delete stuff to fit, and the tendency is to delete first all the intangibles that make your voice yours. I'd say it was several years before I really learned how to sound like myself there, and starting to write online (where you have to be conversational) was key. Given that, I expect the transition at the NYT to be easier writing-wise—but famous last words, right? I will just say, the Times hired me because I wrote like me; if I stop doing that, I imagine I'm in trouble.
And hey, I did notice that the Times review of Jon Stewart's finale was allowed to use the word "bullshit." So I've got that going for me.