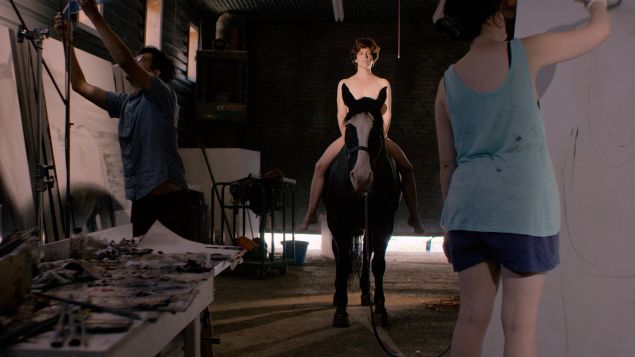 Would you take off all your clothes for art?
Visitors to Jennifer Rubell's newest solo exhibition "Not Alone," opening Friday, September 4, at Stephen Friedman Gallery in London, will have to ask themselves that question.
Ms. Rubell, who is best known for her elaborate interactive performance works involving food—her work Fecunditas for the 2014 Performa Gala involved waiters in assless chaps serving brussels sprouts via phallic appendages—will be opening her largest survey-style exhibition to date.
"Not Alone" will feature a new food performance; sculpture; paintings from her "Brad Jones" series, a collaboration with artist Brandi Twilley; and a film—and did we mention a horse?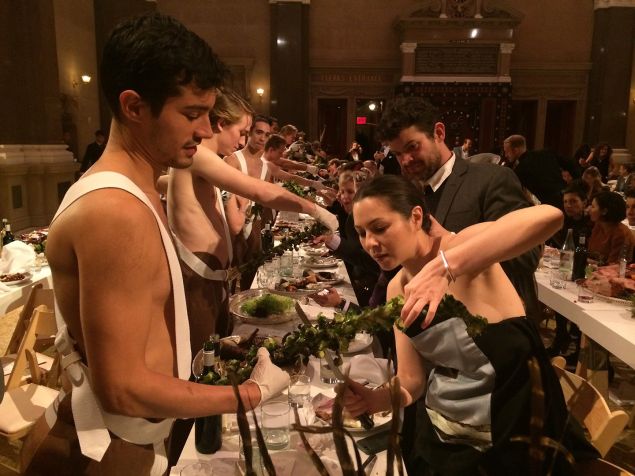 The horse won't appear in person, but rather in Ms. Rubell's first film work, Posing, in which she sits naked on the animal, named Tonka.
Viewers will watch Posing alone, one at a time, in a locked room in the gallery. When they enter, they'll be instructed to disrobe, and can spend as long as they'd like with the film. (Visitors will not be filmed.)
"It's just me on the horse looking straight at the viewer. They're sharing, and I'm keeping them company," said Ms. Rubell, who is the daughter of Don and Mera Rubell, a well-known and influential collecting couple in the contemporary art world.
She sees this as the culmination of her two-year "Brad Jones" collaboration wherein the artist sat and posed in the nude, three times a week for several hours at a time, while Ms. Twilley painted her portrait.
"One of the driving reasons for posing [for Brandi] was I had just had my son and I wanted a place where no one wanted anything from me. I was there, and doing nothing, and it was a purposeful nothingness," Ms. Rubell told the Observer. "Two and a half years later, I wanted company, and wanted to explore what it meant to not be alone but to remain free and not really responsive to anyone."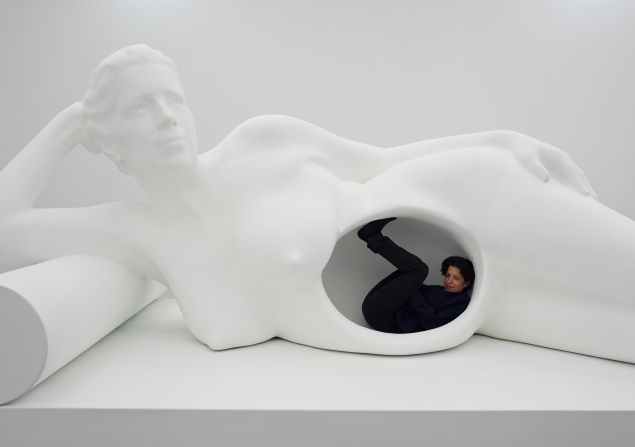 All of the works in "Not Alone" are participatory, she noted.
Other highlights include Us, a hand-blown glass sculpture of an infant, roughly equivalent to the size of Ms. Rubell's son when he was born. There is no pedestal for the sculpture to rest on, rather viewers will be entrusted to hold the work themselves.
For Them, Ms. Rubell offers visitors a hardboiled egg to season with salt and pepper shakers from her personal collection. Many were made during the period when Japan was under occupation and depict Western culture through humorous, cartoon-like character pairings.
On "Not Alone" being the first show to feature such a broad range of her works, Ms. Rubell explained, "Often people see my work in these sensational explosive contexts, which is great, but never all at once."