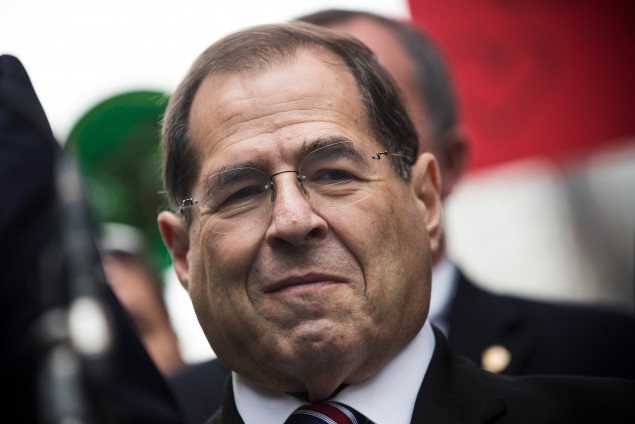 An email listserv that resembles a who's who of hawkish New York Jewish thought leaders exploded with anger Tuesday morning as members of Manhattan's right wing train their sights on Jerold Nadler, the congressman who announced last week that he would be backing President Obama's deal with Iran. The congressman's decision, which came after heavy lobbying by the president, has been blasted in some corners and praised in others.
Here in the Observer, Rabbi Shmuley Boteach skewered Congressman Nadler, depicting him as a sucker for having been shunned by Obama for seven years and then suddenly lifting his skirt when the president wanted support from a high-profile Jewish congressman. Carol Giacomo came to the opposite conclusion. Writing in The New York Times, where she is a member of the editorial writing staff with expertise in foreign affairs, Ms. Giacomo applauded Mr. Nadler's stand for "showing courage."
"Let's see how he is greeted at community meetings. Let the traitor/coward come speak and see the welcome he will receive. I look forward to it."
But no such dichotomy seems to exist on a listserv that goes to Caroline Glick, Ezra Friedlander, Hank Sheinkopf, Fern SIdman, Alisa Doctoroff, and dozens more prominent Jewish leaders, plus about a dozen well-known rabbis. There the language started hot—the subject line was "Traitor Congressman Nadler Commits Treason Again"—and only got hotter.
The incident seems to have begun when Mr. Friedlander
, the Orthodox leader of the boutique political firm that bears his name, tried to defend Mr. Nadler's point of view, referencing the "Traitor" Op-Ed that Daniel Greenfield had written in the Jewish Voice.
Jeffrey Wiesenfeld got the kindling going by pointing to the editorial and congratulating Carolyn Maloney, a non-Jewish congresswoman who will be opposing the Iran deal, crediting her with "defying the majority leftists in HER district." He then pillories Mr. Nadler with a memorable dis as a "professorial grobber ying [who] F—KS the Jews." (I would have spelled that "grubber ying" but it basically means an uncouth, ignorant young man.)
Richard Allen, the president of American Corporate Benefits, Inc., chimed in that Mr. Wiesenfeld is actually being "nice." He promises, "Your client/congressman who votes with the Iranians, the killers of Jews, will be met with the anger of the Jews of the UWS. Let's see how he is greeted at community meetings. Let the traitor/coward come speak and see the welcome he will receive. I look forward to it."
Mr. Wiesenfeld writes back: "I will be organizing a mass protest on the day of the JCRC breakfast on 59th Street of thousands—against EVERY member who shows, who voted in favor of this treachery. NO such person will enter the UJA building unhindered by thousands of protesters. There must be sanction against conduct which Black, Hispanic, Asian and other Americans would not tolerate against THEIR interests, We are the outlying fools."
Mr. Allen doubles down, promising, "We will have an appropriate supporting Radio and media campaign," and saying he looks forward to breakfast with "the Quisling, Jerry Nadler," a devastating analogy for anyone, but particularly so in the right wing Jewish community, which uses the name of the disgraced Norwegian leader as a synonym for "nazi collaborator."
As the September 17 vote on JCPOA nears, expect the temperature only to increase.
Rabbi Heshie Billet, the spiritual leader of Young Israel and a former president of the Rabbinical Council of America, gamely tried to turn down the volume. He says he too is "outraged" by Mr. Nadler's decision, but claims that poorly chosen words will embarrass high-profile supporters who agree with those on the list. He cites Rambam in saying that "anger is the worst trait."
Judy Rosen concurs: "I agree with Rabbi Billet."
But Jeffrey Wiesenfeld drops a bomb: "The Bergson Group was not so polite either," he writes, referring to a founding Zionist and member of the Irgun, who were instrumental in arming early settlers of Israel. "Stephen Wise WAS—and we know where that got us and the Va'ad Hatzala—higher creamatoria dispatch." Stephen Wise is a highly criticized figure within this group, having downplayed early reports of the Holocaust and given cover to Americans who didn't want to intervene to stop it.
It's a very serious charge to lob at a beloved rabbi, and the rabbi's response drips with sarcasm. "You have exposed me, Jeffrey," writes Rabbi Billet. "I have the genes of Stephen Wise. I should have realized that eventually you would figure that out."
Mr. Wiesenfeld, not one to back down easily, responds, "Don't pity yourself so—it is simply an example of where over-politeness gets us in bad times. Al Sharpton is not totally stupid. We ARE."
Sharpton, Wise, Bergson, Quisling—these are charged words in the Jewish community. As the September 17 vote on JCPOA nears, expect the temperature only to increase.