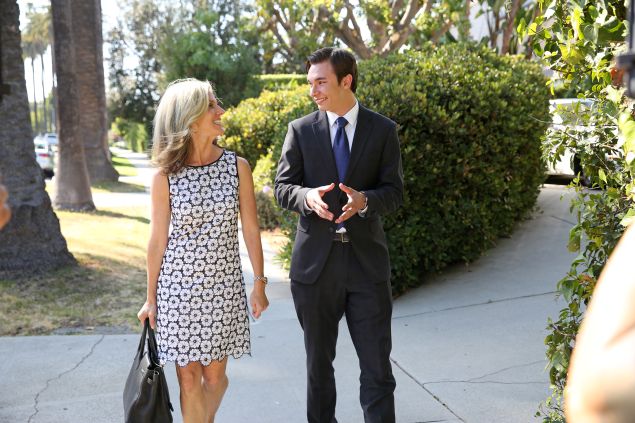 For first-time jobseekers, the path to landing meaningful employment is never an easy or a straight one. Many of the turns candidates make along the way will very often be in the wrong direction, the absolute wrong direction.
So how does one learn to avoid making choices that can lead to disaster during the most crucial part of the employment process—the interview?
Enter ABC Family's newest venture into the realm of reality television, Job or No Job.
The series follows one young adult per episode on his/her journey to land their first full-time job within their chosen career. Each job seeker will go on three interviews, and viewers will follow their story to find out if s/he lands one, two, three, or zero offers.
Each jobseeker will be mentored by Jane Buckingham, Founder and CEO of Trendera, a trend forecasting and brand strategy firm, and the bestselling author of The Modern Girls Guide to Life.
Trendera, recently released a surprising study on Millennials in the job market. Here are just a few startling statistics:
–  19 percent of Millennials think it's O.K. to bring their parents to the interview for moral support.
–  40 percent think it's O.K. to have a typo on their resume.
–  87 percent of Millennials think they should get a raise in under a year.
Given these results, Buckingham knew going into this project that she certainly has her work cut out for her. "It's pretty clear that young people have some misconceptions about what's acceptable and what's not, and I don't think that that's because they're arrogant or anything like that, I just think no one's giving it to them straight and I can do that."
During the course of the show, Buckingham watches all three interviews from a special offsite room, but she has no interaction with the candidates during the meetings. For the first interview, the candidate is on his or her own with no input from Buckingham. After that first interview, Buckingham analyzes the jobseeker's performance in that initial meeting and counsels him/her about ways to improve going forward.
Sometimes this goes well, sometimes, not so much. "There are moments when I'm watching the interviews and I want to go out and stop them or shake them or scream at them. In the first interview, because they go in cold, I'm more forgiving. But, in the second, I'm like, 'why are you not taking my advice! How can you make that mistake again?' Sometimes it's really hard to just sit there and watch."
Buckingham understands that her intrusion isn't easy for the candidates, admitting, "If I had someone I didn't know very well telling me to change the way I acted or looked or presented myself, I don't know if I would listen." She pauses a moment and adds, "But, I will tell you this, If you could have seen me when I was 21 and giving the wrong answer and kicking myself for messing up, you'd know that I've been there so I do know what I'm talking about. This is not something that you're born being good at and it's ok to struggle. Everyone struggles with this. What we're tying to do here is lessen that struggle a bit."
The biggest mistake candidates make, says Buckingham, is, "taking about what they want from a job versus what they can bring to a job. They say things like, 'Oh, I really feel I could grow here,' and 'I'd learn so much from you.' That's nice, but these employers are interviewing people because they want to go home earlier, or they have too much wok. They need someone to fill a need in their lives right now, so don't talk about what they can do for you, talk about how you can make their company and their lives better."
On the flip side of that, Buckingham likes to remind candidates that, "Most interviewers get that you're nervous and that interviewing is really hard. These CEOs and managers don't want to hurt people's feelings, especially young people who are just starting out. They feel bad for you if you mess up in an interview because they're rooting for you to succeed. So just remember that they're not evil, that they're really on your side, and they are actually rooting for you to do well. Every employer wants to discover their next great employee and that could be you."
When asked to talk about her favorite episode from this season, Buckingham laughed and said, "That's like asking me to pick my favorite child! I really like every episode because I grow attached to the people. Each candidate has a unique story and takes part in a fascinating journey that's never predictable – some get job offers and some don't and sometimes someone really deserves a job and they don't get it. That hurts, but that's real life and that's what makes each episode so compelling."
She did admit that this season of Job or No Job contains, "a lot of great lessons. Specifically, you'll see candidates making mistakes like cursing in an interview or no bringing their resume to an interview. You'll see some people acting so entitled that you want to slap them. You'll see some people disagree with me and people that just don't like me telling them what to do. And, you'll see candidates getting jobs that they shouldn't, others getting jobs that they should, and still others getting passed over for jobs that they really deserved. All of that stuff happens."
Buckingham admits that when she went into this she felt that she knew basically how things would go, but she had no idea how much the process would affect her in one area. "I knew that job hunting and interviewing is an emotional process, I think we all know that on some level, but in putting this show together I was amazed at just how truly emotional this is for people. There are really a lot of ups and downs – there are tears at some points but then total joy at other times. All of that makes for a real roller coaster ride, but this isn't something you do for thrills, its real life."
While this series does fall until the umbrella of the reality television format, Buckingham insists that this isn't a 'typical' reality show. "People may call this a reality series, but it's really a docu-series because nothing is manipulated. If the candidate screws up in an interview, they don't get a second take or anything like that to do it again. If they mess up it's real. If they don't get a job, it's real. If they do get a job, it's real. Yes, it's all filmed, but they have to do the work."
In an effort to make the series a success, Buckingham presents her direct appeal to viewers, saying, "anyone who needs to get a job or who is in a job and is thinking about moving to another job or who wants to learn about relationships between candidates and employers should watch this series. You learn what people are doing right and what people are doing wrong and you can apply that to your own situation." She takes just a moment here, and then adds, "In the end, it may sound a little corny, but this is really about dreams. Everyone wants to get their dream job, right? We want to help as many people do that as we can, including both the people we work with on the show and those who watch the show and learn from it. That's the goal—to help people live their dreams, and no matter how you look at it, that's good business."
Job or No Job airs on ABC Family Wednesdays at 9/8c.
 Episodes are also available on the ABC Family website here.