What do Kate Hudson, Jennifer Lopez, Kristen Stewart, Elizabeth Olsen, Naomie Harris and Gwyneth Paltrow have in common? Atea Oceanie. Which, despite its perplexing name, is not a crazy juice cleanse or a new workout trend. It is actually a London-based brand from founder and creative director, Laura Myers.
Often described as minimalist, relaxed and basic, it is easy to see why this range has been embraced by the Hollywood set. Not only does the brand fit into all of those categories, but it is also polished and refined, allowing celebrities to look pulled together, but not plastic, when they make public appearances. For those of us who aren't being followed by paparazzi, the blouses and slouchy suits will be easily adopted into a work wardrobe. The boxy dresses, particularly in denim, will become a go-to Sunday brunch outfit.
Atea Oceanie was started two years, by Ms. Myers, who hails from New Zealand. Having interned at Louis Vuitton and Ralph Lauren while getting an education at Brown University (as well as a summer program spent at Parsons School of Design), the designer refined her luxury taste. Carried at Selfridges in London, and now Barneys in New York, the relatively affordable contemporary label is slowly taking over the market. Oh, by the way, Atea Oceanie actually means "distant and remote" in Polynesian.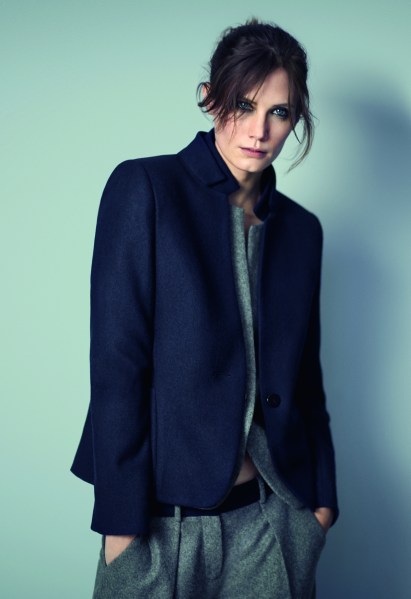 In your own words, describe the aesthetic of your line. It's very much a sense of '90s minimalism meets modern American sportswear.
Other outlets have noted that your designs are refreshingly relaxed and wearable. Was that a main factor for you when creating this line? Absolutely, I created Atea to fulfill what I felt was missing from my own wardrobe – the kind of wearable essentials that I could easily travel with and pair with sneakers or heels and be set for any occasion. It was about being relaxed and elegant but effortless. It all started with the idea of having a rail of clothes that I could throw in my suitcase with a few pairs of shoes and be able to travel for weeks at a time.
Who are some muses for Atea Oceanie? I started to think about the women who exuded [a] sort of effortless nonchalance – Carolyn Bessette-Kennedy, Lauren Hutton, Anjelica Huston.
Your line just arrived at Barneys. What does this mean for you? On a personal level, I couldn't be more proud to be stocked at Barneys. It's such an iconic name in fashion retail. When I was 18 I moved to New York and spent a lot of time there getting inspired, so to have my own line on the shop floor is really a dream come true. On a business level it gives Atea much greater exposure in the US and I am really looking forward to receiving feedback from a wide and sophisticated audience.
How do you think this placement will effect the brand? I plan to stay true to the DNA of the collection, but I hope in receiving feedback from the Barneys customer and sales teams, we will be able to refine and reinforce the product message.
What are your Fashion Week plans? We currently don't show on any fashion week schedule. We produce imagery that represents the season's message and do one-on-one appointments with editors in each territory. Showing the line in a more formal capacity is something that we are looking to do in the future.
What's next, in regards to brand expansion? I am very keen to go steadily step by step and really concentrate on supporting the retail partnerships we have formed over the last 18 months. As such my focus is to extend the collection into product categories such as knitwear and leather items that will round out the offering as a complete wardrobe of separates.