Runny black eye make-up, a crumbled wedding veil, a raised middle finger and a glass of liquor—a grungy look, no doubt, but one made glamorous by the eccentric Lady Gaga in the September issue of CR Fashion Book.
"Little Monsters" will no doubt be flocking to newsstands September 3rd to see Gaga on the cover of CR Fashion Book's September Issue, photographed by Bruce Weber and styled by editor-in-chief Carine Roitfeld.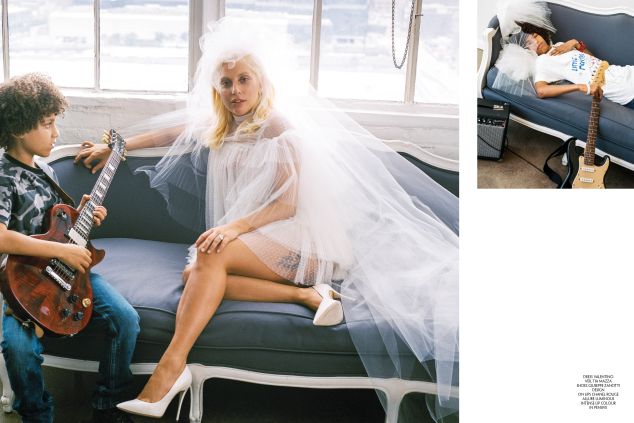 Ms. Roitfeld styled Gaga—who is soon to be married to fiancé Taylor Kinney—in contrasting bridal-inspired looks for the front and back covers. The front features the pop star a more classic look—a white Valentino dress, Tia Mazza veil, and Giuseppe Zanotti shoes—while the back shows her in "off-kilter black," as CR Fashion Book puts it—a black veil and corset worn over an Iron Maiden t-shirt, with runny black eye make-up to complete the look.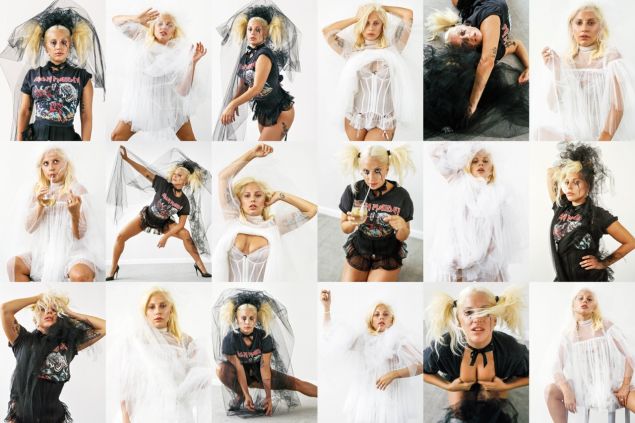 In another photograph for the issue, Gaga sports an American Apparel t-shirt and Vetements boots for a more casual look combining '60s mod with '90s grunge.
One wonders whether Gaga, who has so far been quiet about her upcoming wedding plans, will take inspiration from the shoot. Or perhaps she will stick to tradition and arrive via human-sized egg, clad in a gown made of meat.