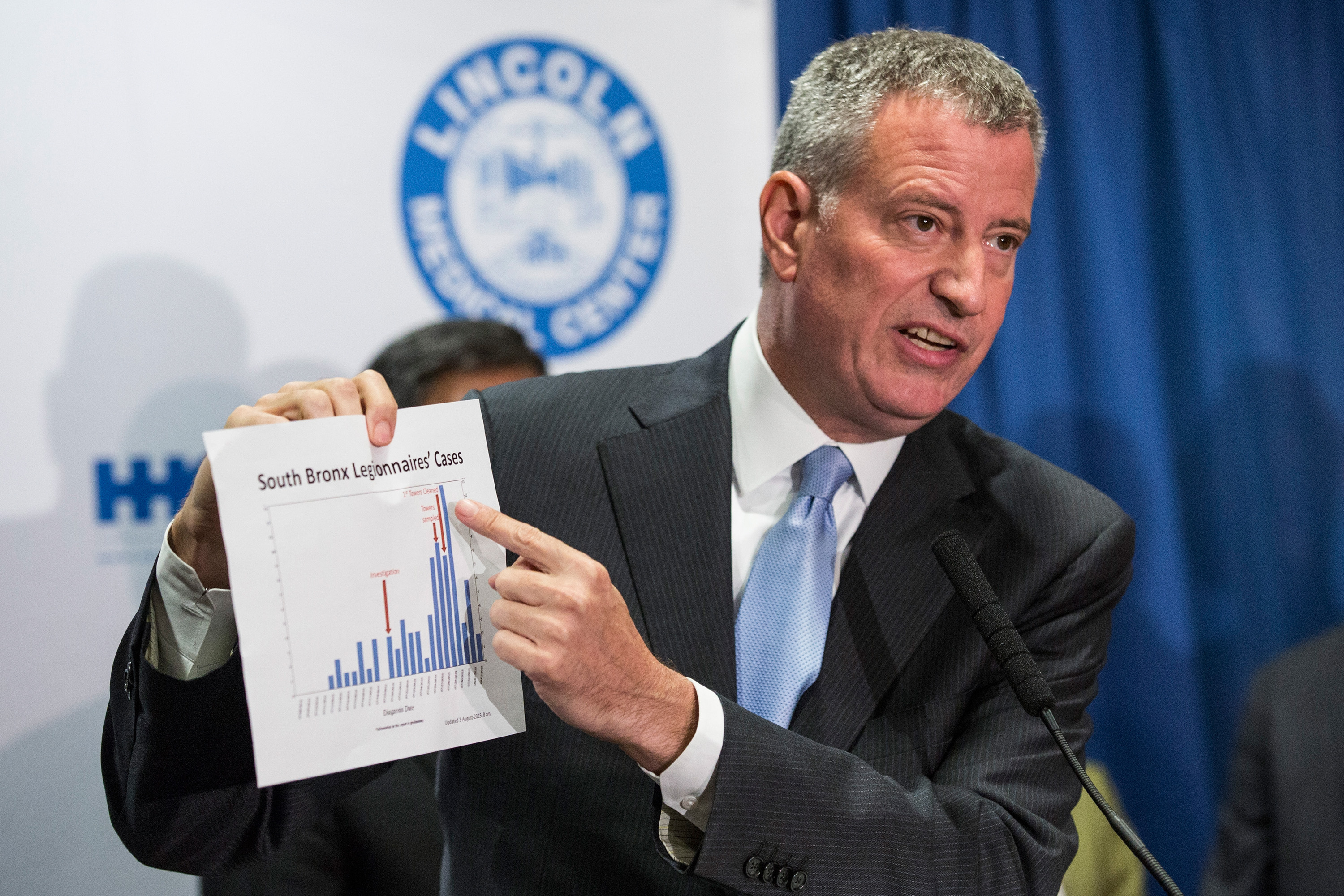 City officials believe they have contained the outbreak of Legionnaires' disease that killed 12 and sickened 122 people in the South Bronx, Mayor Bill de Blasio and Health Commissioner Dr. Mary Bassett said today.
"The corner has been turned," Mr. de Blasio said today at Lincoln Hospital, a public hospital that treated many patients with the illness and where a cooling tower had tested positive for the legionella bacteria.
No new patients have tested positive for Legionnaires' disease since August 3, which has reinforced the city's suspicion that the illnesses were caused by one of the five cooling towers that tested positive in the early days of the outbreak and which have since been disinfected. The disease cannot be spread person-to-person, but it can be contracted by breathe air or mist that is contaminated with the bacteria, which thrives in the cooling towers used to air condition large buildings.
But Mr. de Blasio and Dr. Bassett would not quite say the outbreak was over.
"We have to take into consideration the incubation period," Dr. Bassett said, referring to the amount of time it can take from when a person contracts the disease until they show symptoms and realize they are ill.
While the city suspects the outbreak began with one of five towers, they have not definitively determined which one, pending results from a state lab (though health officials speaking anonymously to the Times suggested it might be the Opera House Hotel). Once the cooling tower is identified, Dr. Bassett said she would measure out 14 days from when the tower was cleaned before being sure no one else would become ill from that particular tower.
"If we can't identify a definitive source, then we would take it from the cleaning of the last cooling tower," Dr. Bassett said.
All 38 towers within the "impact zone" for the illness have now been cleaned, and work is underway to clean towers across the city as part of an emergency order issued by Dr. Bassett last week. Within the impact zone, 14 cooling towers tested positive for legionella—but Dr. Bassett noted that legionella is "everywhere" and typically does not make people sick, though the city sees up to 200 cases of individual Legionnaires' disease annually that are not associated with an outbreak.
The city's response to Legionnaires' disease has had its critics—many of them people who have routinely clashed with Mr. de Blasio, including Congressman Hakeem Jeffries and Comptroller Scott Stringer. Gov. Andrew Cuomo, with whom Mr. de Blasio has feuded, has offered different information at dueling press conferences and said people had a reason to be frightened as the mayor urged calm.
But CDC Dr. Dr. Matthew Moore, a medical epidemiologist, had kind words for the city's response.
"I would describe it as swift, very diligent and robust, while at the same time being open-minded and flexible in the response," Dr. Moore said.
Mr. de Blasio, who has been short with reporters in recent days and grew annoyed with questions about criticism from the owners of the Opera House Hotel, was asked today whether he felt defensive of the health department—which just over a year ago enjoyed tremendously good press for its response to Ebola—in the face of criticism.
"I think that politicians should step back," Mr. de Blasio said of public health crises. "I think politicians need to learn to help the public by letting the experts do as much of the talking as possible."
With the outbreak contained, Mr. de Blasio said attention was now turning on how to prevent future outbreaks of Legionnaires' disease with legislation that will require inspections and cleaning of cooling towers—an area where he and Mr. Cuomo had originally sparred but have now landed on the same page. After Mr. de Blasio insisted he would not wait for the state, while Mr. Cuomo insisted any regulations should be statewide, the two eventually agreed to work together on crafting legislation that will be passed by the City Council today and will eventually be made statewide policy by Mr. Cuomo.
The mayor said today that process involved staff from his office, the Council, and the city and state health departments, and characterized it as a "consistent, kind of ongoing conference call."
"We are 43 percent of the state's population, and we're the ones who have an outbreak—so it makes sense that, if we're already in motion, to align what we're doing to what the state is doing," Mr. de Blasio told the Observer. "I think it was very helpful to have all those brains around the table."