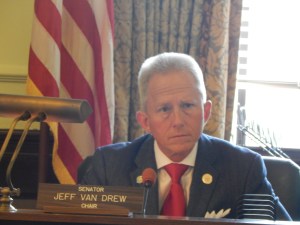 Senator Jeff Van Drew (D-1) and Assemblyman Bob Andrzejczak (D-1) will be chairing a meeting of the First Legislative District Economic Development Task Force in Wildwood on Thursday. The meeting of the bipartisan task force will focus on the first district's fishing industry and the development of new sites for rearing shellfish in Atlantic, Cape May and Cumberland Counties.
"During the same period of time when aquaculture was in its infancy, other states such as Maryland and Virginia have grown a great deal with their aquaculture industry and we have not," said Van Drew about the push to develop South Jersey's seafood exports.
Saying that the meeting will address "the possibility of putting forward legislation to reduce the redundancy, duplication, and the bureaucracy that's involved with the aquaculture industry," Van Drew said he is confident that New Jersey will be able to become competitive as a source of commercial shellfish and that developing aquaculture could help ease the economic blight affecting the state's southernmost points.
"The first district has some of the worst statistics. The highest unemployment, the lowest per-capita income, the highest teen unemployment, the highest teen obesity, just all the numbers that you don't often quite frankly want to hear. We thought it would be good to really analyze this and determine why the situation is as it is," said Van Drew.
Economic development has been the focus of the first district's assembly race in the first district this year, with Republican assemblyman Sam Fiocchi (R-1) touring oyster farms in Cape May County earlier this month. The first district has suffered alongside Atlantic City as gaming revenues have sharply declined due to out-of-state competition and deprived residents across the region of a core industry.
Previous meetings of the task force have addressed educational initiatives to pair technical schools with employers in the district. Members of each county's board of freeholders will likely attend Thursday's meeting, but the list of attendees is not confirmed.