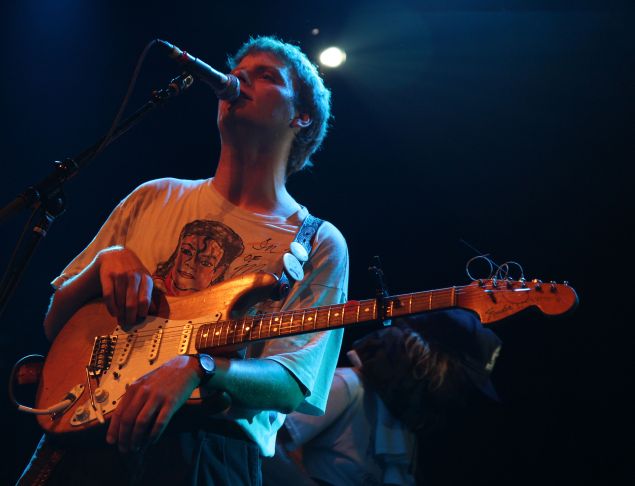 Mac DeMarco must be exhausted. Dude's literally everywhere these days, from big festivals like Pitchfork to Williamsburg's Baby's All Right, where just last week he celebrated new mini-LP Another One with a secret release day gig that packed out the tiny back room. In the middle of his third New York gig at Music Hall of Williamsburg Wednesday, Mr. DeMarco let it be known that he was still a bit under the weather from the constant touring. The fact that he was even joking, making impressions and hitting those notes at all was quite impressive, considering he had one more New York date left before that leg of the tour was finally over. He's got moxie. And he's not just saving it for the kids, either.
Hell, last month he also found the time for an appearance on Studio 360, the public radio program that may have even turned your parents onto his music in the process.
No matter though. Just as this 25-year-old gap-toothed, bleeding-heart crooner walks the line between prankster and gentleman, old soul and Enfant Terrible, his demographic is equally cross-generational. That dichotomy was well captured in the new album's songs on Wednesday, like title track "Another One." While the song again finds Mr. DeMarco playing the timeless role of heartbroken crooner, those mellow synth keyboard chords sound distinctively modern—as if he woke up in Mario's Mushroom Kingdom, partook of the sacrament and composed a celestial soundtrack to his hopping across the clouds.
Mr. DeMarco's music is honest and pure, his personality genuine—so the fan love is understandable.
But while Mr. DeMarco's music might appeal equally to your grandmother or your little sister, the Music Hall crowd was largely teens. One young man was overheard soliciting security to stash his skateboard, loudly complaining because coat check was closed during the summer. Another young lady bragged to her friends about turning 16 last week. Once the set began, that young man succumbed to the role of shouting bro, brashly requesting the band play a song that was already on their set-list, and prompting the band to question why he felt the need to ask so aggressively.
Let this writer distance himself from the curmudgeons by noting that such youthful fervor needn't be a negative, and can often go a long way at a show. When we caught Mr. DeMarco opening for fellow wunderkind Ty Segall at Webster Hall in 2013, he was opening beer bottles with his teeth and making out with band members. We all ate it up back then, and Mr. DeMarco's antics matching against the maturity of his music had the whole crowd dancing with each other— we had stumbled upon an artist who was genuinely interested in creating a love vibe. Through the camaraderie between Mr. DeMarco and his band-mates, it was visibly apparent that the dudes were old friends. Later in 2013 he played Music Hall of Williamsburg, too, where a giant painted sheet backdrop dubbed the night "Tour Dank." And later that year he was even invited to open for the French Autotune-savvy plutocrats of Phoenix. Maybe that's when these crowds started reaching a Beatles level of idolatry.
Again, none of this is necessarily a bad thing— Mr. DeMarco's music is honest and pure, his personality genuine, and a Mac DeMarco show has same the transformative power to increase your endorphins as a Flaming Lips show, so the fan love is understandable. Despite playing on the home-stretch of his tour's end Wednesday while feeling under the weather, Mr. DeMarco still found the spirit to yuk it up and keep things fresh with the audience, like when he went into his Canadian hillbilly voice (think Billy Bob Thornton's throaty rasp from Sling Blade) for an exaggerated riff on hosiers and Tim Horton's. His riffed out cover of Steely Dan's "Reeling In The Years" was performed with a refreshing virtuosity, both a sign of the man's vast influences and evidence of his band's musicianship. But when the crowd began inflating condoms as balloons and throwing them onstage, lead guitarist Andrew White called out their immaturity, asking the kids if they really knew how to use those things.
Mac DeMarco's got moxie. And he's not just saving it for the kids, either.
Perhaps most telling was the crowd's behavior during cathartic set-closer "Still Together," a song about Mr. DeMarco's complicated relationship with his girlfriend Kiera, which closes his now-classic LP 2. A young man crawled up on stage during the number, and Mr. DeMarco was fine with it, urging the audience to make sure and support him when he stage-dived into the crowd. Yet the young man did not climb up to stage-dive, rather to wave at his friends and take selfies. Mr. DeMarco, ever the good sport, just shrugged his shoulder while the band kept on playing, but this young man in turn prompted more teens to bum-rush the stage. When three young ladies followed his lead, forcing themselves alongside Mr. DeMarco for selfies with seeming oblivion to the intrusion of the self-aggrandizing behavior, the rest of the band had had enough—they had to literally stop playing and shoo the teens back into the crowd. Sadly, this was a far cry from the communal dance-party of Mac DeMarco shows past.
Mr. DeMarco himself then stage-dived before the song's conclusion, presumably to show the kids how it's done, hands folded together in a comic pose of easy-going indifference to the teenage hysteria unfolding all around him. He also got some comeuppance from spitting water into the crowd, which the teens in the front row were eager to catch in mouths before he reminded them that he had been sick. Mr. DeMarco smiled after as he said, "Enjoy your weekend!"
Although it's Mac DeMarco's name on the bill, you get the sense that he never intended his live shows to be all about such mindless worship. A Mac DeMarco show is the most potent when the lovesick power and yearning of his songs are felt from the crowd, and there is a communal recognition of their universal meaning. What a long way youth culture has come in just a couple of short years, when such vibes can be so easily threatened by the all-consuming narcissism of some new "me" generation.