Just because people are in the room when an ad is playing on television, are they actually watching? And if they ever look at the ad, do they take anything in?
"The salesman in every living room no longer has the undivided attention of the viewer," Mike Bartels, the research director at Tobii, said during a recent webinar from the company. Tobii used its eye tracking wearable to observe where users looked during a television show with a mobile at hand. It revealed ways that advertisers can still get a message into TV viewers' minds. Tobii makes a pair of glasses called the Tobii Glasses 2 Eye Tracker which tracks where people are looking.
The glasses use four cameras on the eyes to track movement. The precision of this is increased by associating it with data from the accelerometer and gyroscope on the Tobii glasses unit. The units also have a camera on board that records what directions people are looking. Using the Tobii Analyzer software, researchers can watch that video along with an animated indication that shows precisely what part of the screen the person is looking at, as well as measuring pupil size and blink rates.
These glasses might know it when you dig somebody.
Mr. Bartels' webinar explored how viewers of a specific television show paid attention to commercials when they had a tablet or smart phone in their hands. The webinar was called "Mad Men in the Modern World of TV Commercials." Participants watched a taped episode of Mad Men, complete with commercials, while wearing a pair of Tobii eye-tracking glasses.
Commercials were able to hold people's attention for at least some of their duration 54 percent of the time. So it's not hopeless for advertisers. Here are some insights the small study revealed: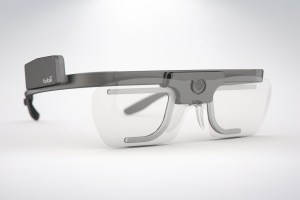 The first commercial in each break is in the best position to grab people.
If a commercial doesn't hold the viewer's attention, then the commercial that follows it is even less likely to.
Because people look back and forth, it's good to have the brand on the screen somewhere throughout the whole commercial.
The shows themselves generate a modest amount of online traffic during shows, so if you buy ads on TV it might make sense to buy them on the websites with information about the show, too.
These insights were drawn from a study in which twenty-five casual fans of the show Mad Men watched an episode that they had not yet seen on tape during the month of May. Tobii staff trained them in how to use the glasses. Each viewer either had a tablet or smart phone in their hands while they watched. The episode included 26 commercials, and the team spent three days collecting the data.
The shows themselves largely held the viewers' interest, over 82.3 percent of the broadcast. Only 19.2 percent of commercials got watched straight through while 26.6 percent were completely ignored.
Watch the entire webinar here:
[protected-iframe id="8dcbdb2161c1d0fac89ee36eb0623346-35584880-79214703″ info="https://www.youtube.com/embed/R-ZKdFgSZLQ" width="640″ height="360″ frameborder="0″ allowfullscreen=""]