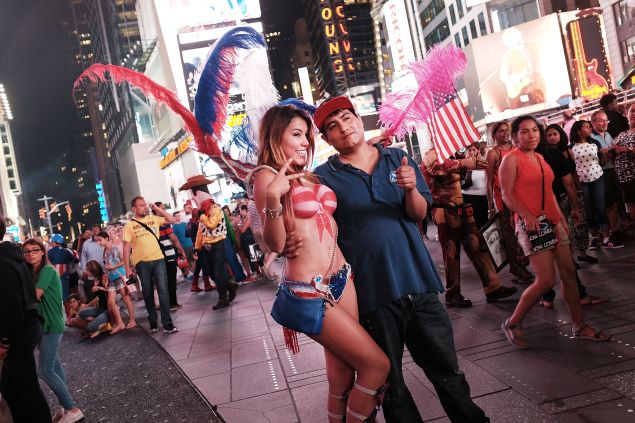 Manhattan's borough president tore apart a de Blasio administration proposal to tear up Times Square's pedestrian plaza.
In a lengthy statement released this afternoon, Manhattan Borough President Gale Brewer called the idea of destroying the plaza "preposterous," even as hand-wringing continues over the growth of topless women and costumed characters panhandling in the crossroads of the world.
"It is clear that the renewal of Times Square as an area for pedestrians, and as a major shopping destination because of its pedestrian-friendly design, has been a huge success," Ms. Brewer, a Democrat, said. "The plaza has made Times Square the very heart of New York once again, and the notion of destroying this in exchange for another cauldron of honking, snarled traffic is preposterous."
Mayor Bill de Blasio and Police Commissioner Bill Bratton have each said that one solution to the proliferation of topless women, known as desnudas, in Times Square is to get rid of the plaza where they ply their trade. Both baring breasts and asking for money is legal, though some pols, including Gov. Andrew Cuomo and ex-Gov. George Pataki, have declared that it is not–or shouldn't be, at least.
But Democrats normally aligned with Mr. de Blasio, including Ms. Brewer, have denounced the idea of extensive car traffic returning to Times Square. Mr. de Blasio recently created a task force to study the issue.
The pedestrian plaza was created under former Mayor Michael Bloomberg as a way to make the city more pedestrian-friendly. The plaza is popular with the political establishment and transportation advocates; destroying the walkways contradicts Mr. de Blasio's stated goal of ending pedestrian fatalities, they say.
"Those who are trumpeting a 'task force' should at least get briefed on the scores of meetings and proposals that have already been considered—including negotiating restricted areas, enforcement for harassing tactics, and some other ideas that seemed promising but might make matters worse," Ms. Brewer said. "Until the mayor spoke out, no one who funded, designed, built, maintained, or enjoyed car-free Times Square thought the plazas should be destroyed."
Ms. Brewer added that she was in search of a "sensible solution."
"It took real leadership and vision, and plenty of money, to create a different kind of New York that's not just for motorists," she said. "Putting back the honking, angry, fumy Broadway parking lot at the so-called center of the world would be no accomplishment. Surely we cannot go back to destroying the city in order to make it safe for more cars."
A spokeswoman for Mr. de Blasio, Karen Hinton, said he "appreciates" Ms. Brewers views.
"The Mayor appreciates Borough President Brewer's views," Ms. Hinton said in a statement. "He has said no decision has been made. All options will be on the table, and he wants to ensure all voices are heard."