"Isn't it just torture?" Donald Roberston said on Wednesday afternoon with a grimace, petting a wall painted by him with one hand and holding a wet paintbrush in the other. The insta-famous cosmetic exec had been barred from posting any and all photos from inside his soon-to-open concept shop with STORY, the rotating store space located on the corner of 19th Street and 10th Avenue. His legion of 150,000 followers had to wait until today to see the goods inside and meet the man behind it all who has camped out for the day to sign his wares.
"I'm working with the merch yenta of Manhattan, Rachel Shechtman," he said as he continued to paint a custom portrait on a bag. "She'll literally take your book that you're launching, your simple book, and within seconds, there is a massive product line sitting behind it in her store. It's unbelievable. She's a merch yenta!" Said book is Mr. Robertson's long awaited children's tome, Mitford and The Fashion Zoo, which reinterprets the fashion world's elite into animal characters. Zac Posen has morphed into Zac Possum, and Marc Jacobs is now Shark Jacobs.
The aforementioned Ms. Shechtman is Mr. Robertson's partner in the store, and the creator of the STORY shopping concept. "I play matchmaker for emerging brands, and partner them with high profile talent like Donald. I'm like a dating service for brands," she said during my visit to the store. "Before Donald, I had never met another man with more A.D.D. than me. We love doing different things, and we're crazy, but we make it work."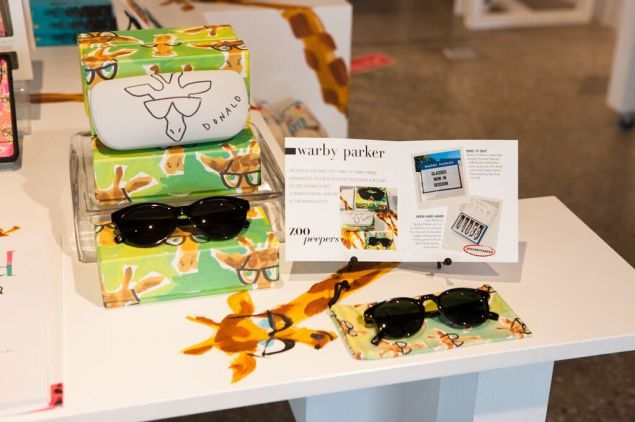 Standout products include a limited edition set of Urban Ears headphones, Warby Parker sunglasses in one-of-a-kind cases, a customizable lipgloss corner in collaboration with Smashbox Cosmetics, and a pressing station which allows shoppers to apply Mr. Robertson's hilarious set of emojis on T-shirts and tote bags. "Even the sets of coasters are a way for someone to own a little piece of Donald's art," she added. The store will be open through New York Fashion Week in September, during which we can expect another flurry of additional limited-run collaborations including product lines with J.Crew and Canada Goose, an homage to Mr. Robertson's homeland of Toronto.