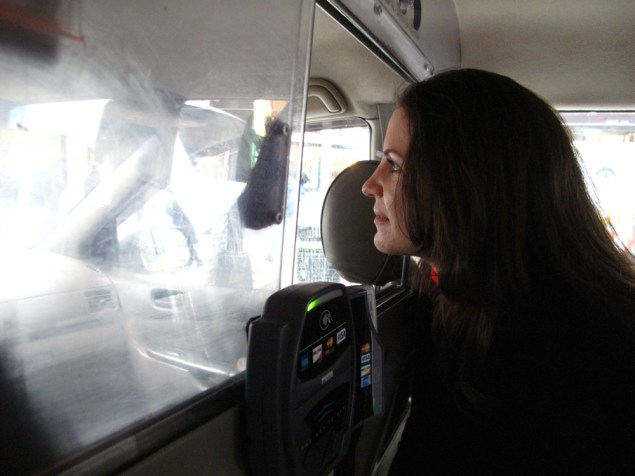 A little-known lunch spot in Jamaica, Queens isn't necessarily the first location that springs to mind when interviewing an author. But for Layne Mosler, whose Driving Hungry: A Memoir was published last month, the Caribbean joint, The Door, seemed like the perfect place to meet on a recent Sunday.
"[The first time] I came out here, we tried this curried goat, oxtails, cornbread and these soups," she gushed to the Observer over a heaping plate of the aforementioned goat stew and a glass of carrot juice. "It was just one of the most phenomenal meals I've had."
Ms. Mosler should know. Once seated below a large, gaudy mural of a waterfall in a jungle—the dining room, notably, was called 'The Jewel Box'—she launched into anecdotes from her many "taxi adventures." Since 2007, the petit brunette has traversed Buenos Aires, New York City and, presently, Berlin hopping in cabs and quizzing drivers to find out their favorite eateries when the meter is off. Chronicling her findings on her blog Taxi Gourmet, more often than not, both the drivers and the food turned out to be gems.
"My greatest joy of doing the taxi adventures here was the food—getting in a taxi with a driver from Puerto Rico and ending up in a ramen bar, or a driver from Morocco and ending up in a Cuban place."
In Buenos Aires, for example, an evangelical Protestant priest moonlighting as a hack—he was apparently delighted she was American—took her straight to 'La Americana,' an establishment promoting itself as "queen of empanadas." On a Berlin excursion, a driver who took her to dinner later married her.
But Ms. Mosler judged the culinary haunts of New York's taxi drivers as the most memorable.
"My greatest joy of doing the taxi adventures here was the food—getting in a taxi with a driver from Puerto Rico and ending up in a ramen bar, or a driver from Morocco and ending up in a Cuban place," she said. 
However, it wasn't until she hailed down a cab driven by a woman named Mary Jo (who recommended The Door) in 2009, that she changed direction. "We just got to talking," she recounted, "and I started to think to myself, If she could drive a taxi, then I could drive a taxi." 
Soon enough, Ms. Mosler enrolled in taxi school. With women at the wheel of only 1 percent of yellow cabs, she was, unsurprisingly, the only female student. Undeterred, she spent the next year driving a cab around the city and documenting it:
I was seeing the limits of what I could understand from the backseat—I was beginning to idealize cab drivers, and romanticize cab driving, but there had to be dark sides to the job. How could I expect to learn what they were as a passenger? And maybe, as a taxi driver, I could move closer to the city, come to know it by knowing it's geography, become captivated by it at last. And what if I did some restaurant reconnaissance of my own from the taxi? … It felt crazy, like a lunatic taking over an asylum. 
When she wasn't ending up lost—"I developed an intimate relationship with fear," she recalled—Ms. Mosler continued to forage for new places to eat. Her regular pit stop? Kalustyan's Upstairs Cafe on Lexington Avenue and 28th Street. According to Ms. Mosler, it serves a "perfect" pita sandwich filled with lentils, rice, caramelized onions and tahini for $5.
Persuading drivers to reveal their culinary secrets requires patience. When we stepped into a cab after lunch, Ms. Mosler first took some time making small talk with Malik, who drives 12-15 hours a day and loves to cook, before cutting to the chase.
"I have an odd question," she asked as our cab sped through Queens. "Do you have a favorite place to eat?" He hesitated. But soon he turned his taxi around and dropped us in front of Dera, an Indian restaurant with rows of Indian sweets lining the counters. Before driving away, Malik urged us to make sure the naan was served warm and fresh.
Driving Hungry brims with similarly tasty advice. And while it provides a gastronomic tour spanning three cities, the characters Ms. Mosler encounters are the true takeaway. Driving a cab, in any country, has long been a solitary role—the figure behind the wheel remaining a silent, anonymous presence to their passengers. But, as Ms. Mosler's taxi adventures prove, it's a job occupied by fascinating people with, quite frequently, remarkable pasts. She noted over lunch that even Philip Glass drove a taxi, as did Danny Glover.
"One of the highest compliments I've had on my book so far is someone who told me 'I will never take a taxi in the same way again,' " Ms. Mosler said. "And, 'I will never look at taxi drivers in the same way again.' "