The malleable Steve Buscemi, who can skillfully portray mensch or murderer (sometimes simultaneously), has had the good fortune in his epic career to play many demanding parts: the motor-mouthed sociopath in Fargo, the parsimonious Mr. Pink in Reservoir Dogs, the sympathetic record-collecting lonely heart in Ghost World and the natty, scheming power broker Nucky Thompson on Boardwalk Empire to list just a few. But the Brooklyn-born actor is taking on what may be his toughest role to date: himself.
Mr. Buscemi hosts, directs and executive produces Park Bench, an Emmy-nominated series on AOL that made its debut last year and is in its second season. Along with Jerry Seinfeld's Comedians in Cars Getting Coffee on the digital channel Crackle, Park Bench represents the vanguard of the indie talk show—or "talking show," as Mr. Buscemi bills it; the web series is something of a modernized cross between Fernwood 2Nite and Playboy After Dark, only outdoors and without bunnies. Each roughly 10-minute episode, shot either in a city park or at a location such as City Hall (have bench, will travel), is a pressure-cooked stew of sketch comedy, improv, music and traditional Q&A. As foils, Mr. Buscemi relies on his scene-stealing sidekick, Geo Orlando, a mammoth, under-employed carpenter, and his younger brother Michael, an accomplished actor in his own right.
"I would not have wanted to do the show without [Geo]," says Mr. Buscemi, who sits next to me on a wrought iron-and-wood park bench with peeling hunter green paint on the stage at Caroline's Comedy Club. He had worked with producer Radical Media on a 2013 video project with the band Vampire Weekend and discovered Mr. Orlando outside a Greenpoint bar and recruited him for a scene. "I just staged it on a bench and when we saw the footage of that later, I think I joked to Radical that I could do a show just with [Geo], and then we all were like, 'Well, why not?' "
[protected-iframe id="b121fad055da5cd2d0cc2096155285e7-35584880-73807424″ info="https://www.youtube.com/embed/vwm3XakRI0w?list=PLmK3amy7CGfGWK9dVLKrP4UPFUyG9Q6lO" width="560″ height="315″ frameborder="0″ allowfullscreen=""]
After sitting next to one of the country's top actors for an hour, I don't presume to know Mr. Buscemi. While he is thoughtful and polite, he is also reserved and skittish. "He can be very shy," Michael Buscemi later tells me. "Once he's in the safe zone, he's kind of relieved."
Still, our conversation offers some clues about what drives Steve Buscemi. 
So here goes: he is a thoughtful decent man who does not waste words. The former firefighter from Engine Company 55 in Little Italy, who volunteered to search for his lost buddies in the smoldering pit at Ground Zero after 9-11, is deeply committed to his friends, his family, his city.
On a reddit thread titled, "Who is the biggest asshole famous person you've ever met?" Mr. Buscemi instead receives a plaudit from a neighbor:
"I was parallel parking my car in Brooklyn during a snowstorm a few years ago. I couldn't see the curb due to the snow and this guy taps my window and starts guiding me into my spot. This hardly ever happens in NY. I get out and thank the guy and it's Steve Buscemi! He says "No problem, have a great night." Fuck yeah I'll have a great night, good guy Steve Buscemi just guided me into my parking spot."
Yet good guy Steve Buscemi can be hard on himself.
When I compliment him, interviewer-to-interviewer, about an eloquent question he posed to Rosie Perez—"How do you get past your past?"—the actress had talked on the show about being abandoned as a child—Mr. Buscemi's soulful, slightly bulging blue eyes dart away.
Park Bench feels fresh because of the lack of product placement (unless one counts a scene shot at La Bagel Delight, one of Mr. Buscemi's Park Slope haunts) and an absence of vapid celebs hawking their latest movies.
"I can ask some semi-intelligent questions," he allows, before launching into a lengthy self-critique: "But I do get nervous. I do get intimidated, and I feel self-conscious, and I sort of stumble through it, and it is painful when I'm in the editing room. … I'm usually telling the editors, 'Just cut around me, or just cut that part out of me, and get to [the guest].' … I don't have a problem watching myself in movies or on TV, if I like the show or if I like the film, but it's harder to watch myself trying to be myself."
Like a traveler who battles a fear of flying by becoming a pilot, Mr. Buscemi, something of an interview-phobe, has now seized the plane's controls. "It's not that I don't like the interviewers," he explains in his distinctive reedy voice, which in the orchestra of tones evokes a clarinet. "It's just sometimes weird talking about your work. I like to do the work more than talk about it. But it is odd now that I'm on the other side."
Park Bench, which Mr. Buscemi described to Variety as about "nothing and everything," hits its target more than it misses. Highlights include Triumph the Insult Comic Dog's vicious yet hilarious roast of a bemused Mr. Buscemi; the canine puppet calls the striking-looking actor an "Amphibian-American" and asks him if AOL is the "proving ground," where you will "work out all the kinks until you make the big leap to CompuServe?" ("I was … not going to get into a battle with Triumph," recalls Mr. Buscemi.)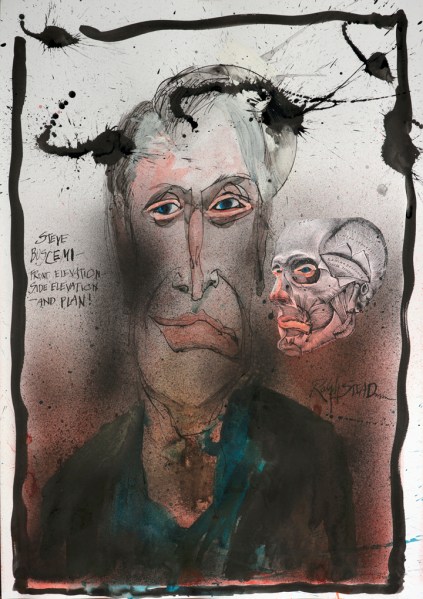 ***
In another recent episode, Debi Mazar, who Mr. Buscemi cast in his 1996 feature-length directorial debut, Trees Lounge, candidly recounts her "crazy" childhood; her mother apparently had five husbands (not concurrently). She then talks about her stint as elevator operator at the club Danceateria, where she hung out with Madonna, pre-"Material Girl," and briefly served as her makeup artist.
When Dick Cavett bellied up to the bar with Mr. Buscemi last season, he offered advice on fostering conversation, including "don't mess with a lot of study and preparation and analysis." Mr. Buscemi recently followed that advice to viewers' benefit with John Oliver. "I was convinced he had a kid," Mr. Buscemi says. "We had him on his day off … I felt bad because I thought we were taking him away from his family …  and he looked at me and he was like, 'I don't have a kid!' And it turned out to be a really funny bit and nothing that I could have planned."
Aside from fortunate happenstance, the show feels fresh because of the lack of product placement (unless one counts a scene shot at La Bagel Delight, one of Mr. Buscemi's Park Slope haunts) and an absence of vapid celebs hawking their latest movies, books and records. Mr. Buscemi's generally heady guests rarely plug their projects, as if mercantile behavior constitutes a breach of protocol akin to stopping a star in the street to ask for an autograph.
Bringing up fraternal rivalry is the only time during our interview that Steve Buscemi becomes noticeably emotional
Interviews with members of Mr. Buscemi's indie inner circle prove compelling, like spying on a family reunion. In an episode titled "Back In The Day," Jim Jarmusch, who cast Mr. Buscemi in the cult classics, Mystery Train and Coffee and Cigarettes, reminisced in Tompkins Square Park about the lively 1980s downtown theater scene, paying homage to comedian Rockets Redglare and his variety show, Taxi Cabaret, as well as Squat Theatre, a store-front troupe on West 23rd Street founded by leftist actors expelled from Communist Hungary.
Mr. Buscemi and the director also chatted about the many musicians, including Tom Waits and Joe Strummer, who doubled as actors. "When we were starting out," says Mr. Jarmusch, "and investigating all these things with each other, people did numerous things; Patti Smith is a writer, a photographer, a painter, a songwriter, a musician. These kind of divisions—'well, you can only be one thing'—never occurred to us."
"Jim and I have gotten closer over the past few years, even though we've known each other for 30," Mr. Buscemi says. "I'll always be interested in his work, but I really just like spending time with him. And so to be able to get him on the bench and talk…"
Asked about coming of age in the East Village, Mr. Buscemi cautions against sentimentality. "You have to be careful not to get nostalgic for a certain time. I mean, I do remember feeling when I was living in the East Village in the late '70s and '80s, not realizing what that was when it was right in front of me. It took me a few years to realize, 'Oh, this is a happening place.' And I was lamenting Greenwich Village, because I would read books by Kerouac, and Ginsburg, and Burroughs, and I would say 'Man I wish I was around in the '40s and '50s—that's when New York was cool.' And I'm sure every generation, you get to a certain age and you pine for the past."
When Ms. Buscemi's old friend and fellow Brooklynite John Turturro, who appeared with him in a trio of Coen Brothers films, happens by, he shows off a veteran move to stop actors from camera-hogging. Mr. Turturro playfully tosses Mr. Buscemi out of the imaginary shot, switching positions with him as if square dancing.
***
Moments later, one of the most touching scenes in the series occurs. Michael Buscemi rushes into the frame and mimics Mr. Turturro, grabbing his brother by the shoulders. The siblings, both former high school wrestlers ("We never wrestled each other, but we did have the same move—the reverse cradle," Michael Buscemi later tells me) grapple, practically collapsing to the ground in giggles.
Park Bench's running shtick is that Michael Buscemi, a younger, bushier-haired version of his more famous brother, hosts a competing show, Bench Talk. Michael constantly poaches guests from Steve and steals his co-host Mr. Orlando, who still deigns to moonlight as Park Bench's celebrity wrangler. "The whole rivalry thing," says Steve Buscemi, was "a happy mistake." He had planned for one of his guests to act as host of the copycat show but the candidate canceled with little notice. "Then I thought, 'Is it too much to have my own brother?' And how big of an asshole am I to be jealous of my brother's show? And then I thought, 'No, this is perfect. This is brothers.' "
The show, which still enables him time to work in film, is "a great way," he adds, "to hang out with my family, and incorporate them in my work, and give them work."
Michael Buscemi clearly admires his big brother. "I always knew since fourth grade that he was going to make it," says Michael, who is on a break from shooting Abnormal Attraction with Malcolm McDowell. The brothers have worked together when possible, including in Steve's 2007 film Interview, about a political journalist forced to profile a Hollywood starlet, Sienna Miller. Michael plays his institutionalized brother.
"I don't even speak," says Michael Buscemi, who is chatty and warm. "I wouldn't have done it if it wasn't for Steven, I would have felt like a prop. But it was a scene where I was in a mental hospital, and he's talking to me. I didn't feel like I was a prop, because he's doing this monologue, and he puts his arm around me, I could just feel it was … emotional. The more emotional I got, the more emotional I could feel he got."
Bringing up fraternal rivalry is the only time during our interview that Steve Buscemi becomes noticeably emotional. I read him a long quote from Michael published in Fast Company about the challenge of having a more famous actor in the family: "Imagine you're a good plumber and your brother is a good plumber as well and is getting a lot of business. They're talking about him, you know, and you say, 'Well, I'm a plumber. I can fix your toilet.' But instead, they're saying, 'Well, I know this great, great plumber …' "
"You know," Steve Buscemi says tenderly. "He's a pretty great plumber himself."
Steve and Michael, the middle brothers of four boys, grew up in East New York. Before moving to Valley Stream on Long Island when Steve was 10, the family of six lived in a one-bedroom apartment in a building owned by their grandmother. In Brooklyn, remembers Michael, "my mom and dad slept in the living room on the pullout couch." There were always siblings and cousins around to play with in the family compound. "It was like a cement yard in the middle, so we didn't have to go anywhere. All we had to do was look out the window."
Family patriarch John Buscemi worked as a sanitation worker. Steve remembers his dad, who died last December at 84, as "a great talker, he can really talk." Steve catches himself and switches to past tense. "He also had a really great curiosity."
Steve had the chance to direct his dad on Park Bench's premiere last year. "He was fun to give direction to because you could tell he wasn't getting it at first, and he was giving me a look like, 'I don't know what you're talking about, and then he would suddenly somehow get it."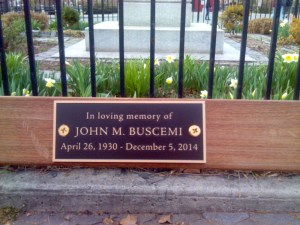 Michael chipped in, cueing his father. "He would not know when to come in, so I had my arm around him and I'd say, 'When I tap you on the shoulder, that's when you say [the line.]' "
John Buscemi apparently flirted with joining the family business. "He was going to retire and do commercials," Michael says. "I actually did a commercial class with him years ago, and he realized that it was work … And he understood the business from there."
Michael says that he and his brother watched a lot of TV as kids: "The Monkees, Batman, Three Stooges, Abbott and Costello." On occasion, Steve stayed up late to watch Johnny Carson. "We were probably only doing it in the summertime, because I can't imagine we were allowed to stay up that late on a school night," says Steve. Johnny "was the guy, he was who we were all talking about, the funniest guy around."
Mr. Buscemi, who is quick with comebacks and has a keen sense of irony, may not be the funniest guy around. He's no Johnny—but neither is Conan O'Brien, Jimmy Fallon or even Dick Cavett, for that matter. But Mr. Buscemi, and his thoughtful, "low rent" show, are worthy suitors for an ever-fragmented audience.
I would, however, encourage Mr. Buscemi to watch, even though it may be difficult, his compelling conversation on Park Bench with the prominent Buddhist nun, Ani Trime Lhamo. She examines the power of self-acceptance. "It's easiest to be kind to others," she points out, "than kind to ourselves."