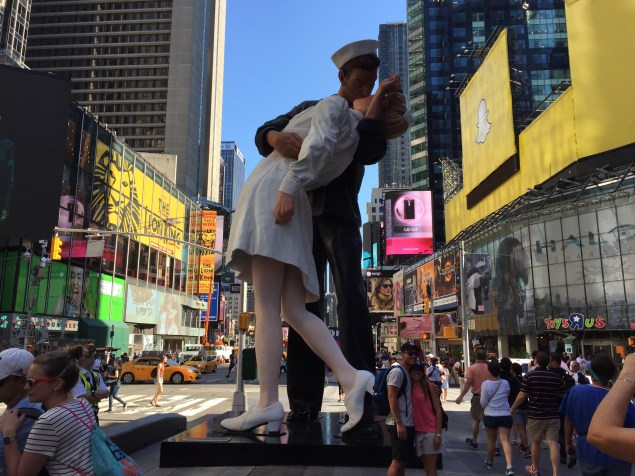 Yesterday morning, while the Observer was taking a leisurely stroll through Times Square, a 25-foot-tall sculpture at the intersection of 44th Street and 7th Avenue caught our eye.
A small crowd had gathered around the statue, which depicted the lip-locked couple from a very famous LIFE Magazine photograph taken by Alfred Eisenstaedt on April 14,1945, aka V-J Day, as news spread through New York City that World War II had ended.
The new public sculpture at the Crossroads of the World is by American artist Seward Johnson, who is also responsible for a 26-foot-tall work titled Forever Marilyn, of Marilyn Monroe playfully attempting modesty as her skirts flap up around her in the wind. That work was shown in Palm Springs and Chicago—where it took heat for giving viewers the chance to snap up-the-skirt photos—before going on display at New Jersey's Grounds for Sculpture for a retrospective of the artist's work.
The Times Square sculpture, Mr. Johnson's Embracing Peace (and formerly titled Unconditional Surrender), was created in 2005 and shown here for the 60th anniversary of V-J Day, according to a spokesperson from the artist's studio. This time, the work will be on view in through August 16, and is part of the Times Square Alliance's Kiss-In event.
Held every five years, the Kiss-In invites couples to don sailors caps, hold roses, and smooch in honor of the iconic photograph and the anniversary of the war's end. This year marks the 70th anniversary of both occasions and will take place Friday, August 14 at 11 a.m. at Broadway Plaza, between 43rd and 44th Streets.
There are several other versions of the work on permanent view in San Diego and Sarasota, Fla., and a smaller version is on display in the Garment District.
But Embracing Peace has been met with some controversy during previous appearances.
When it was displayed in 2014 in front of the Caen Memorial Museum in Normandy, French feminist group Osez Le Feminisme (Dare to Be Feminist) petitioned to have it removed, claiming that it depicted sexual assault. (The debate over whether or not the photograph depicts sexual assault has been going on ever since the couple in the photograph were identified and reunited, in 2012.)
"The sailor could have laughed with these women, embraced them, asked if he could kiss them with joy. No, he chose to grab them, with clenched fists, to kiss them. It was an assault," said Osez Le Feminisme in an article by the Telegraph published in October 2014.
The museum responded by placing an accompanying text by the sculpture noting the ongoing dispute over the nurse's identity.
While the Observer spotted tourists a plenty snapping photos of the giant snogging pair, we caught none engaging in the act itself. Perhaps, they're waiting until Friday.