"I really like your watch," is a phrase I've heard a handful of times since I acquired a black-on-black Vector smartwatch. I heard it from my hairdresser, from the guy who was clutching a red Solo cup, sitting across from me at a party, and from a clipboard-clutching PR person at a press preview.
For something as ubiquitous as a watch whose main features are a round face and a heavy chain, (which I will admit is handsome, but not in a way that would stop traffic) why is my timepiece garnering so much attention?
It might have something to do with the fact that I can't stop staring at the watch. While the aforementioned hairdresser was trimming my locks she asked, "Are you late?"
"No," I responded, without averting my eyes from my wrist. "Just waiting for a text message."
The Vector watch is mostly known as the smartwatch with a 30 day battery. A claim I think is true, as I haven't had to charge the watch since I received it at a press preview on August 4.
That night, I stood looking over Manhattan from the penthouse of the Standard hotel in the East Village, with a flute of champagne grasped in one hand. The creative director of Vector, Steve Jarvis, had my other hand, as he was sizing the watch band to fit my wrist.
I was then transferred to the care of some tech representative who set up my new gadget with an app on my phone. I had no time to linger around to receive any further instructions regarding how to actually use my new acquisition. The second event of the evening, which happened to be a concert, was beckoning. And it promised to be a bit more fun than a watch party.
The next day I pried apart the box the watch came in. All I could find was a charger, and that was it. There was no owner's manual. No instruction guide. Just me, my new watch and a lot of confusion.
The first day I wore my Vector, nothing happened. The digital watch face ticked along, offering no signs of a text message or an upcoming meeting. I was convinced it was broken.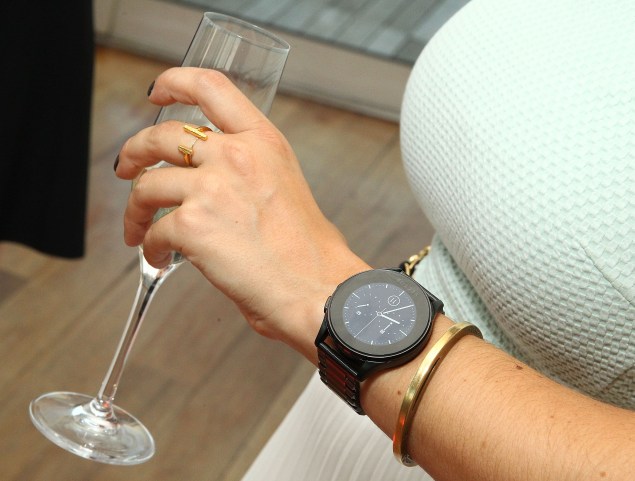 Although the nice man who set my watch up showed me how his Vector monitored his sleep, I'm not a huge fan of over-accessorizing while I sleep. Plus, I was a bit nervous about wearing this clunky accessory on my wrist while I tossed and turned until morning. So I slipped it off and left the watch on my nightstand.
The next morning I picked up the watch and was sleepily baffled to find it worked. The watch buzzed to remind me that I had scheduled an early coffee meeting (which I had completely forgotten about) and I had exactly 40 minutes to get there. Ah, thank you technology.
When I was leaving that early appointment, my wrist vibrated again: A simple circle around the watch face let me know I had received a text. That is where my addictive love affair with the smartwatch began.
Each time I receive a message, I have exactly 10 seconds to tilt the watch towards my face, where it will show a preview of the text. If I bypass that time period, a simple click of a side button will show me the text. The format isn't perfect though; longer messages will be cut off towards the end and emojis and photos show up as a blank text.
But Apple Watch this is not. The Vector has no capabilities to place phone calls or send messages. It can't pay for a cab, play music or show me where I am on a map. But my darling watch, which will be released later this September, can count calories and steps. It's like a Fitbit, but much prettier. I can easily click a button to change the display on the watch. Through my phone, I can customize the faces to feature the date or tell me the weather conditions. There are also small selection of apps to download, from BBC or The Economist, but it turns out reading just the headline of three major news stories, with no actual article that follows, can be more frightening than useful.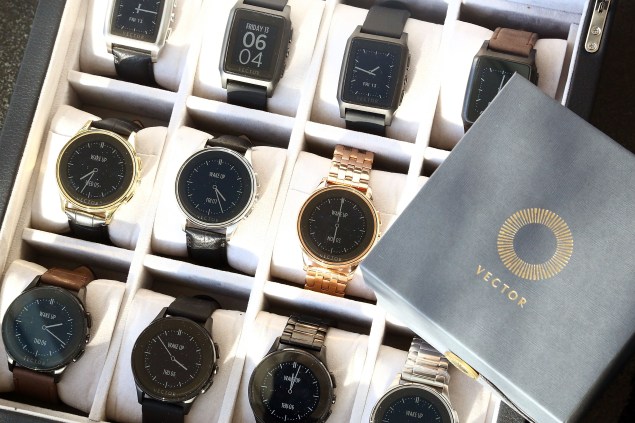 One thing I have learned is that I now have the power to discreetly screen my texts while on a date, in the middle of a meeting, or even in mid-conversation. Basically, I have completely lost my manners, but in the most covert and aesthetically pleasing way possible. Not only do I peer at my wrist at least a few hundred times a day, but it feels like receiving text messages is even more addicting. I often have this desire to text people just for the sake of reading their response from my wrist. Wearing this watch has proven to me that I am one of those people who is addicted to their phones. I can now state with certainty that I like to be plugged in and in touch, as often as possible.
At times I do want to rip the watch off and feel disconnected. When I just want to read a book or when I'm trying to get some writing done without any distractions. Sometimes, I stray far enough from my phone and receive a "Link Lost" message on my watch, with fills me with a tinge of happiness. But that's a fleeting moment.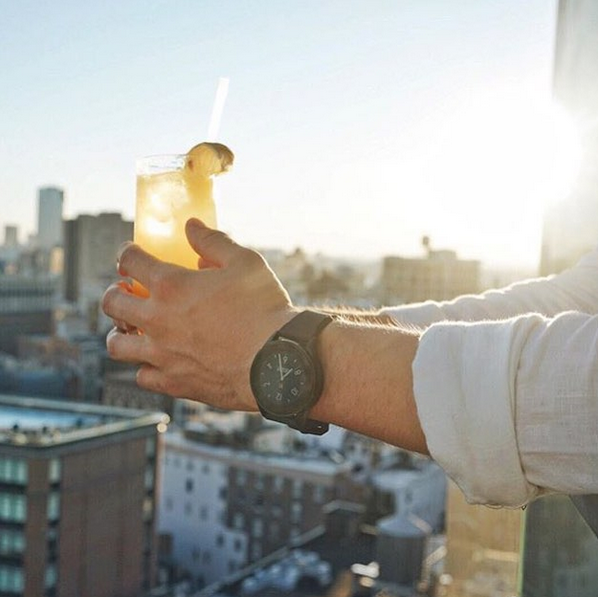 Every time I step into a yoga studio, I make sure to tuck the watch into my purse's interior pocket, feeling relieved. I am now unreachable. I can't make any plans or offer any postulations as to why that guy didn't text my friend back. After 60 minutes of downward facing dog, ohming and contorting, plus a few minutes of attempted meditation, I finally feel as Zen as one can in the constant rush of New York City.
I roll up my yoga mat, slip on my shoes, and put my watch back where it belongs, on my wrist, brimming with notifications to check.