The sign of a top summer destination isn't how great it is when the going is good, but when it's on the brink of collapse. Take for example, Mykonos, the long traveled- to island that planted itself on the endless summer tour for jetsetters, partygoers and sun worshippers in the 1960s. While Greece may be on the verge of financial ruin, this luxury enclave is amazingly immune to all. As the busiest tourist hub of the Cyclades cluster—which includes Santorini, Naxos, Paros and Thira—sinful nightlife coalesces with the world's purest beaches. Not to mention top dining and shopping in a town where vibrant bougainvillea hang over an endless maze of cobblestone streets, turning every moment into a photo op. No, Mykonos has showed no signs of slowing this season. Even if people can't take out cash, they don't stress it. "Our country may be falling apart, but we look good," said a local recently, as he set sail into the sunset.
They sure do. Mykonos remains a premier sexy summer spot for Europeans, Australians, Americans and fellow Greeks seeking a little revelry both in the sun and after dark. The island invokes a hedonistic feeling, where like Las Vegas, there is a party lurking around every corner. But instead of a dark, grubby nightclub, the setting is a stunning white-washed beach club, where sun gods and goddesses are slurping oysters and popping bottles of rosé with their feet in the sand, at least until the sun sets. Then it's onto the next party. Paradise indeed.
Mykonos is attempting to keep up with renewed, growing popularity and the evolving tastes of long-standing guests. Restaurants in town are sprouting up featuring such buzzwords as "molecular," "local" and "foodie," while a crop of boutique hotels are catering to the new, moneyed traveler who is seeking more than just a romp in the sun. It's a juxtaposition of old Mykonos and new. You may be drinking green juice at a hip organic café, but you can be sure there will be a dozen older men standing outside sipping ouzo and chain smoking.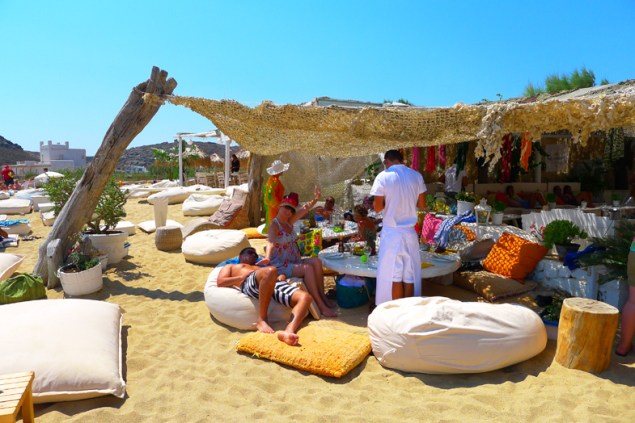 While a few luxury hotels cater to the old guard, the Grace Mykonos is a prime example of an evolved island that's hosting a youthful, more enlightened clientele. The hotel offers all of the amenities of a luxury resort—five-star service, clean and airy rooms with private patios overlooking the sea, top cuisine—yet it launched a bespoke program that encourages visitors to embark on a more localized island experience. Guests can choose from a variety of programs based on themes like culture, gastronomy, adventure, romance and wellbeing. Options include a boat ride around hidden beaches, horseback riding and a cooking class with a Greek family matriarch, who will divulge her recipe of the best moussaka on the island.
"There is a growing desire for people to experience the authenticity of our locations," said Marco Novella, chief operating officer at Grace Hotels.
If a traveler can be pried from the hotel pool, some of the Aegean's most beautiful beaches surround the island. The ultimate jetsetter, the one whose yearlong route includes St. Barths, Saint Tropez and Aspen will fare quite well at Psarou beach, the site of famous Nammos beach club. Throughout the warmer months until peak season, each chaise, which run for nearly $80, is populated by moneyed Athens families for whom Mykonos is merely a hop away for a long weekend. Come July and August, an international crowd moves in looking for the Club 55 experience on the Aegean. By 4 p.m., the restaurant is a full-on dance party, where the young and old partake in an all-day bacchanal.
Further north sits the low-key beach of Agios Sostis, where younger beachgoers tote their own blankets and towels down its steep path. Along the way sits a no-name restaurant that would be completely unrecognizable were it not for the 20 or so people standing around waiting for it to open. At Kiki's Tavern, the wait for the first 1 p.m. seating starts early, tourists and locals alike line up. Under the thatched roof, lucky diners feast on a variety of mezzes and fresh-off-the-grill delicacies like Octopus, Swordfish and Pork chops.
It's local fare that with a cold beer or chilled wine makes for the perfect segue into a plum beach nap. After being roused, a day is complete with a trip into town for a little shopping and selfie-posing as the sun sets over Little Venice, the name for the Waterfront taverns that line a small corner of town. Perhaps another sleepy soujourn will help revelers to make it to 11 p.m. dinners in town, and then afterwards, who knows? It's Mykonos. You can do whatever you want.  http://www.gracehotels.com/mykonos