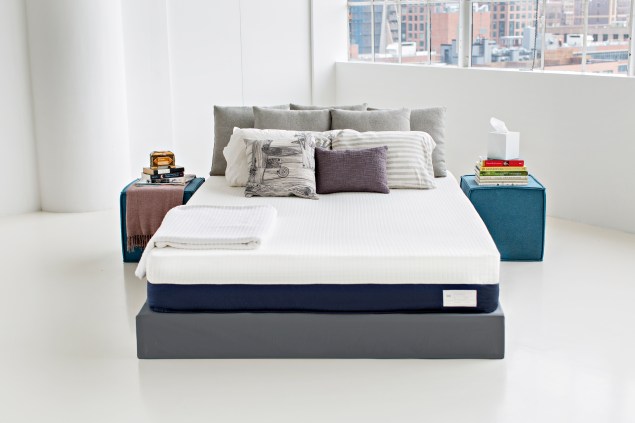 While almost every aspect of our lives has gotten a technological facelift, sleep has been the one thing that's gone untouched all of these years.
That's all changing now. There are sleep devices, smart mattresses and more technology being developed to improve our sleep. Helix Sleep—which launches today—is the latest company working to help people sleep more soundly.
The made-to-order company is creating completely personalized mattresses for both individuals and couples through their website. You simply answer a short questionnaire about your sleeping preferences and habits (such as your body type, what position you like to sleep in and if you get hot or cold during the night) and the company will optimize a mattress for you night's sleep.
"They're like five layer cakes," co-founder Adam Tishman told the Observer. "We can play around with the material, the density of each layer and the order of the layers."
If you're making a mattress for a couple, the company can make the two sides in accordance to each person's preference. They can also create a custom blend that is the perfect happy medium between the two tastes.
"Instead of saying 'hey look, here's what you can choose from,' it's 'hey look, here's the right bed you can optimally design for yourself," co-founder Jerry Lin, said.
Mattresses are costly, so one might expect this personalization service to be absurdly expensive. The reality, though, is quite the opposite. Because each mattress is made for the individual and not stocked in a showroom, Helix Sleep is producing their mattress at one third of the price. Using the same materials, a queen mattress that would sell for $2,500 to $3,000 in a store costs about $900 through their direct to consumer platform.
They're also just not trying to rip you off. Mr. Lin, Mr. Tishman and their third co-founder Kristian von Richenbach all met at Wharton Business School, where they conceived the idea for Helix Sleep.
"At the start, we all had terrible mattress buying experience in our own nightmarish way," Mr. Tishman said, as he explained that it's a terrible shopping experience and that the category is broken from a consumer standpoint. It's true—when it comes to mattresses, consumers don't know where to buy or how much to spend, and they often fall victim to salesmen trying to upsell them.
They set out to create a service that would eliminate all of these issues. While still students, the trio raised $800,000 from friends, family and angel investors to start Helix Sleep. Mr. Lin's dorm room was "stacked to the brim" with different prototypes as they worked on the business during the last year and a half of their undergraduate educations. They co-founders just graduated two months ago and are launching their business today.
"You can tailor your food, customize your clothes. Why can't everyone sleep on a mattress that's absolutely right for them?" Mr. Lin said.