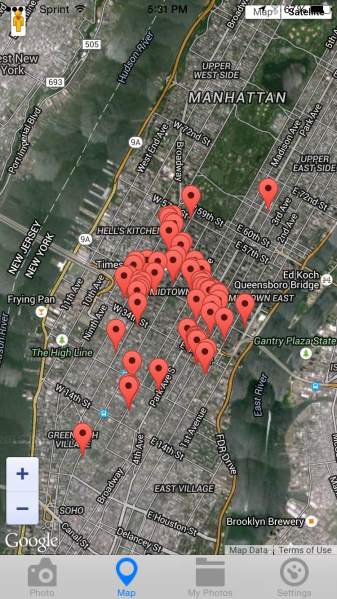 Technology is now part of the ongoing conversation about how best to help the city's homeless population, and New Yorkers are using apps to take the issue into their own hands.
As first reported by the New York Post, David Fox, a 25-year-old engineer living in Murray Hill, has developed NYC Map the Homeless, an app intended to locate and help members of the homeless population through photos and accompanying hashtags.
Launched Monday, the crowd-sourced, volunteer-based venture is designed to enhance the city's efforts in battling homelessness, which some say is increasing on New York's streets. Recent negative coverage in the Post has been intensely focused on the increase in peeing vagrants across the city, and statistics from the Coalition for the Homeless show that recent years have seen the highest levels of homelessness since the Great Depression.
Map the Homeless  lets users take a photo of a homeless person and add hashtags like "#Man" or "#Sleeping," while pinpointing the person's exact location. Some users may choose a hashtag such as "#Violent" to notify authorities of those they perceive as dangerous.
According to Mr. Fox, he grew conscious of homelessness in his neighborhood after joining a Facebook group called Third and 33rd (and Beyond!). The group was a forum for people in Murray Hill and surrounding areas to share photos "related to public safety and quality of life."
"The app's purpose is to gather as much data as possible and help make sense of the homeless issues we're seeing with the use of data and predictive analytics," Mr. Fox told the Observer in an email.
Mr. Fox isn't the first to come up with this idea—more than a few developers have put their technological skills to work to aid the homeless. Apps like Homeless Helper, Feeding Forward and WeShelter were built to donate food and provide vital resources for those in need.
WeShelter, which directly helps the homeless in New York City, was founded in 2013 with an encouraging mission.
"We see the app as a behavior change—from doing nothing to doing something, even if it's in digital form," WeShelter co-founder Ilya Lyashevsky told the Observer. "It's really about that moment of compassion when you see someone and you want to help, but you just may not be sure how best to do it."
With the aid of larger corporate sponsors, users can donate those sponsors' money to homeless services with the tap of a button.
Unlike Map the Homeless, the taps, which are unlimited, subsequently donate a designated amount (about five cents a tap, based on the sponsor) towards homeless service organizations throughout the city.
WeShelter provides a "direct assistance" option that connects users directly to a 311 operator in case a homeless person is in need of urgent help. It also offers a service that lets users send location data on the homeless to the WeShelter teams, who can work to more accurately map the areas where outreach teams are most needed.
Notably, the mapping data WeShelter receives is available exclusively to homeless outreach groups. "It's more of a heat map functionality that would allow homeless outreach teams to better prioritize their time and their routes while they're out on the streets," Mr. Lyashevsky said.
While WeShelter targets the hesitant helper, NYC Map the Homeless seems to target the eager exposer. Which raises the question, aren't all people, homeless or not, entitled to privacy?
"Just because they are causing no harm it doesn't mean we should just leave them alone and pretend they don't exist," wrote Mr. Fox. "A lot of the people who make the "leave them alone" argument are the first who get very, very upset when a homeless person is found in serious condition or even dead because they were left to sleep outside on a freezing winter day while everyone who passed by looked the other way."
Mr. Lyashevsky, on the other hand, said that when it comes to safety, "there have been incidents where homeless people are hurt or picked on," he noted. "Being homeless makes you vulnerable. It is not a good idea to take pictures of them and make those pictures or their location publicly available."
As such, in order to respect the privacy of homeless individuals, WeShelter does not allow users to take pictures of them.
For Mr. Fox, accuracy could be the key in directing authorities and proper outreach groups to the rescue of those in need. Though Map the Homeless has only been out for five days, Mr. Fox hopes it will eventually aid officials by creating live reports for them to follow. Using a live report in December of all photos tagged "sleeping" as an example, he argues that "Authorities are quickly able to identify homeless people who are out freezing in the cold and need aid quickly."
On its face WeShelter has similarly lofty aims, but Mr. Lyashevsky was modest, saying the company does not advertise itself as a quick fix for all problems with the homeless.
"We don't claim to be a solution. We claim to be a small piece," Mr. Lyashevsky said. "A lot of people are working very hard to solve [homelessness], but it remains a very difficult and intractable issue."