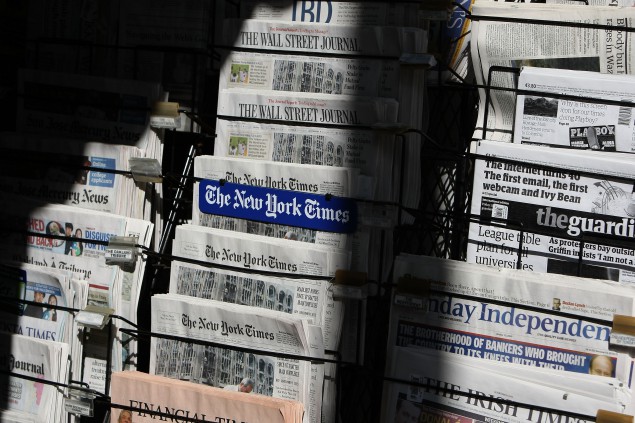 There have been so many final nails hammered into the coffin of the daily print newspaper that the industry now looks practically ironclad. Despite frequent predictions of their extinction — and the loss of 20 percent of their number between 1981 and 2011 — no major American city is yet without a paper to call its own.
Yet this latest nail could bring a mortal blow: In the last year, major retail chains have reduced their use of newspaper circulars by 24%, according to research firm Market Track.
Circulars and coupons provide the last solid economic justification for printing and distributing newspapers. Why do you think some newspapers in America have reduced their frequency of production or distribution to three days a week? Because those are only the days when news occurs? No, those are the days when supermarkets, big-box chains, and coupon companies pay newspapers to distribute their slick-paper pitches.
Every other newspaper advertising category has long-since imploded. A chart making the rounds of media pundits over the last few years — one of those singular data visualizations that promises to explain a complex mystery of life in only a few square inches — shows the free fall of newspaper print ad revenue from an inflation-adjusted 2000 high of $67 billion to $16.4 billion in 2014. According to the Newspaper Association of America, digital revenue added back only $3.4 billion.
Long before the web came along with its nail gun of media doom, retail advertising began disappearing as department stores consolidated and big-box retailers replaced local outlets. [Historical sidenote: A&P's invention of the chain store — chronicled by Mark Levinson in his fascinating book, The Great A&P and the Struggle for Small Business in America — led the way for mass-market grocery and consumer-good coupons and department-store circulars. But now those stores are imperiled by Amazon, et al. A&P is bankrupt and near death. Retail chains and the newspaper industry they helped support were perhaps both institutions of the last century.]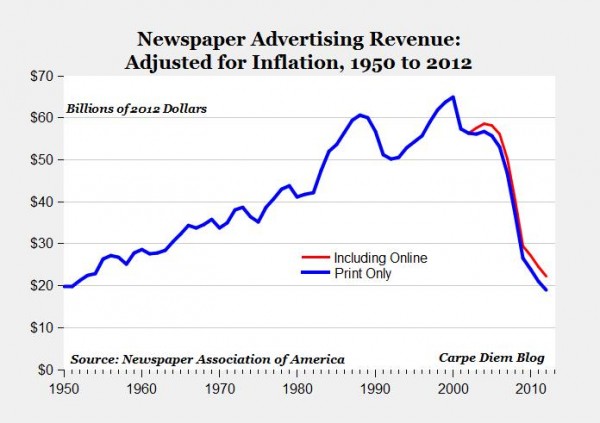 Home, auto, and job classifieds — each of which could bring in tens of millions of dollars for a big-city metro — are dead, gone to craigslist and the web, every one. Newspaper publishers hate it when I say this but legal ads — public notices required to appear in mass publications — will be the next to go as government information quite properly moves online, free for all citizens (at least the ones with online access), not just for newspaper buyers.
And there is the telling problem: Newspapers are not a mass medium anymore. Newspaper penetration has fallen from a high of 124% in 1950 (when Americans bought multiple papers) to 37% in 2013, according to Editor & Publisher data. Two-thirds of Americans do not buy newspapers.
I visited the headquarters of one large national retailer a few years ago and learned that its circular was a profit center — indeed, a media property, because it not only generates in-store sales but brands pay the retailer to be included. Executives at this chain wanted their circular to stick around. Even so, I asked them when newspaper circulation would fall below the point of critical mass for their circular. Two to three years, they said. That was about three years ago.
Newspaper executives have told me that the circular business was holding up — until this latest report. If coupons and circulars go, I fear that could ignite a vicious circle: less circulation, fewer circulars; fewer circulars, less circulation. Many subscribers buy newspapers not so much for our precious prose but for the ads. I learned that years ago when I was Sunday editor of the Daily News as it emerged from a damaging strike. We returned without coupons because our new owner, the robber baron Robert Maxwell, was feuding with the man who controls most of the coupon business in America, Rupert Murdoch. When peace was at last brokered and we got our coupons back, as I recall, circulation jumped by six figures that week.
There are competitors for the coupon and circular business that remains. A few years ago at the conference PostalVision2020, I heard the then-Postmaster General present the business model of the Postal Service as an advertising delivery medium. The USPS is fighting for survival over the same scraps of the coupon business newspapers are dying to keep. At the same time, Google is adding buy buttons to search. Last week PayPal bought Modest, a company that enables contextual purchases online. Retailers are all building their own mobile coupon apps. One way or another, coupons and circulars will depart newspapers like the last breath of a soul rising to eternity.
Meanwhile, newspapers keep gasping like someone in a scary anti-smoking commercial. Last week, Mort Zuckerman took the Daily News off the market, apparently unable to find a buyer. McClatchy received its delisting warning as its stock fell below $1.
All this is why it is vital that newspapers become fully sustainable digital enterprises before the date at which print is unsustainable. That date could come when circulars and coupons disappear off a cliff. And that could be any time now. Is this the last nail in print's coffin? Who wants to bet it isn't?
Jeff Jarvis, a professor at the CUNY Graduate School of Journalism, is a blogger at Buzzmachine.com and the author of the books Geeks Bearing Gifts: Imagining New Futures for News, What Would Google Do?, and Public Parts: How Sharing in the Digital Age Improves the Way We Work and Live. He is cohost of the podcast This Week in Google. He was a creator and founding managing editor of Entertainment Weekly magazine and on the staff of TV Guide, People, the San Francisco Examiner, the Chicago Tribune, and the New York Daily News.