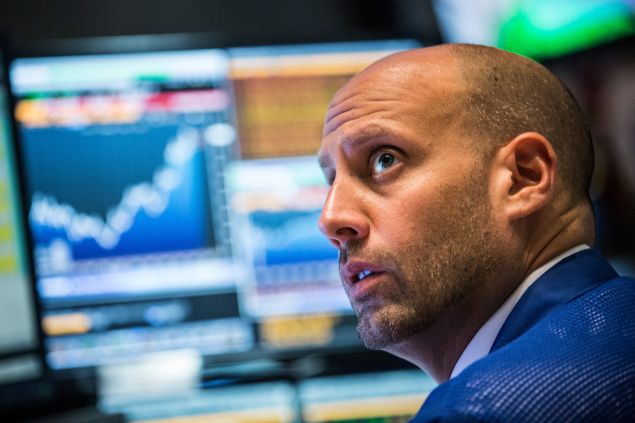 WHO HAD A GOOD WEEK?
1. Economic optimists: Because sometimes it pays off to keep your eyes closed during the rollercoaster. After a six-day stock market "correction" based on plunging oil prices and a crumbling Chinese economy had people using their retirement savings to pad their mattresses, the Dow and Nasdaq surged on Wednesday and Thursday in one of the most remarkable rebounds since 2011. Behind the recovery were reports that the American economy grew 3.7 percent in the second quarter and hints from the Federal Reserve that it won't be raising interest rates any time soon, plus a 9 percent resurgence in petroleum. As of this writing, the Dow is down around 40 points after morning and afternoon sell-offs, but that's nothing compared the intra-day swings witnessed earlier this week.
2. Joseph Biden: The buzz about the vice president possibly entering the Democratic presidential primary field has gradually grown to a dull roar and a persistent ringing in ex-Secretary of State Hillary Clinton's ears. Polls show Ms. Clinton hanging onto her frontrunner status in a theoretically revised matchup, and Mr. Biden in third place trailing insurgent Senator Bernie Sanders of Vermont—but also depict the VP as having the highest favorability ratings of any candidate in either party, and defeating Republican contenders more handily than the damaged former first lady. The Delaware native reportedly got the clear from President Barack Obama to study jumping into the pool, and spent the week meeting with liberal power players like Massachusetts Senator Elizabeth Warren and AFL-CIO President Richard Trumka.
3. Police reform advocates: A federal judge on Tuesday approved a court monitor's proposal to require NYPD officers to hand out "receipts" whenever they perform a stop-and-frisk, and the program is slated to begin September 21. Besides identifying the cop, the slip handed to searched civilian will include contact information for the Civilian Complaint Review Board, the oversight panel charged with examining claims of police misconduct. The measure is the latest fallout of the 2013 lawsuit against the city that found the NYPD had unfairly and unconstitutionally targeted nonwhites. Mayor Bill de Blasio dropped former Mayor Michael Bloomberg's appeal of the decision upon entering office. Interestingly, Mr. de Blasio was an outspoken opponent of the "Right-to-Know Act," a two-piece proposal that Progressive Caucus Councilmen Ritchie Torres and Antonio Reynoso put up last year, which would have required cops to identify themselves to a civilian when performing a stop-and-frisk and to inform the person of their right to refuse being searched. The receipts mean one half of that plan has more or less gone through. We'll see if the mayor is willing to reimburse them.
WHO HAD A BAD WEEK?
1. George Pataki: Poor George. As if polling at the bottom of the 17-man Republican presidential pile-up wasn't sad enough, Mr. Pataki on Wednesday had to endure the indignity of political fixer and ex-Senator Al D'Amato endorsing Ohio Gov. John Kasich. This is like going to your high school reunion and finding out your prom date married somebody else. And, by the way, your prom date was your mom. Back in 1994, Mr. D'Amato didn't just bring Mr. Pataki to the dance—he made his dress, drove him there and kicked everybody else off the dance floor. The embattled but brilliant senator handpicked the virtually unknown Westchester state legislator to run against the late Gov. Mario Cuomo, blocked potential rivals and bankrolled and staffed his campaign, propelling Mr. Pataki to a shocking upset victory and a 12-year reign in Albany. Two decades later, Mr. D'Amato is still recognized as one of the GOP's most influential and adroit state-level political operators. Meanwhile, Mr. Pataki's wife probably sometimes forgets who Mr. Pataki is.
2. Jeb Bush: The former Florida governor was seen from the outset as the candidate with national name recognition, executive experience, backing from the mainstream GOP and Wall Street and a Mexican-American wife who could help bring over a much-craved portion of the Latino vote in a national election. Then it became the rage in the Republican primary to talk about the phenomenon of "anchor babies"—children of undocumented immigrants deliberately birthed on U.S. soil and thus granted automatic American citizenship. Maternity tourism is real: federal agents have raided multiple facilities in California where wealthy Chinese nationals go to deliver their infants. But instead of coolly explaining that on Monday—or brushing off questions altogether—when reporters asked him during a visit to the U.S.-Mexico border about his use of the term, Mr. Bush stammered about "Asian people" then demanded awkwardly that everyone "chill out a little bit as it relates to the political correctness." And the one-time frontrunner and scion of one of America's most powerful political dynasties looked like nothing so much as an understudy struggling to play a part he wasn't cut out for.
3. Iran deal opponents:  Congressman Jerrold Nadler aroused considerable anger from certain groups when he announced his support for the Joint Comprehensive Plan of Action on Iran last Friday. But he shattered hopes of consolidating the entire New York House delegation against the arrangement and became an embodiment of the lopsided split in the Jewish community on the issue. Mr. Nadler, Jewish himself, represents the most Jewish district in the nation—a bizarrely-shaped stretch of turf running down the West Side of Manhattan, then slicing across the borough, hopping over the East River and sinking into Brooklyn to capture the ultra-Orthodox enclave of Borough Park. So not only do some of the fiercest opponents of the Obama administration-backed plan (who live overwhelmingly on the Brooklyn side) have to suffer the embarrassment of their representative voting in favor of it, they have to acknowledge what they view as the natural base of discontent with the deal in fact largely supports it. Polls show almost half of American Jews back the plan, less than a third oppose it. And most of the people angry at the uber-liberal Mr. Nadler, who won re-election last year with almost 80 percent of the vote amid a massive GOP sweep nationwide, probably never cared for him much in the first place. And the congressman's secular-leaning, Obama-loving Manhattan constituents will most likely send him to Washington again next year.
WHAT HAPPENS NEXT?
The summer political sensations of both parties—Mr. Sanders and Republican real estate magnate Donald Trump—have staked their campaigns on a sense of embittered populist economic malaise and anger toward trade policies with China. If the American economy manages to grow while China weakens, they may have to adjust their messaging. It's also looking increasingly likely that Mr. Pataki will be among the first Republicans to exit the presidential race, while Mr. Bush will have to figure out who he is: the level-headed voice of moderation, or the angry man in the room.
On another note, the on-air execution of WDBJ reporter Alison Parker and cameraman Adam Ward in Virginia could possibly touch off new national debates about gun control, mental health services and race relations (shooter Vester Flanagan, a disgruntled and disturbed African-American ex-employee of the station, left behind a manifesto alleging a history of discrimination and alluding to the hate crime massacre in a black church in Charleston, S.C. earlier this year). But like most such debates, they probably won't go anywhere.
WHO WAS LAST TO THE TABLE?
A crane collapse in Midtown Manhattan killed a construction worker Tuesday afternoon. Assembly Labor Committee Chairwoman Michele Titus, perhaps the most influential Democrat in the State Legislature when it comes to workplace issues, announced her intention to investigate the incident…on Friday.
WHAT ARE WE HOPING HAPPENS NEXT WEEK?
Mr. Bush will address the impact "Asian people" are having on the economy—politically incorrectly, of course. The gaffe-prone Mr. Biden getting in the race could be fun, too.
WHAT WILL ACTUALLY HAPPEN NEXT WEEK?
Mr. Pataki will probably do something, but nobody will really care.
Disclosure: Mr. Trump's son-in-law, Jared Kushner, is the publisher of Observer Media.