"I'd like my customers to take away the idea that what they do is more important than what they wear and personal honest style is more powerful than fashion," Brendon Babenzien explains to the Observer. To put this statement into context, Mr. Babenzien is the former creative director of Supreme, the cult like streetwear brand that has attracted an obsessive fan base. They are now notorious for product launches that are so wildly successful (and unruly) that the police are frequently called. Since leaving the bold brand, this designer has gone in an entirely new direction.
His main focus now is Noah, a dormant company that Mr. Babenzien worked on as a side project during his time at Supreme. This past May the brand was relaunched, as the creative could now dedicate all of his time into its growth. But don't expect the label to go corporate anytime soon. "I'm not trying to be a big brand that is considered fashionable. I want to make good things and see where that can lead us. I want a natural growth."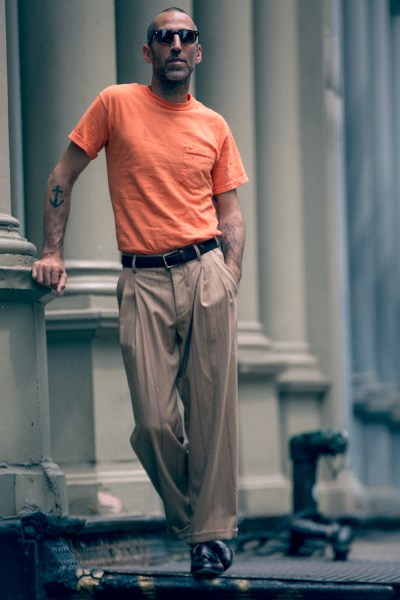 To a certain extent, the brand has an active twist, but in no way is it an activewear line. In a press release, it is noted that skating, running, writing, creating, traveling and sailing all play a part in the design aesthetic. As the images here show (where Mr. Babenzien is the model) that translates into cool corduroy shorts, utilitarian windbreakers and roomy trousers. Don't forget the witty t-shirts.
So what does Mr. Babenzien think about the term "street wear" that is so closely affiliated with the Supreme label? "It's hard to answer that one because I grew up with skateboarding and surfing and alternative music before any of it was called a market or the term street wear was used. I've learned a tremendous amount about design and culture but we've never talked about any of it as a market. It's always just been our life."
In May, a Noah shop popped-up at The Supermarket in Tribeca, where items from the brand's collaboration with Union LA range were sold. Additionally, Mr. Babenzien and Chris Gibbs, the owner of Union LA, curated a selection of product from brands like 08Sircus, Neighborhood and Visvim. The space even included a skateboarding bowl. The shop was created as a way for the designer to interact with his customer base and get a chance to see how they interact with the product.
For now, Mr. Babenzien is focusing on the present of Noah. Well, mostly. "I suppose it would be nice to be talking about a few [of my own] stores," he mentioned. The brand's first brick and mortar store is scheduled to open this Fall in New York, in addition to an e-commerce destination.